Chef Karan Kapoor of Raftaar Lounge and bar, New Delhi shares some recipes.
You don't need a baking tray and lots of ingredients to make your favourite cake at home.
Just a coffee cup and some basic ingredients and you are good to go!
Check out these recipes.
Chocolate Peanut Butter Mug Cake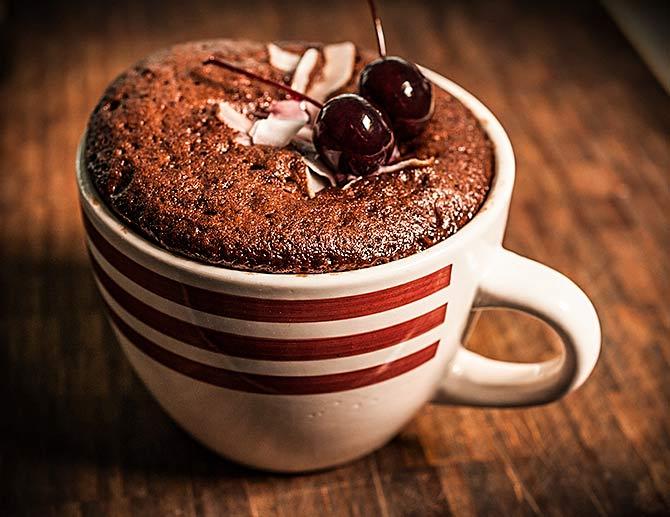 Prep time: 4 mins
Cook time: 1 min
Total time: 5 mins
Ingredients
2 tbsp whole wheat flour
2 tbsp all purpose flour
3 tbsp sugar
2 tbsp cocoa powder, unsweetened
1/4 tsp baking powder
4 tbsp milk
2 tbsp coconut oil or melted butter
1 tbsp peanut butter, creamy
1/4 tsp vanilla extract
2 tsp white chocolate chips
2 tsp chocolate sauce (optional)
Method
In a small mixing bowl, take whole wheat flour, all purpose flour, sugar, baking powder, cocoa powder and combine well.
Add milk, vanilla extract, coconut oil and whisk with a fork till smooth.
Pour into a microwave safe mug.
Make a well in the centre and press white chocolate chips and top it with peanut butter. Gently press down and level the top of the batter till the peanut butter is covered with the cake batter.
Microwave at high for 1 minute. Rest another 1/2 min in the microwave itself. Do not take it out immediately else, the cake will sink in the middle.
Serve warm with some chocolate sauce drizzled on top.
Strawberry Cream Mug Cake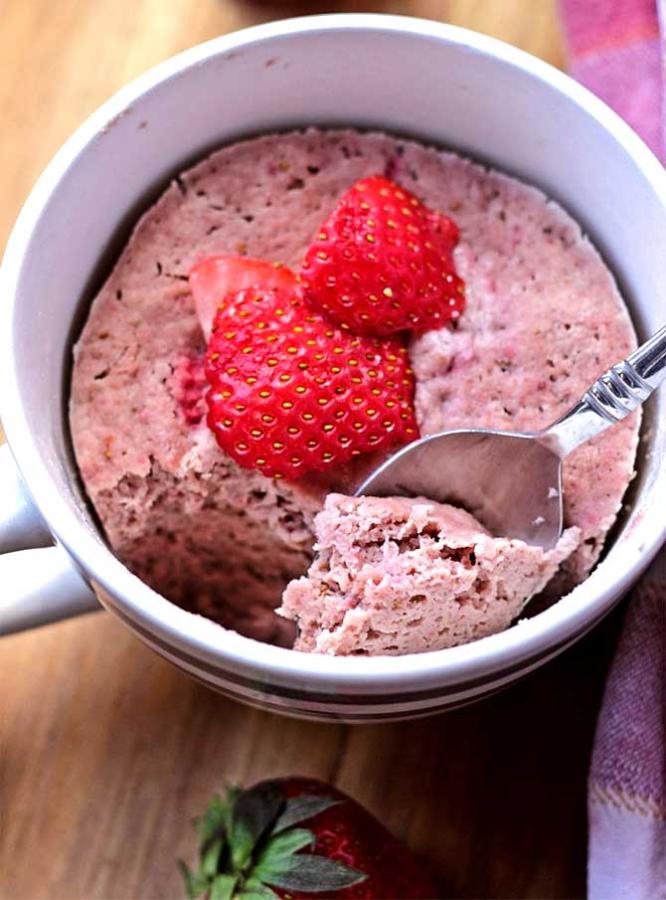 Ingredients
1 egg
2 tbsps strawberry yogurt, well stirred
1 tbsp vegetable oil
1/8 tsp baking powder
1/8 tsp vanilla extract
4 tbsps granulated sugar
5 tbsps all-purpose flour
1/4 cup fresh sliced strawberries and whipped cream for serving
Method
Coat the inside of the mug lightly with cooking spray and set aside.
Mix the egg, yogurt, vegetable oil, baking powder, extract, sugar and flour in a small bowl until completely smooth.
Fill the mug to halfway full and place it in the microwave.
Bake for 3 to 4 minutes, or until a cake tester comes out clean.
Top with strawberries and whipped cream and serve.
Blueberry Mug Cake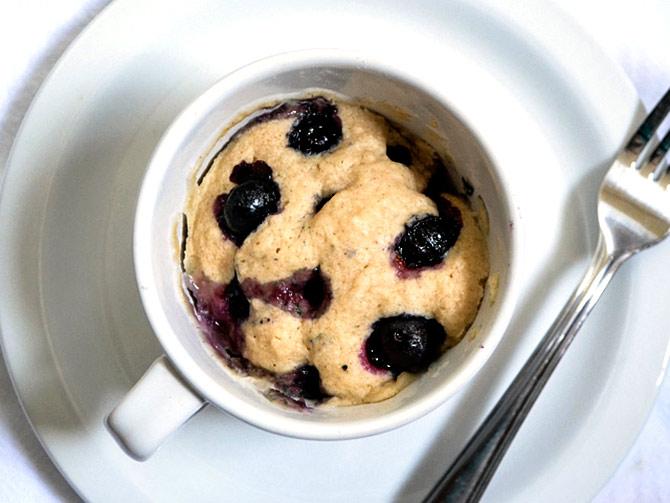 Ingredients
3/4 cup mixed berries (blueberries, raspberries or blackberries)
1/2 tsp sugar or other sweetener
1/2 tsp lemon juice
2 tbsps rolled oats
1 tbsp gluten-free flour (or regular flour)
1/2 tsp cinnamon
1/2 tbsp coconut oil, melted
Frozen yogurt or ice cream, optional
Method
In a bowl, toss the berries with sugar and lemon juice.
Fill a microwave-proof mug to just below the rim with berries (the amount of berries may vary depending on the size of your mug).
Microwave the mug for approximately 45 seconds until the berries become tender and the sauce begins to thicken. Watch it closely to make sure it doesn't boil over!
In another bowl, stir together the oats, flour, cinnamon and coconut oil.
Spoon the mixture on top of the berries and microwave the mug for another 30 to 45 seconds.
Serve with a scoop of ice cream or frozen yogurt if desired.
All images: Kind courtesy Raftaar Lounge and bar, New Delhi
Dear readers, do you have interesting recipes to share?
E-mail your recipes to getahead@rediff.co.in (subject: Recipe) along with your NAME, AGE, LOCATION.
Also please provide a photograph and a brief description of the recipe (its history, significance etc), if possible.