Chef Ajay Chopra tells you how to make your ordinary breakfast an extra-ordinary affair.
We've been told multiple times how important breakfast is for our overall health.
Research has proved that skipping breakfast is bad for the heart and also pushes you to gain extra kilos.
The first meal of the day is meant to decide how the rest of the day will keep you going.
So, why not make it interesting too?
Check out these healthy recipes curated by chef Ajay Chopra, culinary mentor at The Empresa Hotel, Mumbai.
Black Grape Gazpacho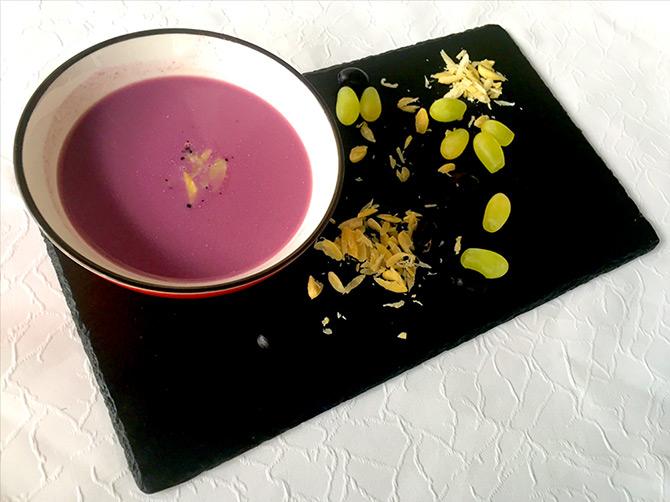 Ingredients
50 gm black grapes
5 black peppercorns
1 tsp lemon juice
1 1/2 cups + 1 tbsp white grape juice
20 ml red wine
10 gm white sugar
10 gm almond, blanched
5 ml tabasco
Method
Make juice of grapes.
Make paste of almond.
Take wine; add grape juice, sugar, blend it well.
Strain the mixture through muslin cloth.
Add lime juice, crushed peppercorn.
Transfer soup to a bowl and chill, covered, in a larger bowl of ice.
Rim the shooter glass with tabasco and salt.
Serve cold.
Masala Beetroot Muffin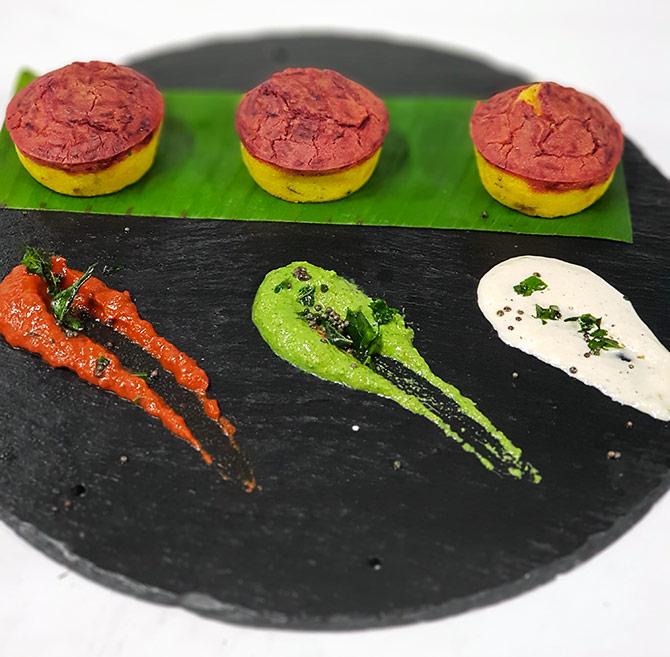 Ingredients
1/2 cup urad dal
1/2 cup
1/2 cup raw rice
Salt to taste
A pinch haldi
1/2 tsp sunth
1/2 tsp jeera
4 whole peppercorns
1 tbsp ghee
1/2 tsp mustard seeds (rai/sarson)
1/2 tsp finely chopped green chillies
2 tbsp chopped cashew nuts
10 curry leaves
50 gm beetroot pulp
Oil for greasing
Method
Combine the urad dal and enough water in a deep bowl. Keep aside to soak for 4 hours.
Combine ukada rice, raw rice and enough water in a deep bowl and mix well.
Cover with a lid and keep aside to soak for 4 hours.
Wash and drain the urad dal and blend in a mixer to a smooth paste using approx. ¾ cup of water. Transfer the mixture into a deep bowl.
Wash and drain the par-boiled rice and raw rice and blend in a mixer to a slightly coarse paste using approx. ½ cup of water.
Add this mixture to the urad dal mixture, add the salt and mix well.
Cover it with a lid and keep aside to ferment in a warm place for 10 to 12 hours.
After fermentation in half of the batter, add the turmeric powder and dried ginger powder, crushed pepper and mix well. Keep this batter aside.
Combine beetroot pulp and peppercorns crush to a coarse mixture and keep aside.
In rest of the batter, add beetroot pulp.
Grease the muffin mould arrange the batter on one another and bake it for 180F for 12 to 15 mts.
Steam in an idli steamer for 10 minutes or till they are cooked.
Serve hot with chutney.
Oats Idli shots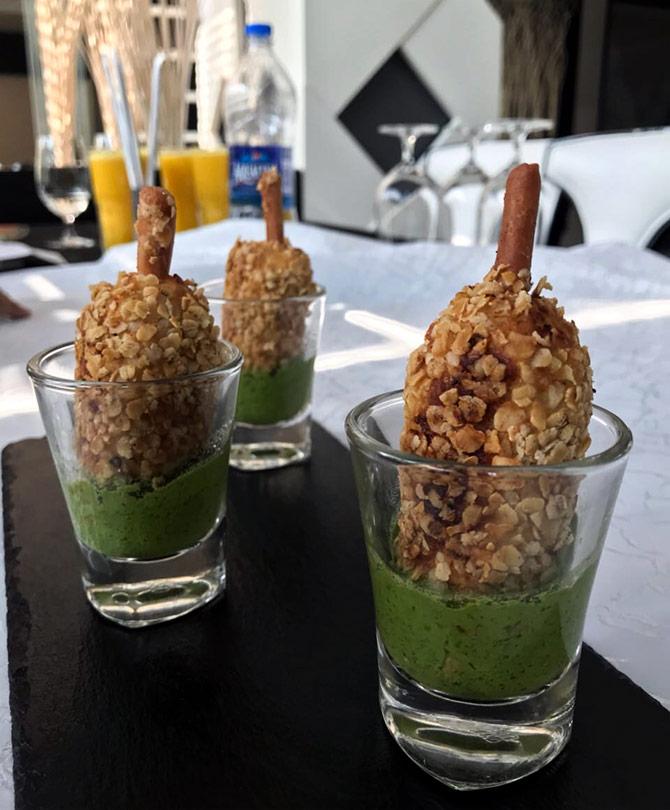 Ingredients
2 cups oats ground to a coarse powder
1 cup rawa
1 and ½ cup curd
½ tsp cooking soda
2 green chillies
Salt as per taste
Method
Take the ground oats powder in a vessel and salt to taste.
Add curd and blend it well
Add water to make a thick dosa batter.
Add soda or eno.
Wait for 3 to 5 minutes
Pour the batter in idli moulds.
Steam till it cook well.
Crush the idlis.
Temper the crumbs with mustard seeds chopped green chilies, curry leaves and hing, turmeric.
Cool it.
Shape them like bullets.
Again, coat them with roasted oats.
Deep fry and serve hot.