The book celebrates the model-turned-cook-turned author's spirit to live life, while giving the readers a peek into recipes close to her heart.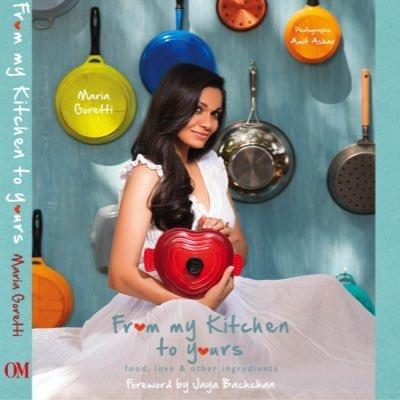 Only when video jockey turned food blogger Maria Goretti's son turned nearly two did she realise the need to learn how to cook and later became a "crazy demon" in her kitchen.
Penning her culinary journey since 2011, in the form of an assortment of her favourite recipes, the 43-year-old released her first book From My Kitchen To Yours: Food, Love And Other Ingredients (Om Books International and BollyGoods) at Hyatt Regency in Delhi.
"Frankly it started because I needed to cook for my little boy.
"I had never really learnt how to cook but, when I got into it, I realised that I loved the whole process so much that I actually turned into a crazy demon.
"I just wanted to learn each and every dish and wanted to acquire new knowledge about baking, chopping, frying, tearing and about every little process that was involved in cooking," she says.
For Goretti, despite having a degree in Food and Baking from Tante Marie Culinary Academy in the United Kingdom, and being an active food-blogger since 2010, becoming a published food author was certainly not something she had thought of.
"In a blog, I could just say either put this or that and if that does not work for you, then tweak it a bit. But, when you write a recipe book, you need to be specific. You need to be able to say, 'this is how you do this and this is how it will turn out then,'" she says.
Goretti's book celebrates the model-turned-cook-turned author's spirit to live life, while giving the readers a peek into recipes close to her heart.
With an array of both vegetarian and non-vegetarian gastronomical delights, it contains memorable recipes from her mother's East-Indian spreads, aromas from her grandmother's kitchen, food that she has seen, touched and tasted over her many travels across India and the world.
"To me, this book has been a journey into my past and my present.
"It has been a long tedious, interesting journey and like a holiday of discovery into my own being through ingredients and simple cooking techniques," the Mumbai-based author writes on her blog.
Divided into 12 months, with each month having a six course meal layout (soups, salads, starters, non-vegetarian and vegetarian main course dishes, and desserts), the book has 72 recipes in all and Goretti has dedicated each month to a person, an occasion or an emotion.
While seven of Goretti's recipes have been borrowed from her friends, the remaining 65 were conjured up by her, after multiple hits and trials, with her actor-husband Arshad Warsi, son Zeke and daughter Zene being the "permanent guinea pigs" and her "most straight forward critics."
"It was trial and error, when I was doing the book. I tried each and every recipe at least twice, if not thrice, and put it together properly in a way that it is easy for the reader to be able to make a dish.
"For somebody, who has never cooked before and is following the book, then at the end of it, they should be really happy about the time spent on a particular dish. And they need to be inspired to cook some more," she says.
Goretti, who refuses to call herself either a writer or a chef, says that hosting the TV show "Do It Sweet," also played an important role in inculcating in her a taste for cooking.
"After I spent that time hosting the show, I realised that I loved the process of making stuff. And it was actually post that that I got really interested in pursuing cooking in a bullish manner," she says.
Her favourite recipes in the book include Fresh Orange Almond Cake, Strawberry Salad, Edamame with Soy, Strawberry shortcake and Avocado Salad among others.
"There are too many things that I love in this book because I put all my favourite things in it," she says.
Made from easily accessible ingredients, the recipes are extremely "homestyle."
"It is all home-style. It was made in my kitchen and it was all made by me. The stuff that I use are all ingredients easily available in the market. So, it is a very easy, home-style book for anyone who wants to try their hand at cooking," she says.
In an uncanny decision, Goretti has left blank pages at the end of the book hoping to encourage and inspire readers to cook up their own recipes and note them down there.
"I have blank pages at the back for notes so that they can take the recipe from the book, tweak it and make it their own.
"I think good food and knowledge, music and love is meant to be shared. And this is all in my book," she says.
With a debut book a blog and a You Tube channel on food, Goretti is still hungry for food and says she plans to write more books on food.
Lead image courtesy: Maria Goretti/Twitter