"I was only interested in eating and not cooking. But after I had my little boy, I realised that I need to learn how to cook to feed him interesting stuff."
"Some of the recipes (in my blog) were what I made at home, some I would Google, try and find the best possible way to make it."
VJ turned author and chef Maria Goretti tells us how she got interested in food.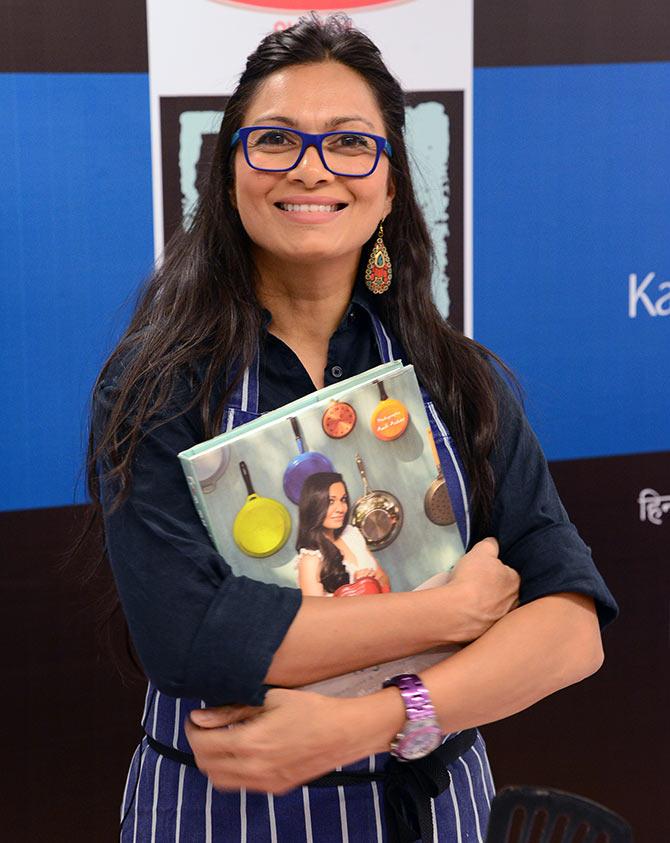 VJ and model Maria Goretti is a qualified chef and has a cookbook titled From My Kitchen to Yours to her credit.
Her cook book has a collection of recipes that she has learnt from her mother, close friends and travel.
She recently held a workshop at Gourmet West, Westside as part of the Kalaghoda festival which concluded in Mumbai on Sunday.
Goretti is married to Bollywood actor Arshad Warsi and has two children.
Rajul Hegde/Rediff.com chats with the model turned author to find out how she discovered her love for food.
How did you prepare for the workshop?
Actually I was quite nervous about holding the workshop as I had never done this before ever.
I had to go there and present the recipes.
There was no back kitchen so I had to do all the cutting and chopping from home. I don't even have helpers.
Were you always interested in cooking? How did you develop the interest in cooking?
No. I was only interested in eating and not cooking (laughs). But after I had my little boy, I realised that I need to learn how to cook to feed him interesting stuff.
I started cooking when he turned two and half; he is 11 now.
I started learning simple things and I realised that I really enjoyed it.
Then I wanted to learn more and got immersed in the whole cooking process. Gradually it became like a passion and I completely loved it.
Today if I get a chance to learn anything new, I will jump at the opportunity of learning.
Do you remember the first dish you prepared?
The first dish I ever made was when I was 13 years old and that was a khichdi but became a pudding. But I have learnt few things from my mom which I have been doing over the years.
She makes really nice potato chops, lovely French toast, caramel custard, bread pudding, lovely Vindaloo and amazing baked chicken.
These were few standard things I used to see her make and learnt it from her.
Did you take any culinary training?
In 2011, I went to London to study in food and baking from Tante Marie Culinary Academy run by Gordon Ramsay.
I did a three-month certificate course there. That's all I have but I really want to go out and study more. I will when I get time.
What was the driving point to start a cooking blog (in 2010) and how was the response?
It was very organic. My entire staff (help) had to go on a holiday together and they all were going and I realised that I needed to get into the kitchen and start cooking.
A friend of mine said 'if you are making something new everyday why don't you blog about it'.
She explained to me what blog is all about and that's how I started blogging.
Since I am not a food person I think people came there out of curiosity to see what I am doing. I think they liked what I wrote and the recipes I put up.
The recipes were simple to make with simple ingredients.
Some of the recipes were what I made at home, some I would Google, try and find the best possible way to make it.
I would experiment recipes with interesting ingredients. If it turned out well then I would put it up on the blog. So that was kind of worked for me. Then one thing led to another.
Did writing the blog help you to write a cook book?
I think I got an offer for cook book because of my blog. Om books (publisher) is really amazing and I had a great team working with me.
I had a bunch of people who came together for the book. My help (Vijay) at home helped me with all the prep. I took two years to write the cook book.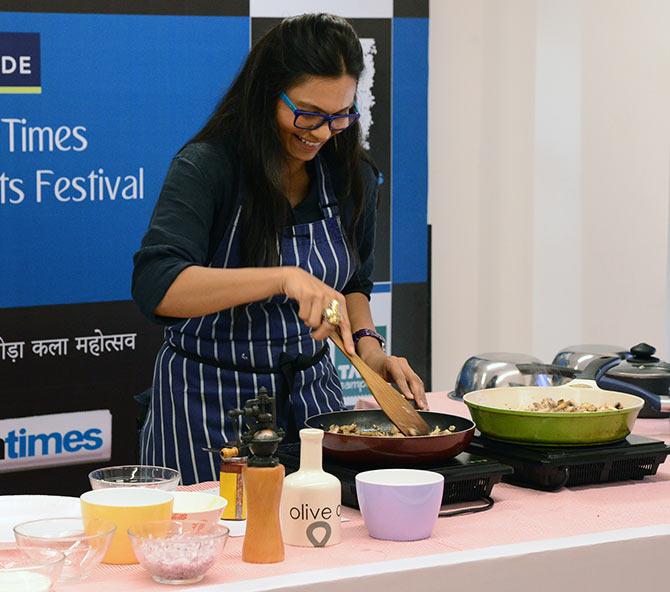 What kind of recipes do you have in your book?
My book has got simple recipes which I have learnt from my mom, friends, and the food that I have liked while I have travelled, came home and tried.
It has got stuff which I make on a regular basis, like my favourite recipes.
Generally what kind of food do you like to cook at home?
I love to bake. If I am preparing something I end up baking.
At the moment I am trying to learn normal Indian food -- Bengali, Hyderabadi, Kerala food.
I am fascinated by Kashmiri cuisine.
I am still learning to make hardcore Indian food.
I am little scared when I make Indian (food). I want to learn few recipes from different region.
My kids love the bread, salmon, and cauliflower recipes from the cook book.
What kind of food do you children like to eat? How do you control their diet?
My children eat everything from bread, butter to chocolates. But yes I don't let them have aerated juices.
I don't like them to have too much of maida. But they eat like any other normal kid.
I try and curb their junk food intake but I am still struggling with that (smiles).
My kids eat breakfast and dinner at home.
For dinner, its kebabs with rotis and different kinds of dips, plain dal rice with fish fry, baked chicken with vegetables, soup on the side with little salad or nachni rotis or barbequed sliced chicken or hummus with fresh vegetables -- making the meals more interesting every day.
What is your husband's favourite dish that you make?
I think he likes the lasagne I make.
Does your husband cook for you?
He used to cook but now he says if he enters the kitchen I throw him out. But his chicken biryani is outstanding.
Which is your favourite Indian food?
A plate of rice, dal, pickle and papad is my favourite food in the world. I loved this since I was a kid.
Have you faced any kitchen disaster? How did you fix it?
Once I baked Christmas cake, which I was supposed to decorate and serve. For some reason, the cake crumbled.
My mom and I decided to make cake pops but with and halfway through we decide will make rum balls. So we added rum and made beautiful rum balls, decorated and put it on the table.
Then we realised that the kids were going towards it. We were like this is not for the kids; that was really funny.
What is the best compliment you have received for your cooking and from whom?
I think from my kids. Sometimes when we eat out, my kids look at me and say 'Mom, we like your recipes better'. I fell quite happy about it.
Who among your circle of friends serves the best home cooked food?
All my friends are amazing cooks. Be it Shaheen Abbas who does amazing spread for Eid or Jaya Misra who does a good spread for Diwali.
My friend Mini Mathur (VJ and TV host) makes awesome Mathur food during Diwali and Alisha Khan makes amazing Hyderabadi food.
So I am surrounded with people who make awesome food. If I need anything we definitely exchange the recipes.
You are back on TV after 14 years, hosting a food show on Living Foodz. Why did you take so long to come on television?
I never got an offer which was interesting.
How do your kids react when they see you on television?
Kids get most excited when they see me on TV. They are like "Oh wow, that's mom".
Do you still cook at home or you have a cook?
It depends. If I am home and my kids want something special, then I cook. Otherwise I have my help who does the cooking.
Are your children interesting in cooking?
My daughter loves to help in the kitchen. At the moment my son loves cooking, there is inquisitiveness but I don't know if it will continue.
Please share some kitchen tips
Always have patience and never expect the food to cook faster than it should.
When you prepare something, do it with love. It tastes better.
Please share some recipes with our readers
Ragi Pancake recipe with mushroom
Ingredients
1/2 cup ragi
1 egg
3/4 cup yogurt
1/4 tsp baking soda
1/4 tsp baking powder
Salt and pepper to taste
For the mushroom
100 gm mushroom sliced
1 tbsp vegetable oil
1/4 tsp chilli flakes
1 tbsp yogurt
1 tbsp mustard
1 tsp garlic
Method
For the pancake
Mix dry ingredients together and leave for 20 minutes.
Mix egg with the yogurt and add the dry mix.
Season with salt and pepper.
Spray a nonstick heated pan with vegetable oil.
Spoon out a tablespoon of the batter on it. Cook on either side about 3-4 minutes each or till date.
For the mushroom
In a heated nonstick pan, add vegetable oil, garlic and sliced mushrooms.
After the mushrooms are cooked and water is released, let it dry up a bit.
Add chilli flakes and mustard.
Give it all a good stir.
Take it off the fire, add the yogurt.
Spoon it on to ragi pancakes and serve.
Orange Cake
Ingredients
2 oranges
250 gm almond flour
225 gm sugar
4 eggs
1 tsp baking powder
1/2 tsp baking soda
1/2 tsp fresh cinnamon powder
A handful of chocolate buttons
Method
Boil the oranges whole for two hours. Leave it to cool completely.
Very gently break into the cooled orange and take the pulp out. Remove the seeds and discard.
Gently scrape the pitch of the orange peel.
In a bowl, blend the orange pulp and peel with the sugar.
Add two whole eggs and two yolks.
Add flour to this egg batter and mix well.
In another bowl, beat the two eggs white to stiff peaks.
Fold the egg whites into the cake batter.
Prepare an 8" tin, and pour half the batter in it. Sprinkle with chocolate buttons or bits.
Add remaining cake batter over it.
Bake in a pre-heated oven with a rotator fan 170 degree for 55 minutes.