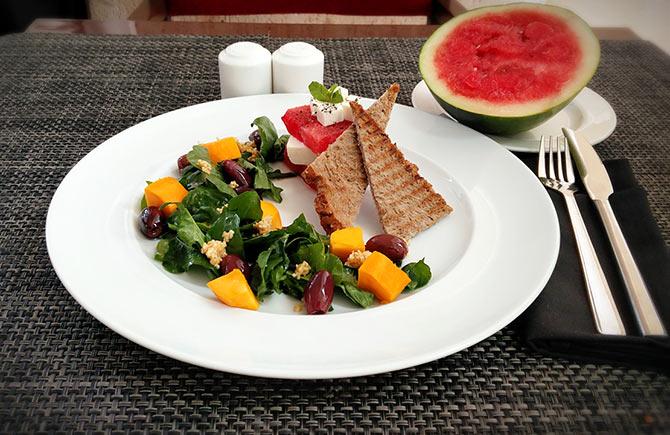 Get your mixing bowls and treat yourself to these amazing salads.
There is nothing quite comparable to fresh crunchy salads for a meal.
If made with the right ingredients, salads can prove to be a wholesome meal too.
Fresh vegetables, even fruits, combined with a full-flavored vinaigrette that is not too heavy and oily is a key element to a successful salad.
Some nuts or grains sprinkled on top can enhance the texture and flavours.
Easy to make, one needs to be a little imaginative and a healthy, tasty salad can be ready in minutes.
Mini Ribeiro gets you eight simple, DIY salad recipes from top chefs across hotels in India. So get your mixing bowl ready!
Mixed leaf salad with mango and roasted cashewnut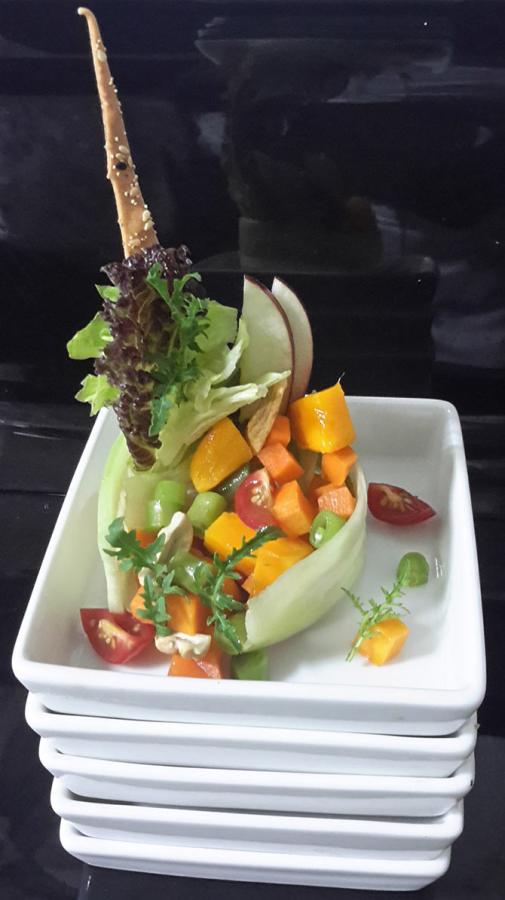 Recipe by Pranay Kumar Singh, executive chef, Swissotel Kolkata
Ingredients
20 gm arugula
25 gm iceberg lettuce
20 gm red oak leaf
30 gm cucumber (peeled and diced)
40 gm mango (peeled and diced)
30 gm French bean (blanched and cut into small pieces)
10 gm roasted cashewnut
15 gm cherry tomatoes
20 ml extra virgin olive oil
6 ml white balsamic vinegar
Salt and pepper to taste
For garnish
Lavash or crisp bread
10 gm sliced apple
Method
For dressing
Mix olive oil and vinegar with a whisk.
Add salt and pepper to taste and keep aside.
For salad
Mix rest of the ingredients together.
Add dressing and mix well.
Garnish with sliced apple.
Serve with lavash or any other crisp bread.
Tropical mango and prawn salad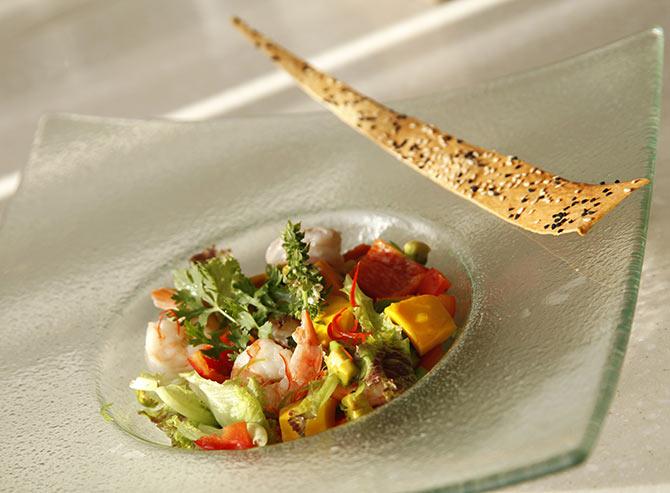 Recipe by executive chef Marty Kindleysides, Sheraton Grand Bangalore Hotel at Brigade Gateway
Ingredients
6 steamed prawns
1 red mango (alphonso)
1/2 diced red bell peppers
1/2 shallots
1/2 green bell pepper
Vinaigrette (olive oil+ salt+ freshly crushed pepper + sugar)
Method
Dice the mangoes and shallots.
Add remainder of the cut vegetables to the mixing bowl and prawns.
Toss well to mix the ingredients.
Generously drizzle the vinaigrette over the salad.
Serve at room temperature.
Yum mamuang pla krob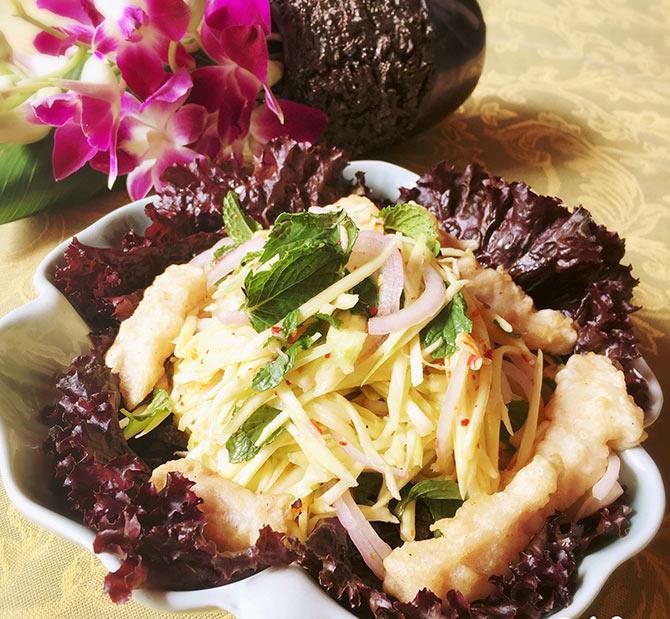 Recipe by Chef Veena Arora, chef de cuisine at The Spice Route, The Imperial New Delhi
Ingredients
200 gm raw mango
30 gm onion
5 gm chopped red chilli
30 gm mint
50 gm lettuce
15 gm peanut (roasted or fried)
15 gm palm sugar
10 ml fish sauce
30 gm sole fillet
30 gm tempura flour
Method
Make a batter with tempura flour.
Cut sole fillet into finger size, dip it in the batter and deep fry it. Keep it aside.
Peel the raw mangoes and grate it.
Slice the onions.
Toss all ingredients together with the raw mangoes and onions.
Add roasted/fried peanuts and serve on a bed of lettuce.
Garnish with fried fish fingers and serve.
Pan seared cuttle fish with mango and sour cream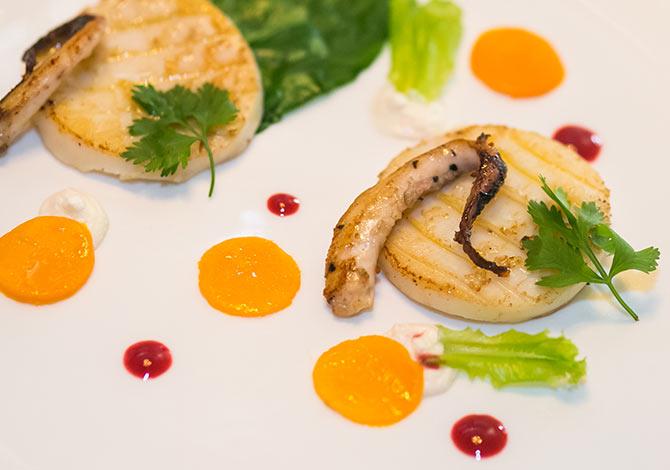 Recipe by Sujan Mukherjee, executive chef, Taj Coromandel, Chennai
Ingredients
60 gm cuttle fish
10 gm mango roundels
8 gm sour cream
5 gm raspberry puree
2 gm lettuce hearts
1 gm cilantro
20 ml lemon dressing
25 ml olive oil
Method
Score and sear the cuttle fish on a hot pan. Cook for three minutes.
Dress it with lemon dressing.
Arrange on the plate along with mango, sour cream and raspberry puree.
Garnish with cilantro and lettuce hearts.
Watermelon, mango and feta salad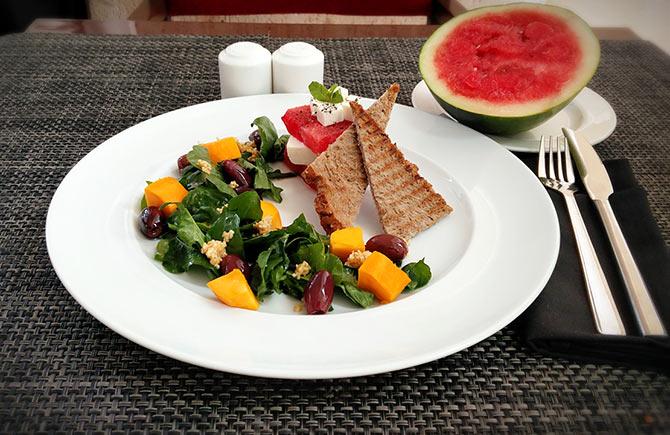 Recipe by Suresh Thampy, executive chef, Courtyard by Marriott, Mumbai International Airport
Ingredients
80 gm watermelon cubes
80 gm feta cheese
80 gm mango cube
80 gm rocket lettuce
10 ml extra virgin olive oil
10 ml lemon juice
10 ml honey
3 gm burgul
2 gm mint leaves
15 gm kalamata olive
Salt to taste
Ground black pepper to taste
Method
Cut watermelon and mango into bite size cubes.
Clean rocket lettuce and soak the burgul.
Make a dressing using olive oil, honey and lemon juice.
Assemble all the ingredients and pour the dressing.
Served chilled garnished with fresh mint leaves.
Summer chiller salad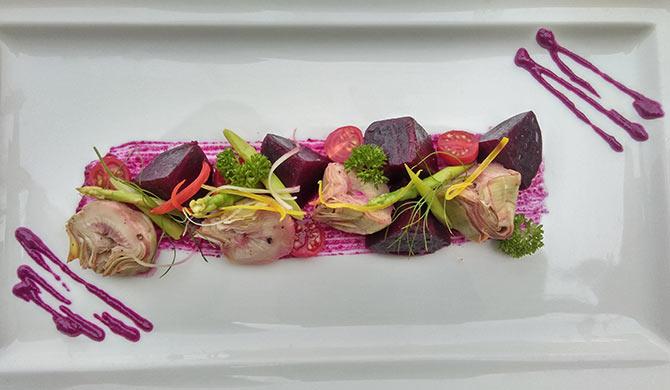 Recipe by chef Rakesh Ghai, executive chef, ITC Rajputana, Jaipur
Ingredients
70 gm artichoke
150 gm beetroot
30 gm asparagus
20 gm cherry tomatoes
5 gm parsley
5 gm celery
15 ml red wine vinegar
20 ml olive oil
Salt to taste
Crushed pepper to taste
A sprig of fennel
5 gm bell peppers
Method
Boil beetroot and cut it into quarters.
Use half beetroot and make a puree.
Season with salt, pepper and olive oil.
Cut artichoke hearts and cherry tomatoes into half.
Cut fresh asparagus diagonally.
Mix all cut vegetables in a bowl with salt, pepper, red wine vinegar and olive oil.
Spread the seasoned beetroot puree evenly on the platter with a brush and place the tossed salad on it.
Garnish with parsley and fennel sprigs and some julienne celery.
Mango and quinoa salad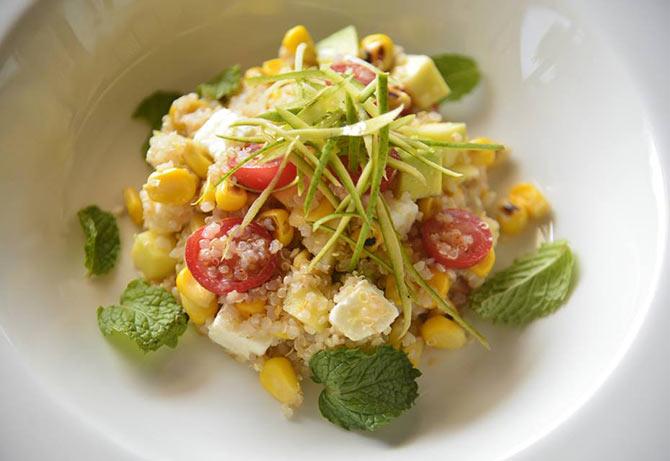 Recipe by Prasad Metrani, executive sous chef, Grand Hyatt Goa
Ingredients
1 cup quinoa
1 large tomato, seeded and diced
2 ears corn, kernels removed
1 cucumber, peeled, seeded and diced
1 mango, diced
1/4 raw mango diced
Some feta cubes
Mint leaves for garnish
3 tbsp finely chopped chives
2 tbsp lemon juice
1/4 tsp grated lemon zest
Method
Rinse quinoa in a fine sieve until water runs clear. Drain and transfer to a medium pot.
Add 2 cups water and bring to a boil.
Cover, reduce heat to medium low and simmer until water is absorbed, for 15 to 20 minutes.
Switch off the heat for five minutes; uncover and fluff with a fork.
Add remaining ingredients and toss until well mixed.
Serve.
Insalata caprese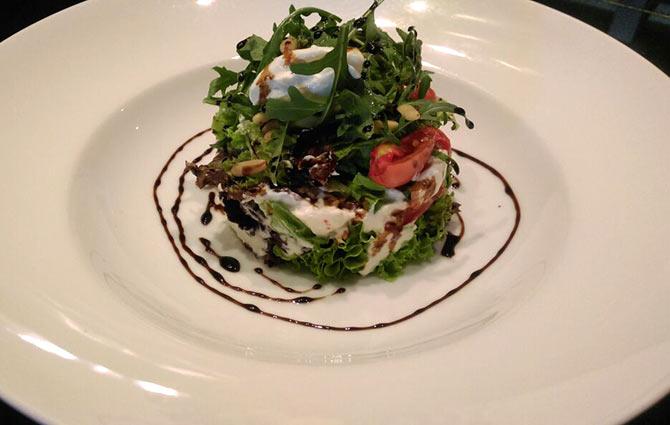 Recipe by chef Clement D'cruz, Hyatt Regency Kolkata
Ingredients
150 gm lettuce
15 gm rocket lettuce
6 tomato wedges
15 gm carrot julienned (raw)
10 gm pine nut
5 ml balsamic reduction (for drizzle)
Lemon juice to taste
Salt to taste
Pepper black to taste
Olive oil as required
20 gm goat cheese
1 tbsp honey
Method
Step 1
Wash lettuce and soak properly.
Dry the lettuce.
Cut the tomato in to wedges without seed.
Cut the carrot in to juliennes and put it in ice water for made it crisp.
Dry the carrot juliennes.
Step 2
Make a dressing with lemon juice, honey, olive oil, salt and pepper.
Tossed the lettuce, tomato, carrot juliennes, and pine nuts with the dressing.
Step 3
Plate it.
Drizzle the balsamic reduction on top.
ALSO SEE
10 places that serve the yummiest salads in Mumbai
Do you have an interesting recipe to share?
Write in to us at getahead@rediff.co.in (subject: Recipe) with your name, hometown and any interesting details about the origin of the recipe, along with a photograph if possible.
We'll publish the best preparations right here on Rediff.com and in India Abroad.