We had asked you, dear readers, to share your favourite festive recipes with us.
Rediff reader Charu sent us these irresistible dessert recipes. You can share yours too!
Surprise your loved ones with these sweet treats this festive season.
7 Cup Barfi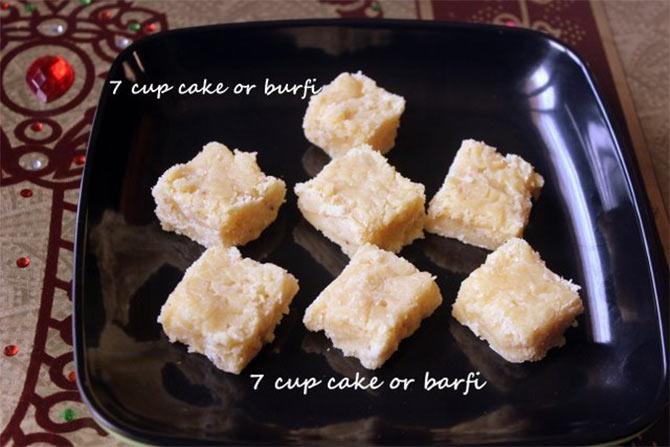 7 Cup Cake or Barfi is made with 7 cups of ingredients.
The secret to getting a delicious barfi is removing the mixture from the heat at the right time.
Ingredients
1 cup gram flour or besan
3 cup sugar
1 cup milk
1 cup ghee
1 cup grated coconut
Method
Grease a tray or cake tin with ghee. Keep it aside.
Mix gram flour, sugar, milk, ghee and grated coconut in a heavy bottom pan. Ensure there are no lumps.
Place the pan over medium flame and keep stirring continuously till the mixture thickens and starts leaving the sides of the pan.
The right consistency is when the mixture gets a porous texture.
At this stage, transfer the mixture to the greased tray. Tap the tray gently to spread the mixture evenly, smoothen top with a greased spatula.
When the mixture is still warm, cut into pieces of desired shape and size with a sharp knife.
When it cools down, store in an airtight container.
Notes
You can also add cashewnuts or almonds to the mixture at the last stage to further enhance the taste.
You can replace coconut with grated carrot for a different taste and colour. Ensure you get the consistency right before pouring the mixture on to the greased tray.
Rava Ladoo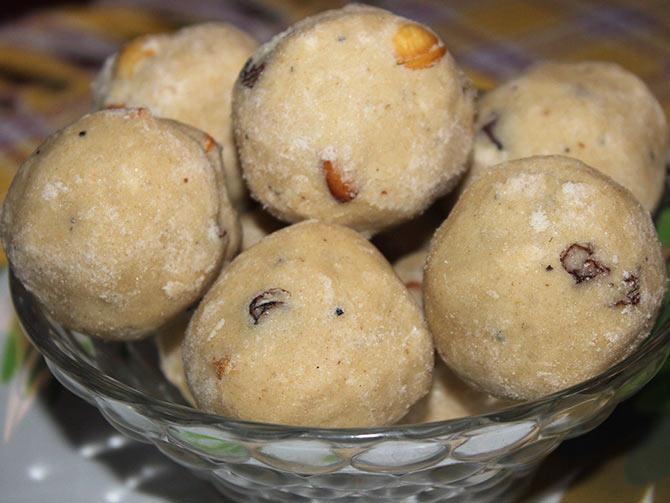 Ingredients
1 cup semolina/rava
1 cup sugar
1/4 cup ghee
3 to 4 tbsp milk
1/4 tsp cardamom powder
1/4 cup cashewnuts and raisins
Method
Heat 1 tsp ghee in a kadai. Roast semolina on low flame till the raw smell goes away. Take care to not overcook or brown the rava.
Remove the roasted rava on a plate. Allow it to cool down completely before grinding it into a fine powder. Keep aside.
Grind sugar into a fine powder.
Mix powdered rava and powdered sugar.
Heat 2 tbsp ghee in a pan. Add cashewnuts and raisins and roast till golden brown.
Add roasted cashewnuts, raisins, cardamom powder and the remaining ghee to the rava mixture. Mix well.
Add milk and mix well till the ladoo dough comes together.
Make ladoos of desired size using your hands. Add few drops of milk if the mixture is too dry. Milk helps in binding the mixture.
Rava ladoo can be stored for 2-3 days if stored in an airtight container.
Notes
You can adjust the sugar according to the sweet taste desired by you. Roast the rava on a lower to medium flame and ensure that the rava does not get burnt at the bottom. If you prefer firm ladoos or soft ladoos add milk accordingly to get the desired ladoos.
Besan Ladoo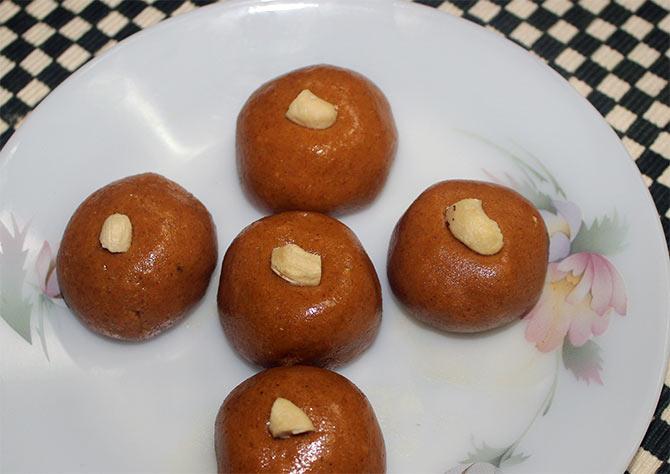 Ingredients
1 and 1/2 cup gram flour (besan)
3/4 cup powdered sugar
1/2 cup ghee
1/2 tsp cardamom powder
Cashewnuts for garnishing
Method
Heat ghee in a pan. Add gram flour and roast stirring continuously on a medium flame till you get the aroma of roasted besan and the colour changes to slight golden brown. This may take 10 to 15 minutes.
The besan mixture will be semi liquid. Pour into a bowl. Let it cool a bit before adding powdered sugar, cardamom powder. Mix well.
Grease your palm with ghee and take some warm besan mixture to shape into ladoos of desired size.
Garnish the ladoo with cashewnut.
Store in an airtight container. The ladoos can be stored for 2 to 3 weeks.
Cooking Tip
While roasting the besan mixture, keep stirring continuously to prevent burning. Roast on a low or medium flame otherwise the mixture will not cook properly.
Kaju Katli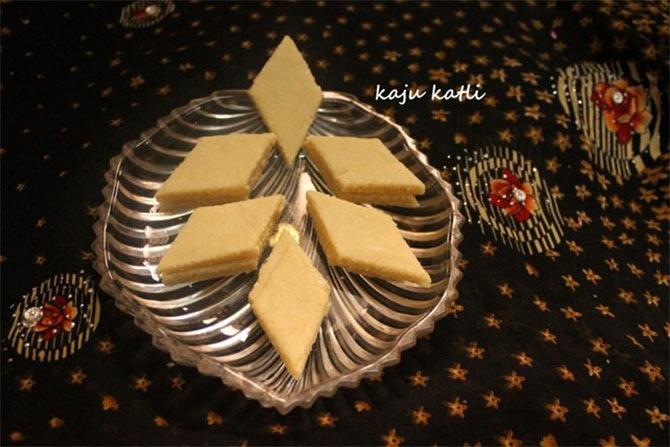 Ingredients
1 cup cashewnuts
1/2 cup sugar
1 tbsp ghee
1/4 cup water
Method
Grind cashewnuts in a dry mixer into a fine powder and keep aside.
Heat a non-stick pan on a medium flame. Add sugar and 1/4 cup water and boil till sugar is dissolved. Cook on a low to medium flame for another 2 minutes till you get a one string consistency.
Add cashewnut powder and mix well. Keep stirring continuously and ensure no lumps are formed.
Once the mixture comes together and becomes little thick, which takes about two to three minutes, switch off the flame. Allow it to cool down in the same pan.
Roll with your hands to make it to a soft dough.
Grease a plate (you can use the inverted surface of the plate) with little ghee.
Put the dough and spread gently with your hand and then roll with a greased rolling pin into a thin roti shape. Cut into square or diamond shaped pieces.
Kaju katli is ready to be served.
It can be stored in a refrigerator up to one week.
Paneer Kheer
Paneer Kheer tastes excellent when served chilled.
Ingredients
2 cup full fat milk
1/2 cup condensed milk
1/2 cup paneer or cottage cheese
4 to 5 tbsp sugar
1/4 tsp cardamom powder
5 to 6 saffron strings soaked in 2 tbsp of warm milk
Almonds and pistachios for garnishing
Method
Crumble or grate the paneer into small pieces and set aside.
Boil milk on medium flame till it reaches a thick consistency.
Now add condensed milk, sugar, paneer pieces, saffron strings and cardamom powder and mix well. Cook on a medium flame for upto 5 minutes.
Switch off the flame and remove the kheer in a serving bowl.
Garnish with chopped nuts and serve paneer kheer warm or chilled.
Notes
You can also add few drops of rose water to make it more exotic dessert. You can adjust the sweetness by adding more or less sugar, as desired by you. I have added 1/2 cup of paneer as I like the taste of paneer pieces in the kheer. If you want a thin consistency kheer, you can add just 1/4 cup of paneer pieces.
Basundi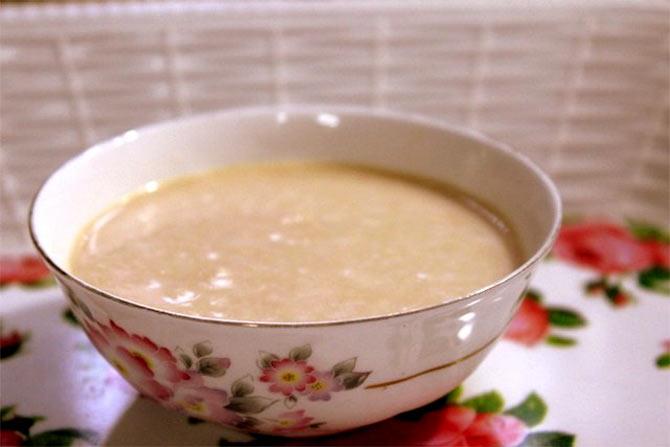 Basundi is a popular Indian dessert in the states of Maharashtra, Gujarat and Karnataka made with condensed milk, sugar and nuts.
Ingredients
1 litre full cream milk
1/2 cup sugar
1/4 tsp cardamom powder
5 to 6 strands of saffron
Method
Boil milk in a broad and heavy bottomed vessel.
Lower flame and let it boil till it reduces to to half its volume. This will take approximately about an hour. Keep stirring occasionally.
Keep scraping the sides of the vessel to get an even mixture.
Once the milk is reduced to half its volume, add sugar, cardamom powder and saffron strings and mix well.
Cook on a low flame for another 15 minutes till the basundi mixture gets a thick consistency. Switch off the flame.
Serve basundi hot, warm or chilled as desired.
Notes
Keep stirring the milk occasionally to avoid burning of milk. You can also use condensed milk to make instant basundi. You can add fruits like strawberry or Lychee to make a delicious strawberry rabri or lychee rabri. Add nuts like almonds and pistachios to make it even more rich and delicious. Always use full cream milk for better and rich taste.
Aval Kesari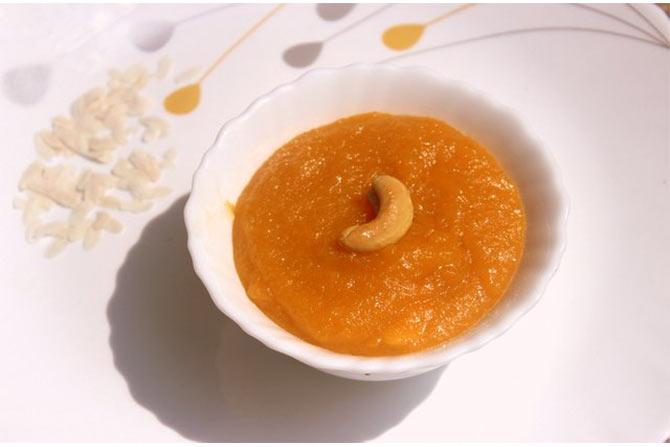 Made from avalakki or poha or flattened rice, sugar, ghee, cardamom powder and nuts, Aval Kesari is very delicious and can be prepared in a jiffy.
Ingredients
1/2 cup aval or poha
1/2 cup sugar
2 cup water approx
2 tbsp ghee
1/4 tsp cardamom powder
5 to 6 cashew nuts for garnishing
A pinch orange or kesar food colour
Method
Heat a pan and dry roast the poha for upto 5 minutes on low flame. Remove on a plate.
Once it cools, grind into a coarse powder (rava-like consistency.
In the same pan, roast cashew nuts till golden brown and keep aside.
Add powdered poha to the pan and roast on a low flame for 2-3 minutes.
Boil 2 cups of water in a separate vessel. Add it to the roasted poha and cook on a medium flame the water is completely absorbed and poha is cooked.
Add sugar, cardamom powder and orange food colour and mix well. Cook on a low flame. The mixture will become little watery.
Add ghee and cook till it leaves the sides of the pan.
Aval Kesari is ready to be served.
Garnish with roasted cashewnuts and serve warm.
Notes
Adjust sugar content and ghee according to the taste.
Ensure that the poha is well cooked otherwise the kesari will not be soft.
Photograph: charuscuisine.com
ALSO SEE:
Send us your favourite festive recipes. Write in to us at getahead@rediff.co.in (subject: Festive Recipes) with your name, hometown and any interesting details about the origin of the recipe, along with a photograph if possible. We'll publish the best preparations right here on Rediff.com and in India Abroad.