You can choose from a healthy salad, sandwich or just a granola bar.
If you are bored of the usual, here are some easy recipes to keep you going through the week.
Recipes and photographs: Courtesy The Academy of Pastry and Culinary Arts
Couscous with Ratatouille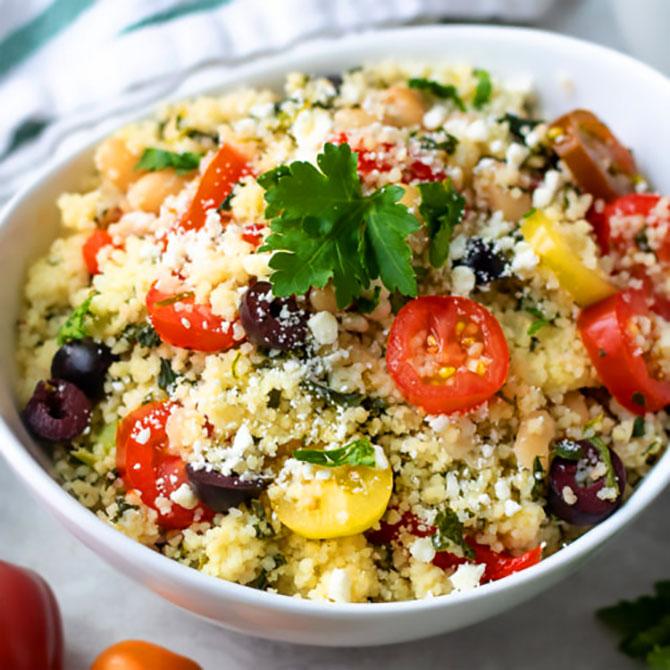 Recipe by Charles Jayakumar, culinary chef, APCA Bangalore
Method
For Couscous
Ingredients
200 gm instant cous cous
200 gm water
Salt to taste
50 gm butter
1 tbsp extra virgin olive oil
Method
Boil water along with salt and butter.
Add couscous and stir well.
Remove from heat and cover with a lid. Let it sit for 5 minutes.
Before serving drizzle some oil, stir with a fork to break up lumps, if any.
For Ratatouille
Ingredients
150 gm tomatoes
75 gm onions
100 gm green zucchini
120 gm green, red and yellow bell peppers
120 gm egg plant
50 gm tomato paste
10 gm thyme
10 gm fresh basil
25 gm garlic
Salt to taste
White pepper powder to taste
50 ml olive oil
Method
Heat oil in a frying pan on medium heat.
Add onions and cook for 2-3 minutes. '
Add capsicum and cook for 2 minutes.
Transfer onions and capsicum into a bowl and set aside.
Add eggplant into the pan and cook over medium heat for 2 minutes.
Add onion and capsicum to the pan and stir in tomato paste.
Add thyme and tomato paste.
Reduce heat to low, cover and cook for 15 minutes, stirring occasionally.
Add basil and garlic.
Season with salt and pepper. Serve warm.
Avocado and Egg Sandwich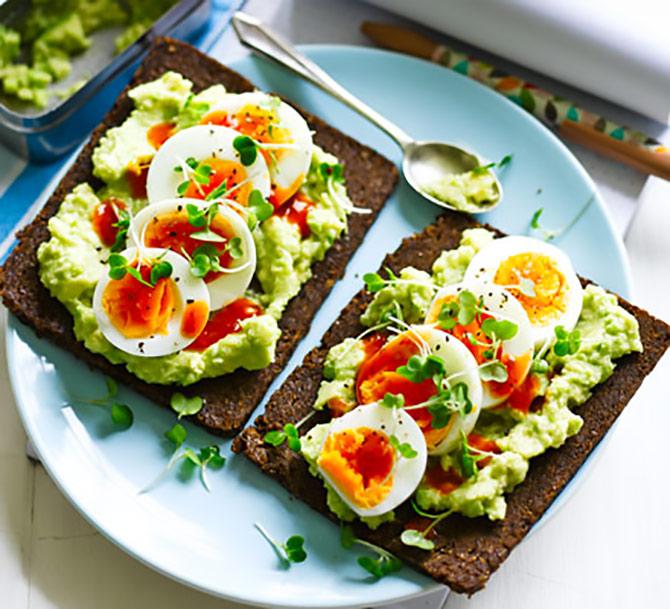 Recipe by Jagadish Purshottam, executive culinary chef, APCA Bangalore
Ingredients
2 avocado
1 iceberg lettuce
1 tbsp olive oil
4 boiled eggs
1 roasted red bell peppers (optional)
1 chopped onion
2 tomatoes
Juice of 1 lemon
50 gm chives
Salt and pepper
1 tbsp mustard paste
4 bread slices
Method
Cut avocados in half and scoop the flesh into a medium bowl.
Sprinkle salt and use a fork to mash the avocados until they're smooth but slightly chunky.
Add cilantro, tomato, red onion, and minced garlic to the avocado mixture. Stir to combine.
Add lemon juice and check for seasoning.
Toast bread slices by sprinkling olive oil.
Add a layer of iceberg lettuce on the toasted bread slices.
Add cucumber slices followed by avocado mixture (also called guacamole).
You may add a layer of roasted bell peppers (optional).
Add thinly sliced boiled eggs.
You can have it as an open sandwich or cover it with toasted bread on top
Swiss Bircher Muesli
Recipe by Kris Barboza, assistant pastry chef, APCA Bangalore
Ingredients
150 gm oats
420 ml milk
60 ml apple juice
3 tsp lemon juice
1 green apple grated
2 tbsp honey
375 gm plain yoghurt
A pinch of cinnamon
Some fresh fruits, berries, dry fruits and toasted coconut
Method
Mix oats with yoghurt and milk.
Add grated green apple.
Add cinnamon powder, apple juice and lemon juice.
Mix well and refrigerate overnight.
In the morning, add fruits, dry fruits, berries and enjoy.
Granola Bar
Recipe by Shreya Monga, assistant pastry chef, APCA Gurgaon
Ingredients
150 gm oats
125 gm honey
75 gm sugar/brown sugar
25 gm raisin
25 gm dates
25 gm almond flakes
25 gm pistachio
White chocolate (28%) for dipping or lining decoration
Method
Roast all the nuts and allow them to cool.
Warm honey to 80°C and mix in all ingredients.
Use rectangular mould or cut into rectangular shapes.
Bake at 170°C for 10 minutes.
Once cooled, pipe white chocolate designs over bars or dip half the bar into melted white chocolate.
Allow to set and store in an airtight container.
Probiotic Yoghurt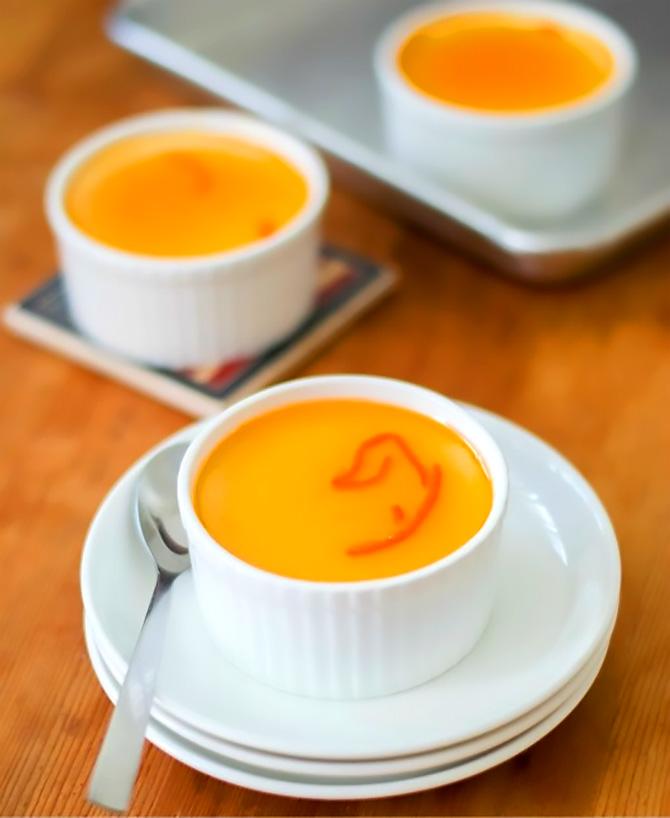 Recipe by Raghunandan, pastry chef, APCA Bangalore
Ingredients
200 ml hung curd
200 ml fresh cream
250 ml condensed milk
100 gm alphonso mango
100 ml probiotic milk
Method
Whisk the hung curd, condensed milk and cream together.
You may add mango puree for flavour.
Pour into a ramekin or a ceramic bowl.
Bake at 160 degrees for 15 minutes.
Garnish with sliced mango and serve chilled

Greek salad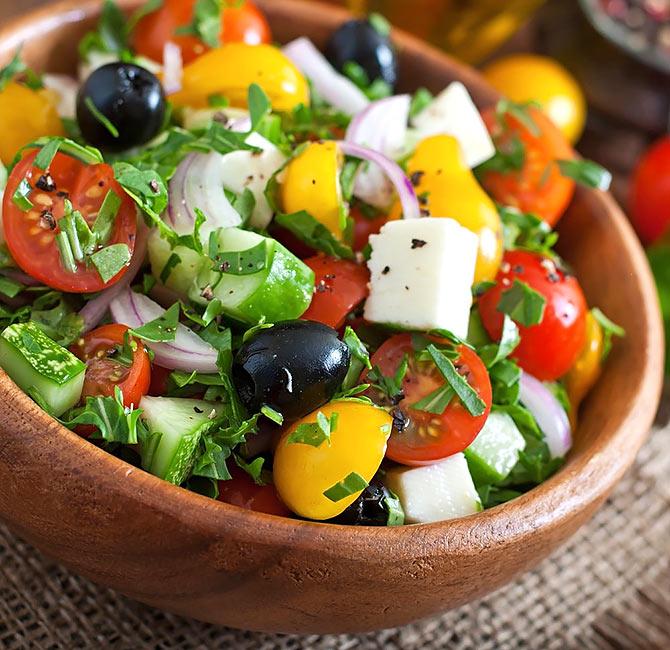 Recipe by Charles Jayakumar, culinary chef, APCA Bangalore
Ingredients
1 Japanese cucumber
2 tomatoes
1 onions
1 red, yellow and green bell peppers
100 gm aragula (optional)
25 gm green olives
25 gm black olives
50 ml olive oil
1 lemon
50 ml red wine vinegar
50 gm feta cheese
Salt and pepper to taste
Method
Add diced red onions and ¼ cup red wine vinegar to a small bowl.
Allow to sit for about 15 minutes, then drain.
Meanwhile, in a large bowl add lettuce.
Evenly add bell peppers, cucumber, tomatoes and drained red onions.
In a medium-sized bowl combine 3 tbsp red wine vinegar, lemon juice, dijon mustard, minced garlic, oregano, salt, and pepper.
Slowly drizzle in the olive oil into the dressing mixture, vigorously whisking until a thickened dressing is achieved. Season with salt and pepper as desired.
Add the dressing with the above-mentioned ingredients in a bowl and toss gently.
Add kalamata olives and feta cheese on top of the salad.