Now you can feast without guilt.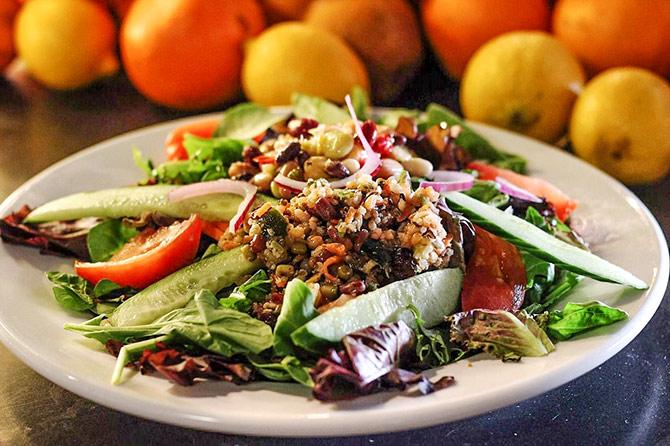 It's that time of the year when people don't hesitate to indulge in yummy treats.
But, for those who want to eat clean this New Year, we bring you three yummy yet healthy recipes.
Quinoa Salad
Ingredients:
½ to 1 bunch kale
1 cup cooked quinoa
¼ cup Parmesan cheese
¼ cup pistachio
¼ cup cranberry
3 to 4 tbsp olive oil
Kosher salt
Freshly ground black pepper
Method:
Toss everything together and enjoy this simple yet nourishing salad.
---
Ultimate Granola Bar
Ingredients:
2 ½ cup rolled oats
½ cup dried coconut powder
½ cup nuts chopped
½ cup brown sugar
½ cup coconut oil
½ cup honey
¼ cup dark chocolate
½ tbsp vanilla extract
½ tsp salt
Method:
Preheat oven to 165°C. Grease a 9-inch square baking dish. Spread the oats and coconut evenly across a baking sheet.
Toast oats and coconut in a pre-heated oven for about 10 minutes until browned, then transfer to a large mixing bowl.
Mix honey, nuts, brown sugar, vanilla extract, coconut oil and salt in a saucepan over medium-low heat. Cook and stir until smooth.
Pour the honey mixture over the oats and coconut; stir to coat. Spread the mixture evenly into the prepared baking dish.
Bake in a pre-heated oven until it begins to dry, about 10 minutes for crunchy granola bars, less if you like them chewy. Cool completely before cutting.
---
Coco Choco Duet
Ingredients:
½ cup chopped almonds
½ cup honey
½ cup dried coconut powder
2 pods of cardamom
2 tbsp of cocoa powder
1 tsp ghee/clarified butter
Method:
In a pan, add ghee, almonds and coconut. Cook on a high flame for 3 minutes and keep tossing every 1 minute. Once the mixture is well toasted, let it cool.
In a mixer, take the toasted mixture, cardamom and grind to a fine powder. During the grinding process itself you can see the mixture coming together.
Transfer the ground mixture to a flat plate, add cocoa powder, honey and mix well.
Shape into round balls. Pop them in your mouth and enjoy the flavourful burst.
Recipes by Payal Kothari, integrative nutritionist and gut health coach.