Salads are a great option when you want to boost your immune system. Presenting three salad recipes you can cook while you are working from home.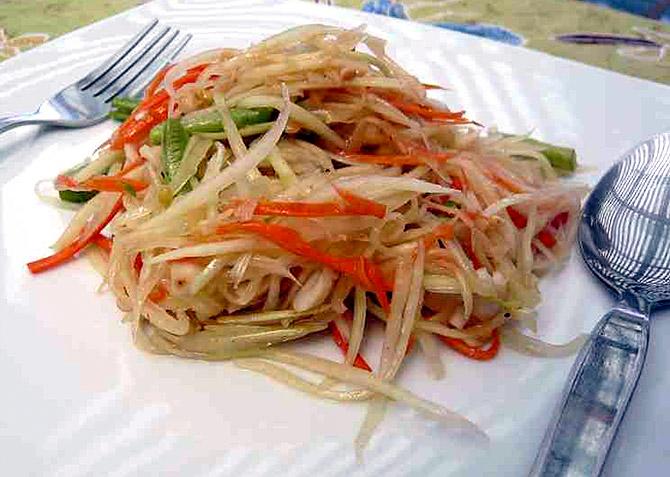 Som Tam Salad
Ingredients:
For the dressing:
1/3 cup rice vinegar
3 tbsp maple syrup or sugar
1 tbsp soy sauce
1 tsp Kosher salt
2 cloves of garlic, minced
2 tbsp chopped shallots (optional)
1-2 bird's eye chilli pepper, sliced*
For the salad:
1 medium green papaya (you'll need about 4½ cups shredded green papaya)
1 large carrot, peeled and julienned
1-2 Persian cucumbers, julienned
1/3 cup loosely packed mint leaves, chopped
4 tbsp toasted sunflower seeds
Method:
For the dressing:
Mix all the ingredients for the dressing in a small bowl and set aside.
Prepare the papaya:
Slice off the ends of the green papaya. Using a vegetable peeler, peel the outer skin. Hold the peeled papaya with one hand, tap the papaya with a sharp knife with the other hand. You should see shallow knife marks on the papaya. Carefully slice off a layer of the papaya (where you have been tapping), creating green papaya shreds.
For the salad:
In a large bowl, mix green papaya, carrots and cucumber, mint and sunflower seeds. Pour in the dressing that's been marinating and toss to coat the vegetables with the dressing. Serve immediately.
---
Quick Haloumi and Grain Salad
Ingredients:
Olive oil spray
250 gm haloumi, thinly sliced
250 gm brown rice and quinoa
1 small red onion, thinly sliced
1 bunch radishes, thinly sliced
60 gm baby rocket
½ cup mint leaves
½ cup flat-leaf parsley
1/3 cup (40 gm) pecans, toasted and coarsely chopped
2 tbsp olive oil
1 tbsp red wine vinegar
1 garlic clove, crushed
Method:
Spray a medium frying pan with oil. Cook haloumi over medium heat for 1-2 mins each side or until golden.
Meanwhile, heat the rice mixture in microwave.
Combine the haloumi, rice mixture, onion, radish, baby rocket, mint, parsley and pecans in a large bowl. Place the oil, vinegar and garlic in a screw-top jar and shake until well combined. Season. Drizzle over the salad and gently toss to combine. Serve immediately.
---
Roast Pumpkin and Pepita Salad
Ingredients:
750 gm butternut pumpkin
2 tbsp extra virgin olive oil
1 tbsp honey
2 tsp apple cider vinegar
150 gm marinated labne or feta, drained
1/3 cup fresh mint leaves
Method:
Preheat oven to 200°C/180°C fan forced. Line a large baking tray with baking paper.
Remove the seeds from the pumpkin and set aside. Cut pumpkin into 2 cm-thick slices. Place on prepared tray. Drizzle with 1 tbsp olive oil. Roast, turning halfway, for 20 minutes.
Rinse the pumpkin seeds and pat dry. Add to tray with the pumpkin and roast for a further 20 minutes or until golden. Transfer pumpkin and seeds to a serving plate.
Add the honey, apple cider vinegar and remaining olive oil to the warm baking tray. Stir well to make a dressing. Drizzle half the dressing over the pumpkin mixture. Season. Top with labne and mint and drizzle with the remaining dressing.
---
Vijesh Modi is the sous chef of The Deltin, Daman.
---