Vegetarian food is more than paneer and potatoes today. Chefs in Mumbai are unleashing their creativity to woo gourmets with global vegetarian fare. Mini Ribeiro picks her 10 favourite restaurants.
The Going Green is mantra not only for the environment, but also extends to food habits. Foodies are turning vegetarian by choice.
Taste buds of the average Indian have evolved and they look for that wow factor in a meal, even if vegetarian.
Global cuisines today offer an endless array of exciting dishes for vegetarian gourmands. From exotic ingredients to popular global cuisines, contemporary presentations to a variety of cooking styles -- vegetarian restaurants in Mumbai, the Mecca for foodies, have it all.
Here then are my Top Ten Vegetarian Restaurant Picks.
Burma Burma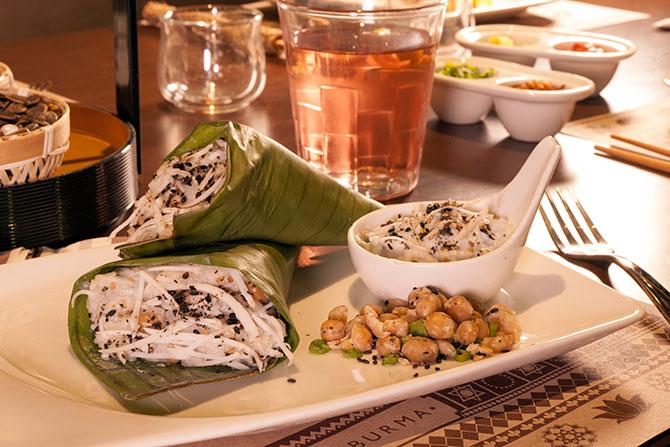 Photograph: Courtesy Burma Burma
Nouvelle Asian cuisines with a focus on the lesser-known traditional Burmese cuisine, presented in a modern-rustic setting with unique decor and a tea bar, is what one may expect.
Enjoy the typical one-meal Khow Suey (Rs 380), with your preference of noodles or be adventurous and try the Kowni Mow (Rs 300), a light but flavoursome dish comprising sticky rice and white peas steamed in banana leaf, served with coconut cream and salty black sesame.
Meal for two: Rs 1500 approx. No alcohol served.
Address: Kothari House, Allana Centre Lane, M.G. Road, Opp Mumbai University, Fort, Mumbai 400001. Phone: 022-40036600
38 Bangkok Street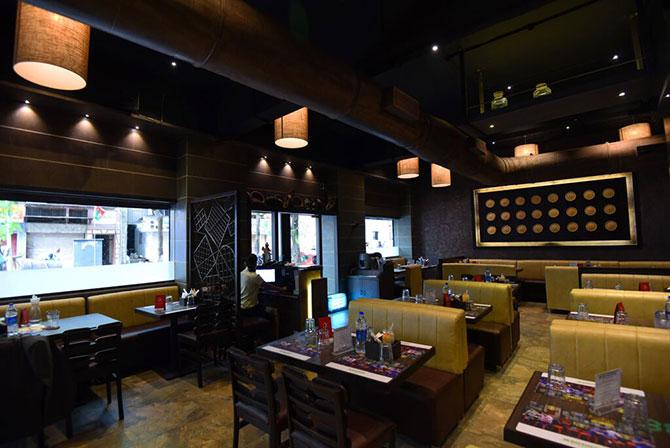 Photograph: Courtesy 38 Bangkok Street
Zesty Pan Asian Cuisine ranging from vegan relish salads, curries, woks, noodles and more, inspired from the streets of Asia - Thailand, Japan, Korea, Malaysia and Vietnam, await food lovers here.
The unique Crunchy Java Lotus Stem (Rs 200) tossed with ginger garlic, is one of the highlights. The spicy and mouth-watering Masamman curry (Rs 270) is equally a palate-teaser. One is actually spoilt for choice.
Meal for two Rs 800 approx. No alcohol served.
Address: 3,4,5,6 Windsor Chambers, Cawasji Patel Street, Fort Central, Fort, Mumbai 400001. Phone : 9920838238
The Good Food Co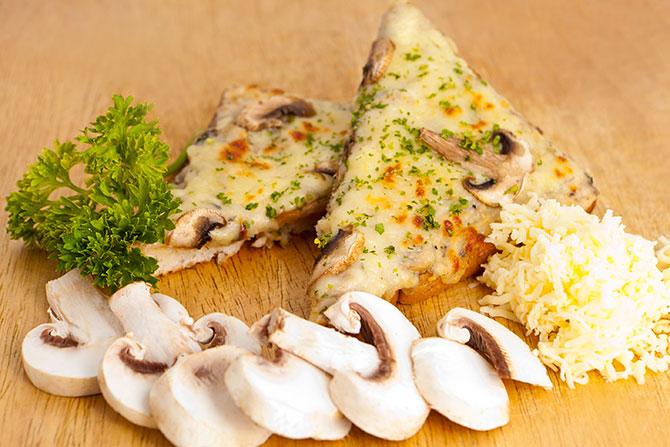 Photograph: Courtesy The Good Food Co
If variety is what one is seeking and burgers, toasties and pizzas is what you fancy, then this place is a haven for foodies. The Mexicano Burger (Rs 110) with a crunchy Mexican (red bean) patty with jalapeno flavoured mayonnaise, lettuce & cheese, is the ultimate lunch-time treat. For cheese lovers, a Mushroom & Cheese Toasty (Rs 80) with creamy, flavourful mushroom and cheese mixture spread between 2 slices of bread, toasted to perfection, is a must-try.
Meal for two Rs 500 approx. No alcohol served.
Address: Shop 3, Nand Prem Building, Nehru Road, Vile Parle East, Opposite Brijwasi Sweets, Mumbai, Maharashtra 400057. Phone: 022-26112020
Vedge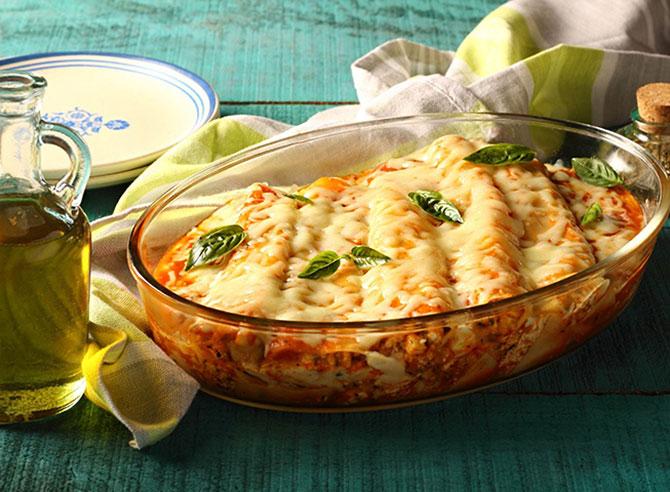 Photograph: Courtesy Vedge
Catering to varied palates, this place offers food from all over the world. Whether it is the fully loaded Nachos, luscious Burritos, creamy Cannelloni Stuffed with Corn & Cottage Cheese or flavourful Lasagna, Vedge has it all. Chukandar ki Galouti (Rs 250), one of their signature dishes, is a twist to the original North-Indian Beetroot kabab, with Italian Cheese, Balsamic drizzle and Green Mango zing.
Meal for two Rs 1,000 approx. No alcohol served.
Address: Ground floor Fun Republic Mall, New Link Road, Andheri West, Mumbai 400053. Phone: 022-61668906
Ithaka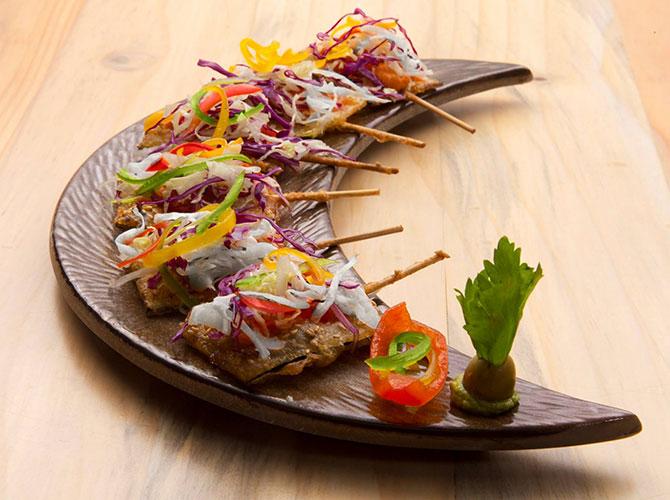 Photograph: Courtesy Ithaka
The aromatic flavours of Lebanon can be relished in vegetarian dishes too. Ithaka's special mezzo platter served (hot and cold) can be the perfect start to any vegetarian gourmet. Mediterranean fusion food and traditional Lebanese fare served with a twist can make a meal here, exciting. Hummus Harra (Rs 375) traditional hummus topped with pesto and garlic with pita bread, is an absolute must.
Meal for two Rs 1000 approx. No alcohol served.
Address: Janata Industrial Estate, Opp High Street Phoenix Mills, SB Road, Lower Parel, Mumbai. Tel: 022-33956164
Spesso Gourmet Kitchen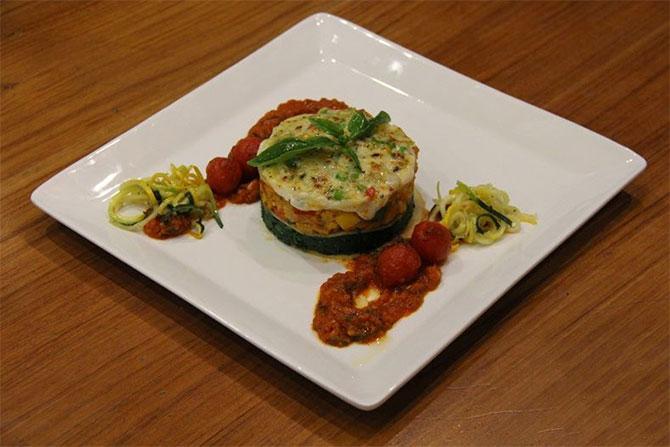 Photograph: Courtesy Spesso Gourmet Kitchen
An array of tantalizing European, Mexican, Italian dishes are on offer at this swish restaurant. Enjoy unusual dishes like Tajine, Caponata, Pastas, Tapas and Salads. There is a lot to choose from and each dish is poetry on plate.
The Funghi Misti Trifolati (Rs 405) – a medley of mushrooms with garlic, olive oil, et al with grilled polenta, is not to be missed.
Meal for two Rs 1200 approx. No alcohol served
Address: Ground Floor, Regent Chambers, Jamnalal Bajaj Road, Nariman Point, Mumbai.
Riso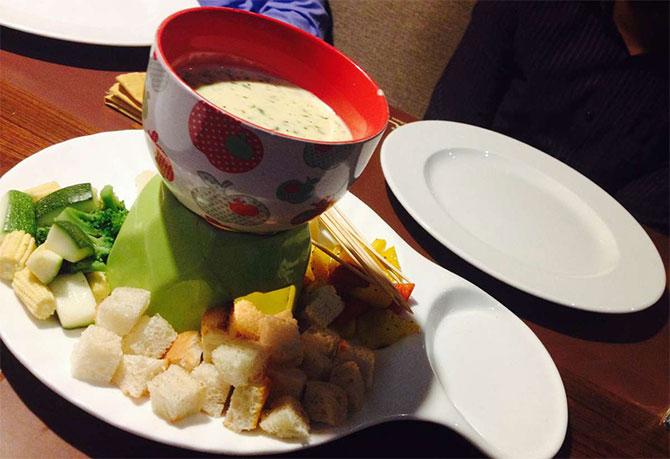 Photograph: Courtesy Kanika Kapoor/Zomato
Exotic Italian fare can be savoured at this casual chic eatery. Riso's hot, creamy and authentic Risotto menu is any foodie's delight.
Baked Risotto (Rs 495) with sun-dried tomatoes, creamy spinach and parmesan cheese or Risotto al Forno (Rs 495) with brown rice cooked in tomato sauce peas and mozzarella, are a few of the many options.
Meal for two Rs 1400 approx. No alcohol served.
Address: Janata Industrial Estate, Opp High Street Phoenix Mills, SB Road, Lower Parel, Mumbai. Tel: 022-33956164
Gonguura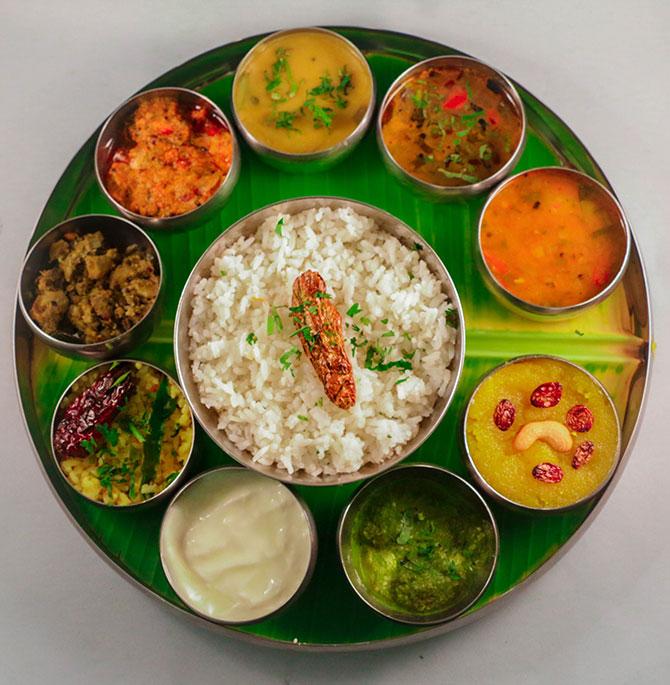 Photograph: Courtesy Gonguura
Fiery, palate-tingling, simple Andhra home -style food made using fresh ingredients and masalas is what you can relish.
The Special thali (Rs 350) replete with vegetables, rice, sambhar, dal, fried snack et al is a treat for the taste buds and not to be missed. But there is a lot more to try as well.
Meal for two Rs 700 approx. No alcohol served.
Address: 5/6, Juhu Ekta co-operative housing society, Juhu-Versova Link Road, Andheri West, Mumbai.
Tuskers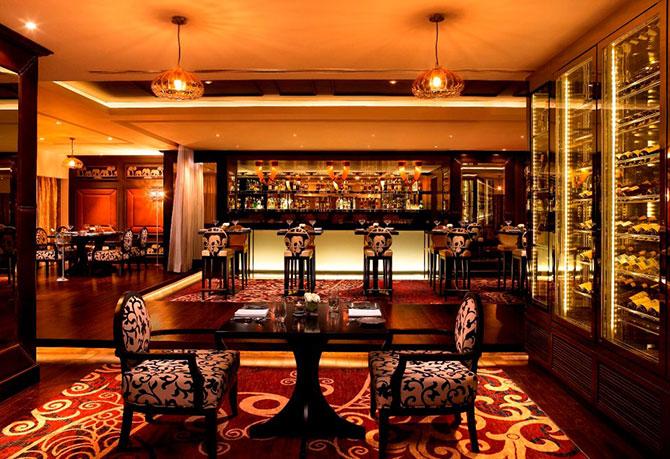 Photograph: Courtesy Tuskers
One cannot be vegetarian and not visit Tuskers at Sofitel Mumbai BKC. With a separate kitchen catering to the vegetarians only, the Indian fare dished out here becomes even more special.
Known for its Gujarati and Marathi cuisine for lunch & dinner, one must try the delightful South Indian Breakfast (Rs 711) by Chef E. Munichandrudu, on the weekends. And yes, the Besan nu churma on the regular menu, is absolutely lip-smacking.
Meal for two Rs 3,000 approx. Alcohol served.
Address: C-57, Bandra Kurla Complex, Bandra East, Mumbai, Maharashtra 400051
022 6117 5000
Cream Centre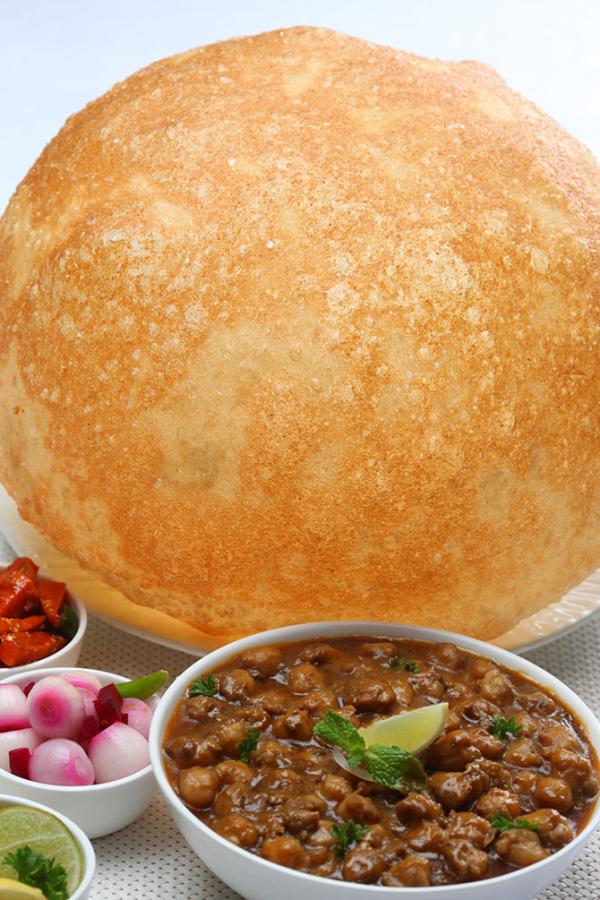 Photograph: Courtesy Cream Centre
One can't be Vegetarian and not gorge on the street food here. The menu is an exercise in choices, but Chole Bhature (Rs 304) emerges as the clear winner.
The tangy, spicy chole or chickpeas with a giant size fluffy bhatura, is a must-have. And if sizzlers are your calling, the Paneer Chilli Sizzler (Rs 395) is their signature dish. With 8-9 outlets in the city, there is almost one in each area.
Meal for two approx. Rs 1,200. No alcohol served
Address: Inorbit Mall Malad, Link Road, Malad (W), Mumbai 400064. Phone: 022-28730606
Click here for more interesting recipes and food features!
ALSO SEE
The best places to eat in Delhi