On a dating app, you have 0.5 seconds to decide whether you like someone enough before you go to their bio and connect with them, ays Ravi Mittal, founder of the dating app QuackQuack.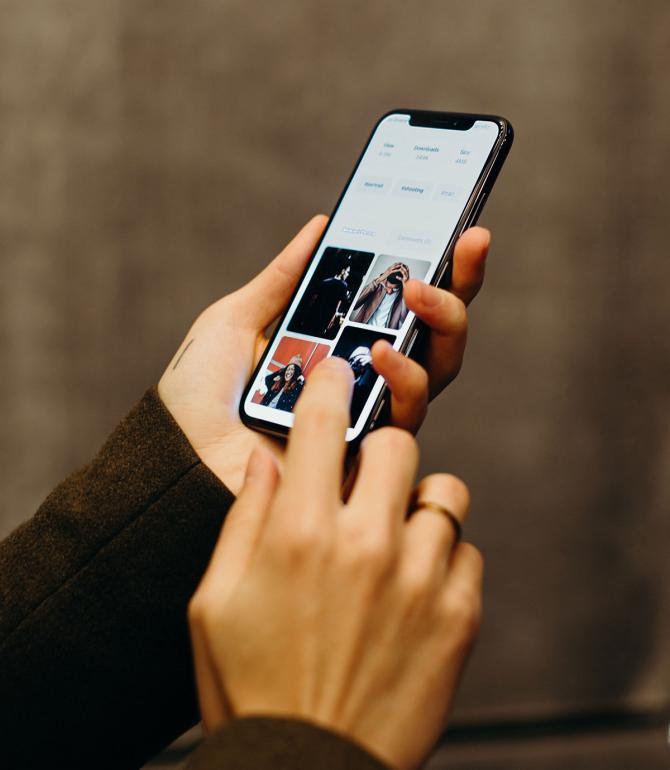 If your day swings around the likes and skips world, then welcome to a new era of dating and love.
It's estimated that around 150 million people use dating Web sites, so being the most liked on the dating app is pretty awesome.
A perfect opening line, your vibe of confidence or some gallant gestures are all things capable to seize one's attention -- in real life, that is.
In the online dating world, it's all about your profile.
Every single word and photo you use counts when it comes to making a good impression and various studies have shown that certain profile strategies may inspire more profile likes.
Though there's no silver bullet to get everyone to swipe right on you, but there are definitely things you can do to improve your chances.
Remember: You have only a split second to catch their attention.
So use these surefire tricks and you'll never sleep alone again.
1. Bio is the game changer
The bio offers daters looking through your profile a more holistic view of your personality.
In your dating app bio, you should write a bit about your personal interests, what you are looking for in a relationship, and some fun facts.
It helps to tailor your profile to the type of people you would love to connect.
Include details about yourself that are similar to those you might want in a partner.
It's difficult to make the person on the other side of the screen laugh, but if you can you are going great.
So you can consider a joke or something interesting in your bio. Nothing too cheesy or desperate, just something that shows you've got a bit of banter.
Also, make jokes that are lighthearted and inoffensive, while revealing information about yourself.
Don't forget that no one has time to read a long profile with a people blabbering on about themselves.
Keep it crisp and snappy, you don't want to give away everything in your bio.
Try to aim for three to five sentences, as this can be just enough to let someone know a little about you while also leaving him or her wanting to know more, which can increase your odds of getting swiped right on.
Try a bit of mystery left over.
Also, typos and incorrect grammar in your profile can be major incentives for people to skip your profile.
2. Implement the 70-30 rule
It's convenient to tramp on and on about yourself in your dating app profile.
You're trying to provide potential matches with as much information as possible before they make a verdict which way to swipe, right?
Some of the most popular online daters used about 70 percent of their profiles to talk about themselves, with the other 30 percent describing what they're looking for in a prospective partner.
Consider following this formula in your own profile, and always look for opportunities to shed light on your dating intentions and priorities.
3. Blank bio bandits
The whole game of a dating app is to find someone -- for a fling or forever -- and while the photos are key, the prominence of words, can't be under-estimated.
So, whatever you do, don't leave your bio blank.
It seems like a daunting task, but in reality it is not.
You just need to ask yourself some simple questions like: are you a football fanatic or a diehard foodie? Are you a dog owner, a Westworld watcher, or have a favourite place that you've visited?
And holla, you will be here with an ample of information for a perfect bio.
You can also include a quote from your favourite TV show, share what your ideal first date looks like, or ask a question to make it easy for your potential match to start a conversation.
If words aren't your thing, you can supplement by adding your Spotify picks or connecting to your Instagram -- both offer other users a more extensive look into what you're about and can be great ice-breakers once you match.
4. Crack the photo code once and for all
On a dating app, you have 0.5 seconds to decide whether you like someone enough before you go to their bio and connect with them.
So it's important to have a nice presentable photo as your profile picture which also stands out as your profile photos are the first thing people see when they swipe onto your profile.
While these photos indeed don't have to be professional headshots, they should represent your best self.
Most important tip: Don't include group shots in your first three pictures.
It's difficult to identify in the group photo, whether if the person is on the one on the right or two in from the left.
The best way to stand out on any dating app is by having at least one or two candid photos in your profile.
There's something about a candid shot that's peculiarly attractive as it looks more natural, and thus, shows off your true self or a filterless side.
Also, there's a major no-no's for sunglasses and hats.
In a study, it was found that wearing glasses in a profile picture decreases a user's chance of being right-swiped by 15%, and wearing a hat decreases your chance by another 12%.
Rather, you should be providing different perspectives of who you are in all facets.
Create some diversity by uploading some face shots, a full-body shot, and a picture of you doing an activity you love or a photo that showcase your active lifestyle.
It enables potential matches to see more of what you look like while also conveying that you are confident and outgoing.
Remember to highlight travel pictures in your profile as travel photos receive 30 percent more likes than the average photo.
5. Avoid overused opening lines
Online dating is a great deal with the options it provides us, but the options are a double-edged sword because we can blend into a sea of other faces.
Some people get 60 to 120 messages a day, so you need to stand out. 'Hey, cutie' isn't going to work.
The person you are flirting with can pick up on all sorts of nonverbal cues that they can't access online, when you meet them in person.
In the world of online dating, their information is limited. If you start with a lazy intro, it's going to count against the points you racked up with your profile.
Apart from the above tips, you should also be open-minded when it comes to the potential matches themselves.
If there is someone you are not sure about and/or you could go either way on, there's no harm in swiping right.
Dating is a numbers game, and if you want the numbers to be in your favour, you should be willing to like profiles more often -- you just never know.