If you are working from home, make an effort to stay connected with your peers and managers who might be working from office, says Indira Ramachandra, chief human resources officer, AscentHR.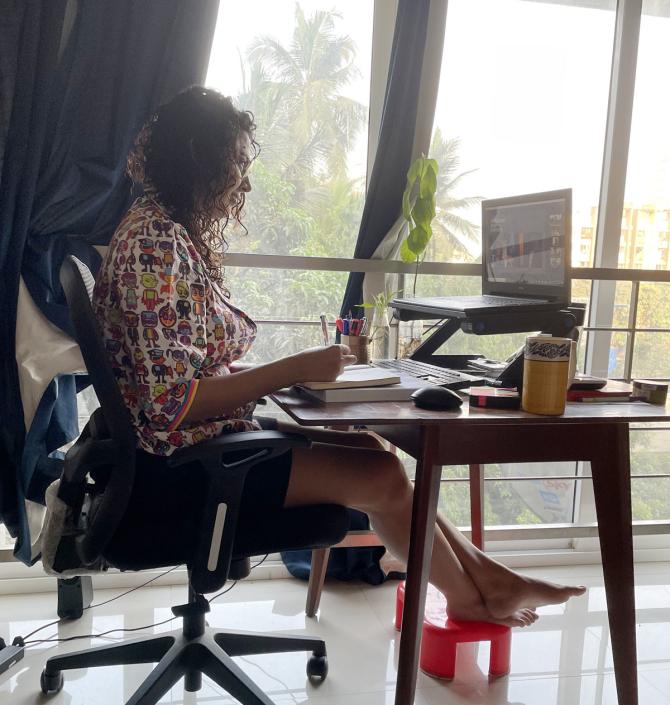 As the corporate world is gradually recovering from the pandemic impact, employers and employees have realised that the work matters more than when, how, and from where it is being done!
The hybrid work model is all about providing some level of flexibility to work according to one's convenience.
It's a departure from the traditional way of working to some extent.
During the pandemic, most companies survived the lockdowns by making a quick transition from on-site to remote working.
Now, as the world continues to gradually attain normalcy, it looks like the hybrid work model is here to stay.
One major reason for its prominence is -- it liberates most employees from the daily commute to the office and the advantage of being in proximity to their family members.
Already several leading companies around the world have announced their plans to embrace the hybrid model of working.
While companies are starting to reopen and are coming up with various hybrid work models, here are few Do's and Don'ts that professionals can adopt for transitioning into the 'new normal' ways of working smoothly.
5 things you MUST DO
1. Build relationships, trust, and comradeship
Forming good relationship virtually is challenging due to absence of in-person interactions and lack of spontaneous communications that typically used happen while working from office.
With the hybrid model in place, employees can take advantage of the working from office to build better working relationships, trust, and comradeship.
This suggestion may be more relevant for the new hires who are just starting their career journey.
You can maximise spending your time with co-workers and with other experienced employees within the organisation to help you learn at workplace.
2. Switch between communication styles appropriately
Be mindful and give more thought about the right communication approach while at office.
Sending out an e-mail or reaching out to people over phone may be the right way while working from home.
However, while working on-site, the communication approaches should change accordingly.
Obviously, you don't want to send an e-mail (with a simple query) to your colleague who may be sitting right next to you.
3. Maximise your communication
Communicate as much as possible whether you're working from home or from office.
Even though you might be working from office, you would be communicating with a co-worker who's working from home or remotely.
In these cases, sharing your hybrid work schedule with your team becomes critical so that your colleagues know who is working from office and when.
Remember, even small miscommunication can create undesired effects affecting the productivity and the relationships.
The key to avoid these situations is to communicate as much as possible.
Some companies, specifically start-ups, encourage over communication rather than under communication or no communication at all.
4. Get acquainted with any new policy changes
Due to the new normal, many companies might have incorporated policy changes affecting several areas.
Some companies may allow employees to return to work only if they are fully/partially vaccinated.
Some companies may not allow return to work for employees who reside in the containment zones notified by the government agencies.
There might be changes in the entry protocols for gaining access into the office building too.
Discussing these changes with your immediate manager or HR team would avoid any confusion or issues.
5. Create a routine schedule
Having a routine schedule helps you balance work and personal life significantly.
Whichever shift you work in, consider setting start and stop times for your daily activities, including breaks.
Time triggers will help create healthy habits for each working day.
The idea is to derive benefits of both the worlds – i.e. whether you are working remotely and working from home so that you are able to maintain a consistent experience across both the work models.
5 things to AVOID
1. Don't step out without taking proper precautions
Now is not the right time to let our guards down.
Even though the Covid active cases and fatality rates continue to plummet, it always makes sense to not let our guard down against the virus.
To stay safe, adhering to the mandated health and hygiene protocols, and following other common-sense precautions (such as avoiding large crowd, unmasked social gatherings) becomes absolutely necessary.
2. Don't hesitate to adopt a tech-enabled mindset
As the business landscape is evolving, organisations are adopting new tools and technologies into the workplace.
This makes it imperative for the employees to acquire and strengthen their tech skills to remain employable and competitive.
The emerging technologies can impact job roles as organisations are moving towards creating digital workplace.
Companies are embracing new technologies such as Cloud Computing, AI, ML, Robotics and Automation.
These technologies are impacting skills and are changing how the work is performed.
As a result, organisations may redefine job roles and train their staff to enable an optimal human-machine interactions.
Given these situations, it is prudent to be open for changes by developing a tech-enabled mindset.
For instance, IT professionals such as network and database administrators, data analysts, and cyber security specialists might be working remotely.
Even your IT helpdesk team might have transformed to an extent that the IT staff may resolve the technical glitches in your laptops remotely, while they are sitting hundreds of kilometers away in their home towns. So, getting familiar with the new apps and software will help you collaborate with others in your organisation efficiently.
3. Don't be impatient
While the organisations are striving hard to resume operations, there might be instances where staffing and supply challenges are inevitable as the factors causing these situations may be beyond an organisation's control.
For instance, there could be shortage of adequate staff in the office canteen resulting in limited menu options or your canteen may have fewer food stalls. Or, there may be fewer staff at the IT Helpdesk to attend to your tech-related concerns.
In some cases, even critical business functions such as payroll function may be impacted, if the organisation doesn't have an adequate payroll business continuity plan in place.
Chances are that you may not be paid on time, or not paid correctly, or not paid at all.
Under these circumstances, exercise some level of patience before getting panicky.
4. Don't work in silos
If you are working from home, make an effort to stay connected with your peers and managers who might be working from office.
Missing this connection can result in working in silos, or feeling isolated.
A possible suggestion to overcome this challenge is to use videoconferencing regularly with your colleagues and managers.
5. Don't hesitate to seek help
While working from home, sometimes, employees may experience feelings of isolation due to various assumptions such as their output has decreased or they are not progressing well in their career or they are not connected with their colleagues effectively.
In fact, some studies have shown that people feel that their mental health has been negatively impacted due to working from home.
During these times, if important to keep themselves motivated while working remotely and remain confident by believing that they can get equal benefits from both working from home and working from office.
They can discuss about their concerns with their managers to seek help.