It took many 4.30 am alarms and some days of working out twice a day and many crazy diets, says Shraddha Srinath.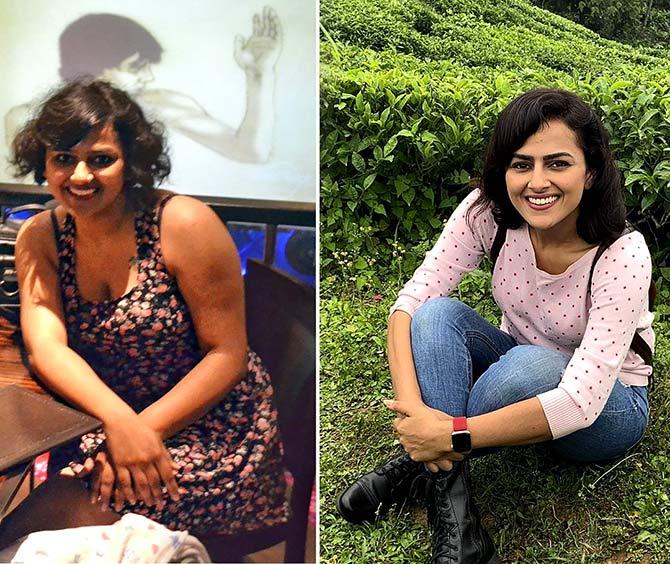 Lawyer turned actor Shraddha Srinath is a popular Indian actor known for her style and acting prowess.
But some years ago, Shradhha who had a successful corporate career made some unhealthy choices making her a victim of obesity.
Recently, the bold actor took to Instagram to reveal how she turned her life around and lost 18 kilos.
Sharing a picture from five years ago, Shraddha shared an important lesson about leading a fit and healthy life:
'Left: Bali, Oct 2014. My first international holiday. I was one year into my law career and had landed myself a job that many would kill for.
With this job came good money and a fun lifestyle and I was suddenly spending on things that I previously NEVER spent on - food, clothes, going out, movies, you name it.
'I was at the peak of my obesity, I only found the motivation to exercise once a month maybe, I ate happily and mindlessly, wore clothes I wanted to despite my jiggly arms and thighs, never considered myself unattractive, never felt lesser than anyone else.
'I did have bouts of self doubt but I was too lazy to do anything about it and then soon enough the feeling would subside.
'Not long after this photo was taken, I realised I was too young to be like this and so I went to my apartment gym, got onto the treadmill, and I raaaan.
'First I ran for 5 minutes, then for 15 and then I could run for a whole 40 minutes without a break.'
Right: Darjeeling, May 2019. Five years later and 18 kilos lighter. Of course I worked my a**e off.
'It took many 4.30 am alarms and some days of working out twice a day and many crazy diets.
'I'm not the fittest person but I exercise occasionally, I understand food better and I know how to play around with it.
'I know what calorie deficit means and what strength training is.
'Unfortunately, I've developed this unhealthy relationship with food and I haven't been able to develop a sustainable lifestyle for myself which balances my love for food and healthy eating and exercise, but I'm working on it.
'What made me do it? It was simple, I wanted to look better. But that's not the end goal I suggest you have, because there is no end to "looking good".'
In her post, Shraddha also addressed the issue of social media pressure and urged her followers to fight their insecurities and love their bodies.
'You'll always wish your belly was flatter, that other girl will always look better in that dress.'
'Social media will always successfully feed your insecurities and you may end up miserable.'
'So do it for your heart that works overtime, for your knees that will bear your weight until the end, for your body that fights for you and heals itself without you having as much as a clue.
'For a disease free life and for a good night's sleep. Do it for yourself, not for the gram.'
---
READER INVITE
Have you recently lost weight or survived a serious health condition?
We want you to share your story with us. Tell us how you lost weight.
Share your diet plan, exercise tips, learnings and more.
Simply write to getahead@rediff.co.in (My Fitness Story) along with your NAME, AGE, LOCATION, along with a before and after photograph of your fitness journey. We'll feature the best responses right here on Rediff.com.