Shubham Sharma tells us how he went from 90 kg to 65 kg in just five months.
When I was young, I was very fond of going to the district stadium and doing all kinds of physical activities.
Once I started working, I got lazy with my running followed by poor eating habits.
I continued with the false confidence that I have it all under my control until I reached almost 90 kg.
I carried on with the same weight for more than 15 years till I was diagnosed with triglycerides and early onset of osteoarthritis.
The reports weren't very damaging clinically, but enough to get me worried.
I was proud about my fitness once upon a time and suddenly, I couldn't accept what I had done to myself.
At 5'6" my ideal weight should have been at about 64 kg which meant I had to undergo a weight reduction of a whopping 25 kg.
Without getting overwhelmed with what I couldn't do, I decided to get on with what I could -- a strict diet regime and light exercises.
Diet and exercise
On March 20, 2020, around the time when the lockdown was announced, I made some changes in my diet.
I followed an extreme diet starting with warm water, protein shakes, salads and as much fibre as possible.
The next 30 days I had one meal a day which comprised fruits, veggies and sprouted grains.
Gradually, I started feeling a sudden fall in my weight.
I strictly followed my diet and timings. I avoided rice, sugar, meat, soft or hard beverages or any other fried stuff.
My wife Kalpana supported me by cooking with no sugar, oil and spices. Anything outside this regime was a strict NO.
The journey was tough as well as exciting.
I did push ups and kettlebell workouts based on my own personal research and knowledge.
Since gyms were closed, I did my exercises at home. I did not have any cheat days.
I worked out every day, followed my routine and continue to do so.
Currently I do 10 minute planks, 200 push ups and squats exercises.
I made a timetable and followed it religiously.
Working from home due to lockdown gave me the flexibility of logging in and out of work required and also have my food on time.
The toughest part of the regime was staying away from calorie-rich foods that I was not supposed to have.
To maintain the same for more than 5 months without a single exception has been quite a challenge.
My amazing wife encouraged me and did not let me slip on my resolve.
I am also thankful to my coach Pawan bhai for teaching me the right posture, time and exercises.
As of September 2020, I am 25 kg down -- from 90 kg to 65 kg.
I love the new me -- I look fitter, leaner, healthy which has also boosted my self esteem.
Some of my learnings are:
1. We are what we eat
What you eat is a very important part of any weight reduction process.
We often value myths more than science and it would help if we keep a close track of whatever we consume.
2. We are all different
We are all different individuals with varying levels of body activity, metabolism and family history.
We need to understand what diet and exercise works for us and act accordingly. It is best to seek professional help whenever we want to get into a diet regime.
3. No cheat days
I never had cheat days in diet because for me following cheat days is equivalent to cheating yourself.
4. Be regular
Regularity is the key, be it food or exercises. We must internalise it and not treat it as a task to be done or a liability.
5. Do not ignore your health
Once we reach 40s in terms of age, our body has to work harder to stay at the same level of fitness.
Do not ignore any pain or discomfort that persists on and on and seek medical advice.
We may love to believe that all is well but our body may not always keep up with our beliefs.
I hope to continue my journey towards living life king-size with good health and happiness.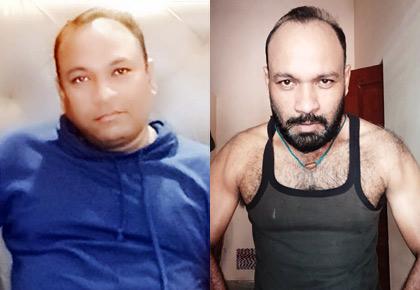 ---
Have you recently lost weight or survived a health condition?
We want you to share your story with us. Tell us how you did it.
Please share your diet plan, exercise tips, learnings and more.
Kindly mail getahead@rediff.co.in (My Fitness Story) along with your NAME, AGE, LOCATION, along with a before and after photograph of your fitness journey. We'll feature the best responses on Rediff.com.