Dance like in the '70s is the theme for Aneeth Arora's Pero which launched Lakme's Fall Winter 2020 collection, D I S C O 2020.
The collection was launched digitally taking inspiration from disco, which dominated urban nightlife in the 1970s, nearly half a century ago.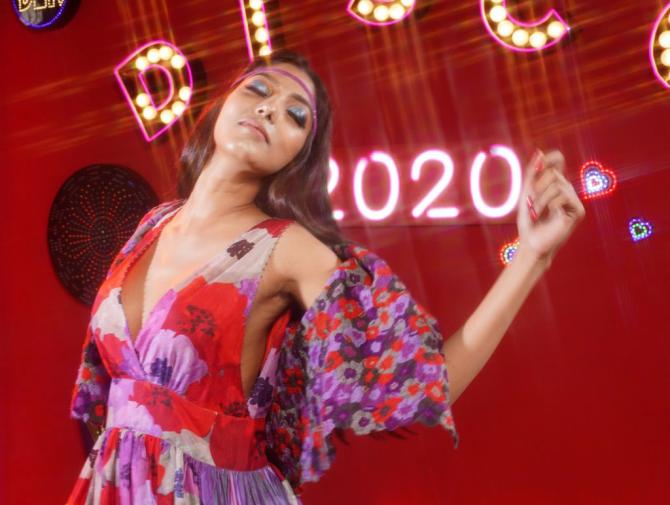 Launched at a time when we need something to cheer up, something to make us forget all that is happening around us, and break free, exactly what disco did in the 1970s by providing an escape from the social, economic and political turbulence of that time.
D I S C O 2020 is a party where the only thing that binds people together is music and dance, and a reason to be happy. A party where everyone can for once forget all that is happening around them and just lose themselves to dance, says Aneeth Arora.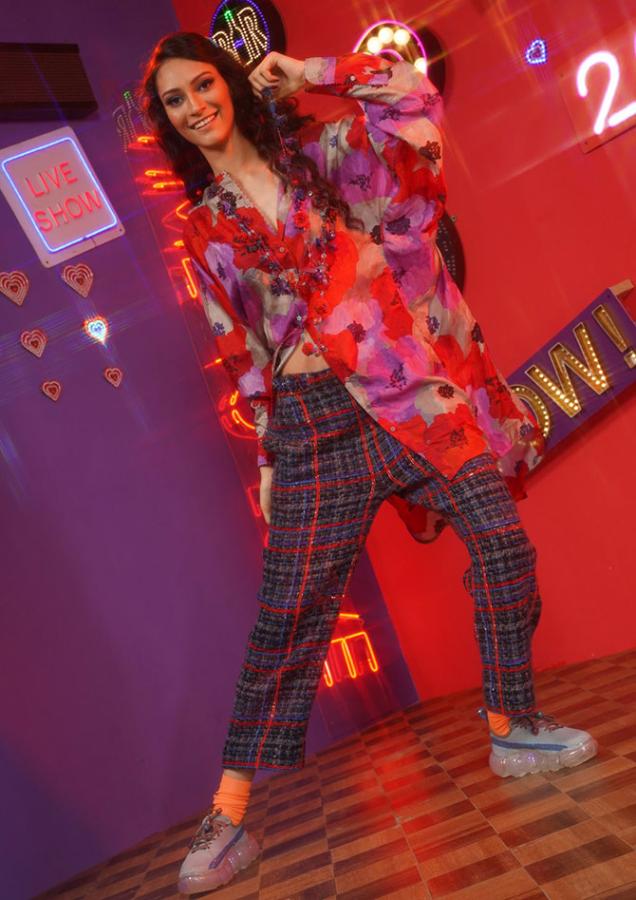 The collection, which had 55 looks in all, is all about being happy and losing yourself in dance and music.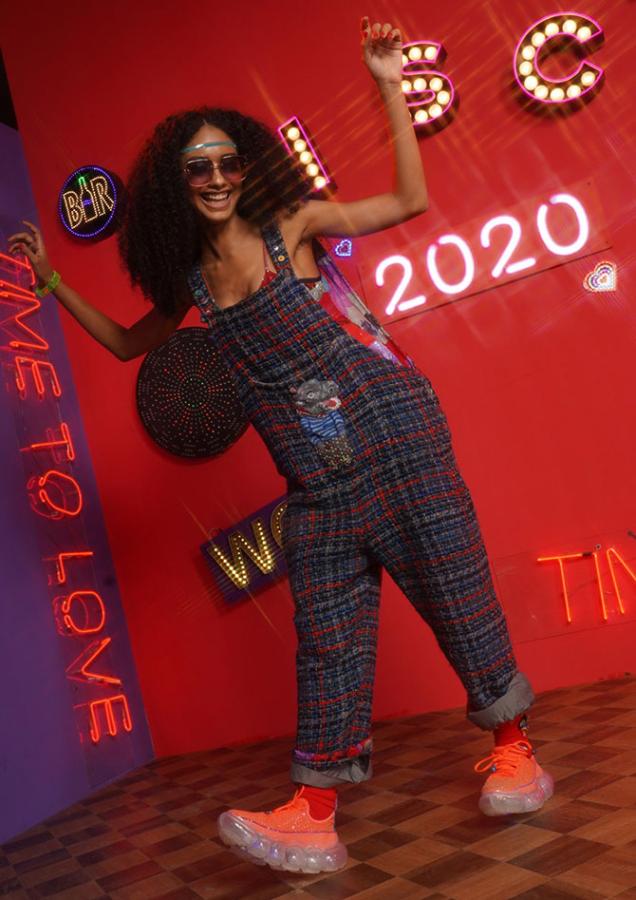 Displaying jumpsuits made from woolen fabric and embroidery woven in pure Australian merino, in close association with the weavers of Himachal Pradesh, it is something that made everyone feel comfortable.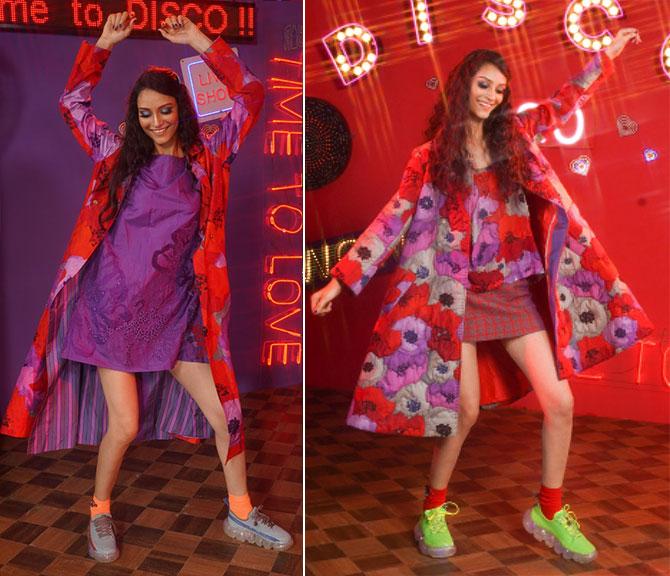 The shoes too. The whole attire is to make you feel comfortable.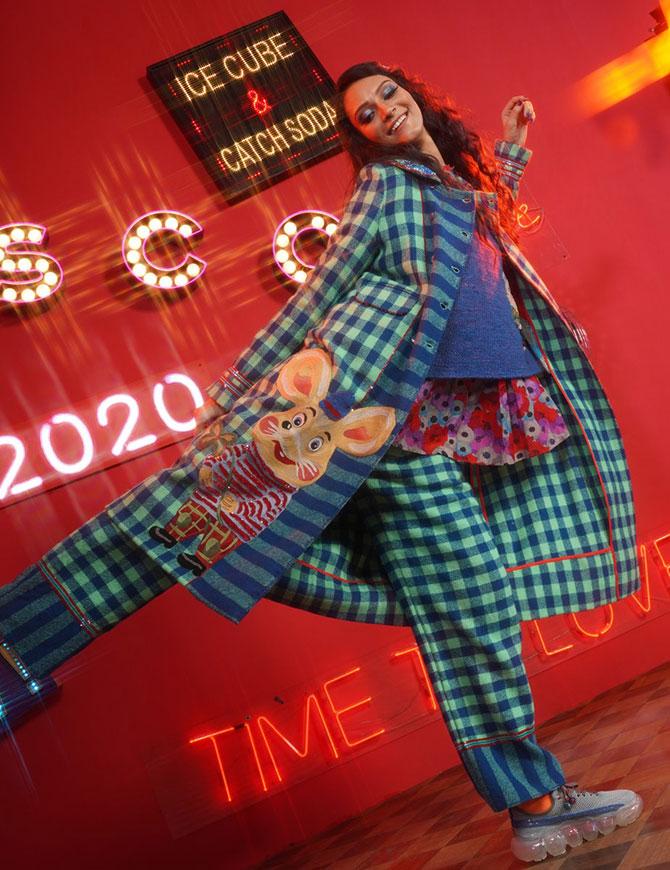 Checkered designs were displayed in different outfits. Here are the pants and jackets.
Different looks with checks! Apart from handwoven wool, the textiles have also been developed in various other regions of India, like these cotton stripes and checks from West Bengal.
Here is a feel of one more look in chequered jacket and short skirt.
And the full mashru stripes it is. The mashru stripes are sourced from Gujarat and handwoven silks from Bhagalpur.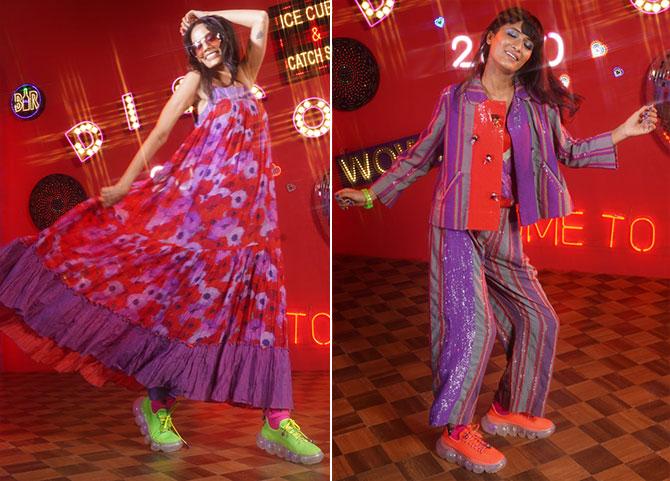 And mashru stripes along with mulberry silks from the south of India and light chanderis from Madhya Pradesh goes on to floral dresses to complement the geometric patterns of the woven checks and stripes.
To bring in an element of shine and glitter of the disco lights, the chequered and floral textiles have been rendered with matt and shiny sequin following the textile patterns. All the while capturing the same mood of happiness!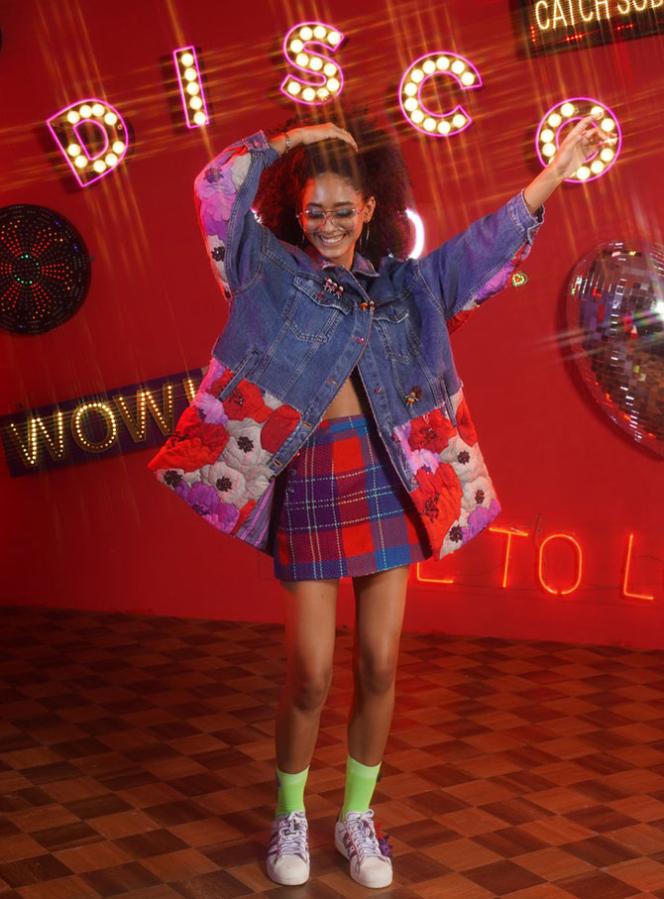 Denim jackets and sneaker paires with neon socks was another high.
Here you see the lower part of the jacket also showcases ornamental needlework that has been rendered with hand-embroidered wool flowers using extensive embroidery techniques and play of sequin to add some shimmer.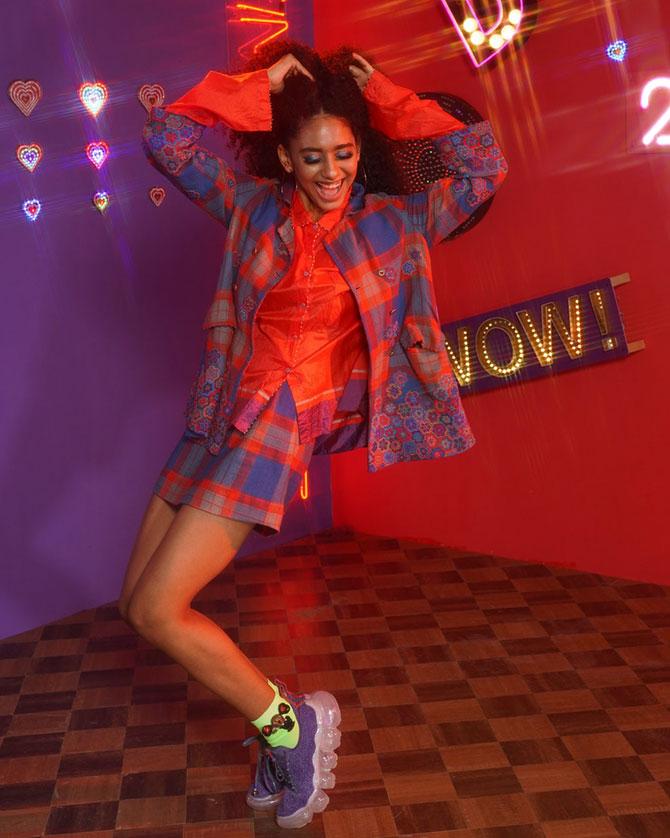 Wow is right! The Bhagalpur silk top paired with the jacket ozzse happiness.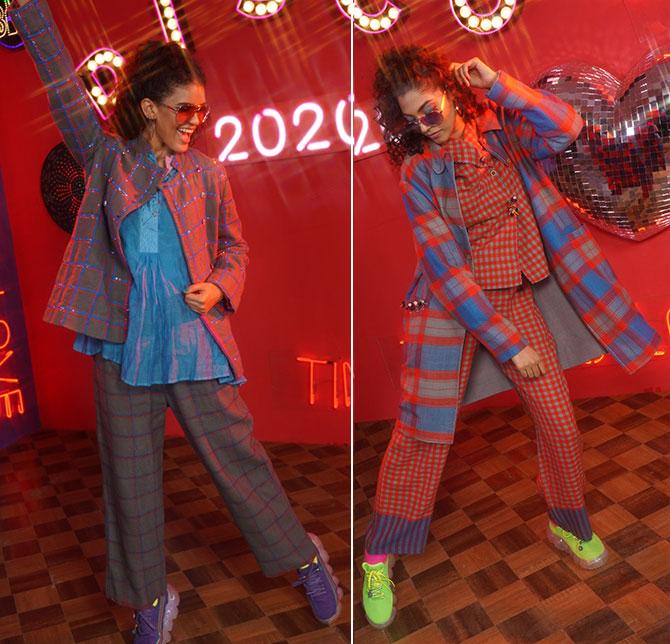 John Travolta, hold that pose!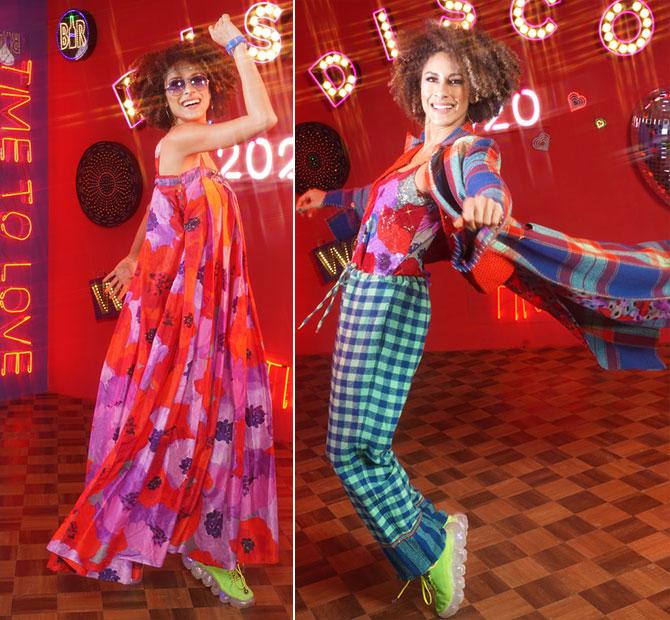 More floral and chequered looks to inspire happiness.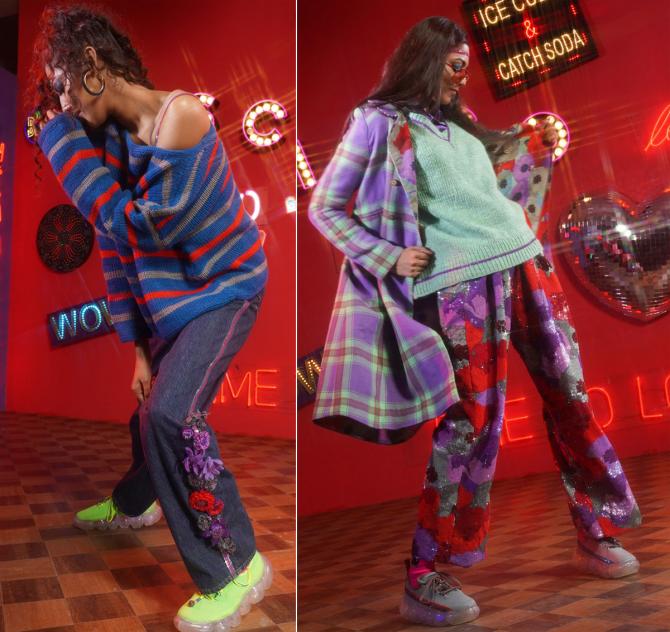 The collection didn't miss out on the woollens, which one would love to wear to winter parties.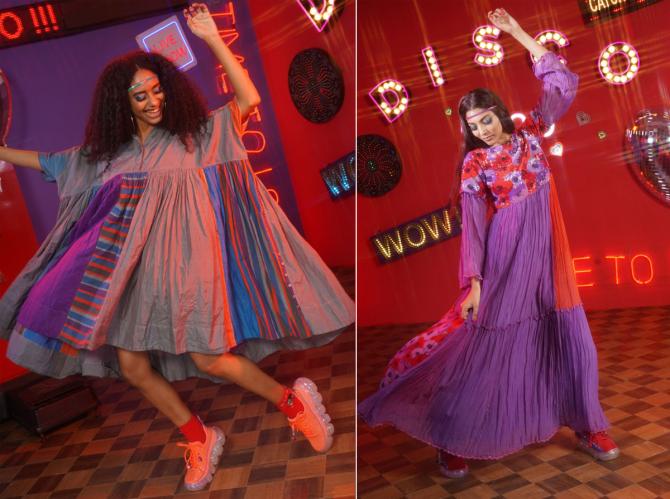 Now that's the way to enjoy the year of the pandemic :)
Concept: Rajesh Karkera/Rediff.com