The Canadian Prime Minister's Star Wars Chewbacca socks at a run-of-the-mill business forum have taken the internet by storm. But this is not the first time.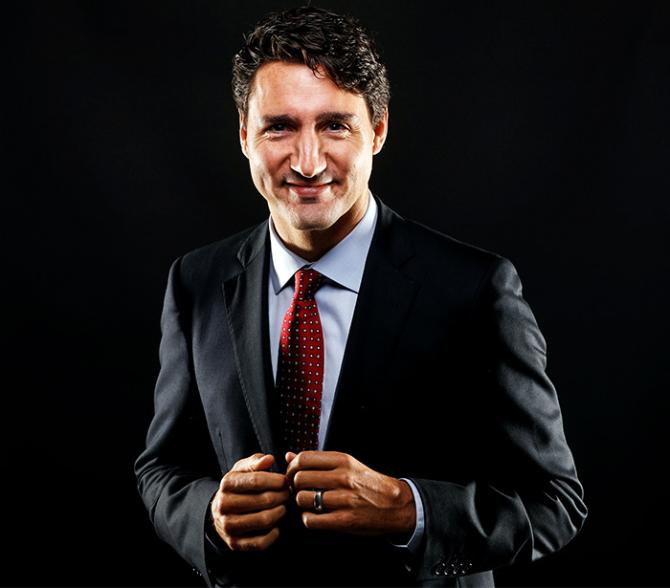 Photograph: Mark Blinch/Reuters
Everyone who follows Canadian Prime Minister Justin Trudeau on social media knows he is a die hard Star Wars fan. But no one thought he'd show off that love with Chewbacca socks at the inaugural Bloomberg Global Business Forum in New York this week.
Trudeau was on stage with Dutch Prime Minister Mark Rutte, discussing trade, when people noticed his socks. And as with most things these days, the internet freaked out.
One user tweeted, 'Justin & his Chewbacca socks..... #soxappeal'
While another wrote, '@JustinTrudeau is seriously rocking #Chewbacca socks! Like i needed more reasons to like the guy haha #PrimeMinister #StarWars.'
Yet another user tweeted, 'Justin Trudeau wearing Chewbacca socks... the stuff of fantasies around the globe.'
Star Trek actor William Shatner reacted to the socks saying, '@JustinTrudeau I thought we were friends? Chewbacca socks?'
Photographs:

Jamie McCarthy and John Moore/Getty Images

.
This is not the first time Trudeau has paid homage to Star Wars with his socks.
On May 4, otherwise known as Star Wars Day, he wore a pair of socks featuring C-3PO and R2-D2. 'These are the socks you're looking for. #MayTheFourthBeWithYou,' he captioned his Instagram post.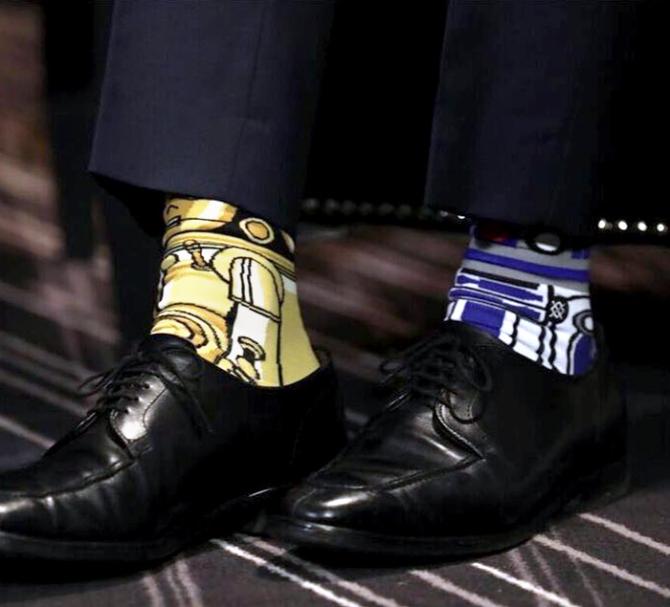 Trudeau wore these mismatched Star Wars socks to a meeting with then Prime Minister of Ireland Enda Kenny.
Photograph: @justinptrudeau/Instagram.
Justin Trudeau's socks started becoming an internet phenomenon almost from the day he became prime minister.
He wore maple leaf socks to his First Ministers' meeting.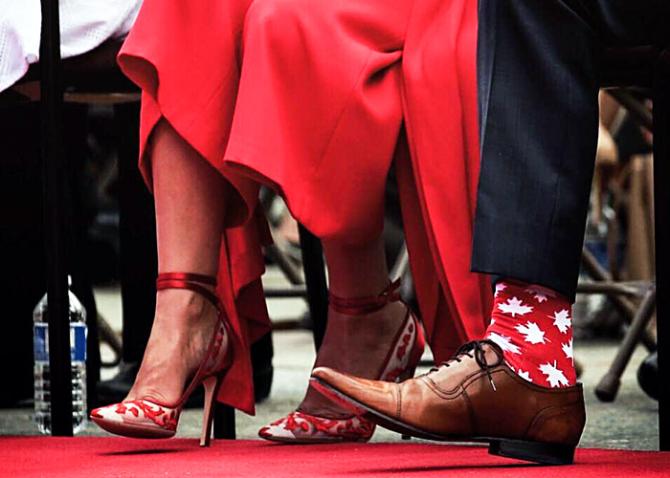 Trudeau repeated the maple leaf socks to a Canada Day event, calling them 'indispensables'.
Photograph: @justinptrudeau/Instagram.
Things just snowballed from there to the point that GQ began calling him the 'Prime Minister of Suave' and the The New York Times started writing analytical pieces about 'Justin Trudeau's sock diplomacy.'
His socks have even got haters -- is it even an internet phenomenon these days without someone being offended? -- with a columnist for The Star writing 'Justin Trudeau's socks appeal is starting to wear thin.'
But love 'em or hate 'em, Justin Trudeau's socks will not be ignored.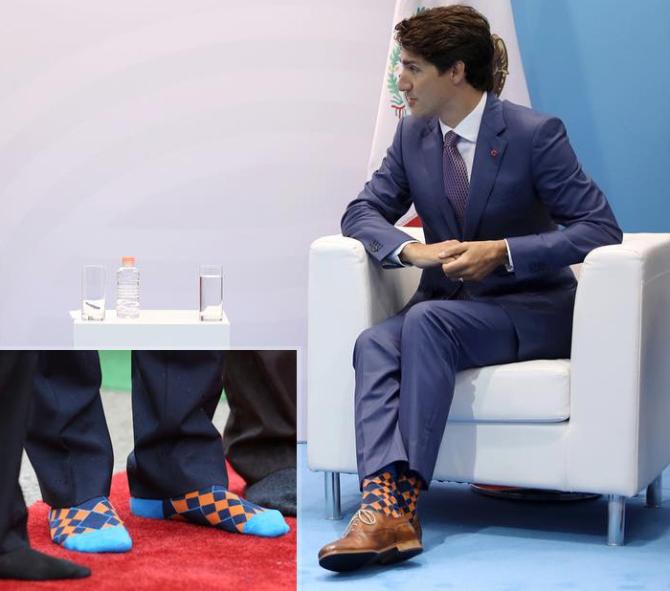 This pair is a particular favourite that Justin Trudeau has won to bilateral meetings with world leaders and to a gurdwara for Khalsa Day celebrations.
Photograph: @justinptrudeau/Instagram and Chris Helgren/Reuters.
He clearly loves the pattern.
Photograph: Chris Wattie/Reuters.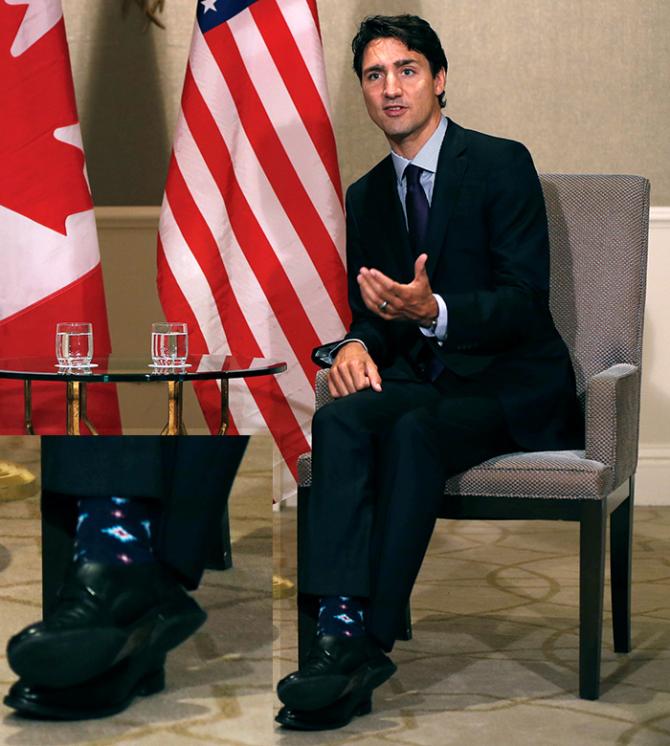 Trudeau does not shy away from colours.
Photograph: Christinne Muschi/Reuters.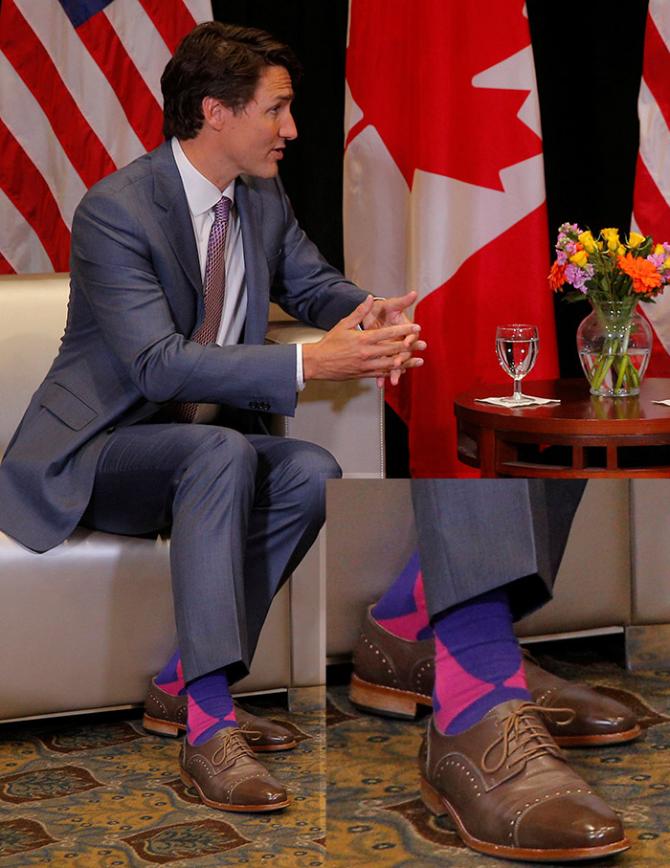 Not from pinks and purples...
Photograph: Brian Snyder/Reuters.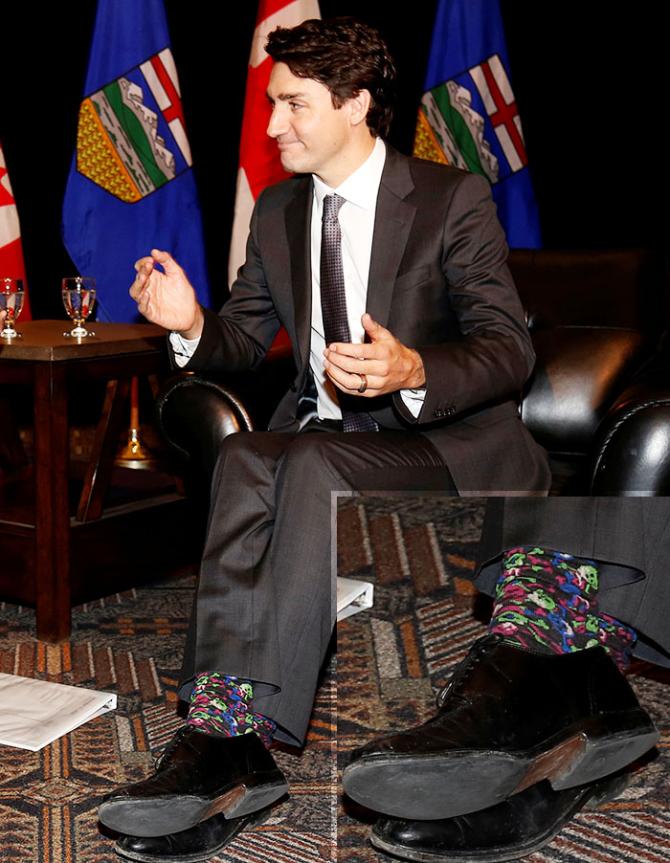 And not even from psychedelic ones on skull-themed socks!
Photograph: Todd Korol/Reuters.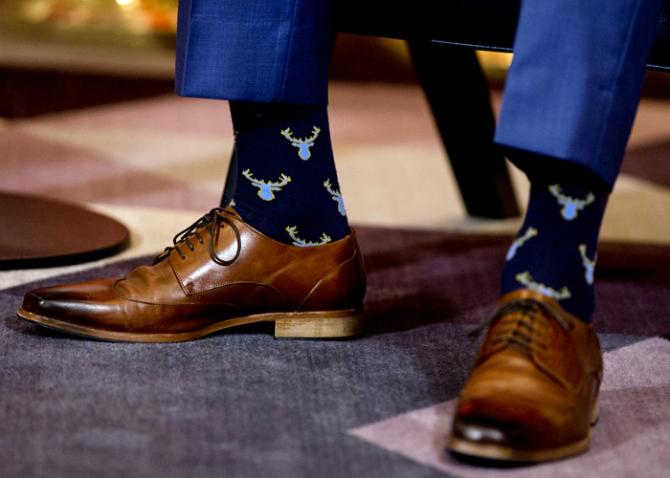 Justin Trudeau even owns more than one pair of Moose-themed socks.
Photograph: Christinne Muschi/Reuters.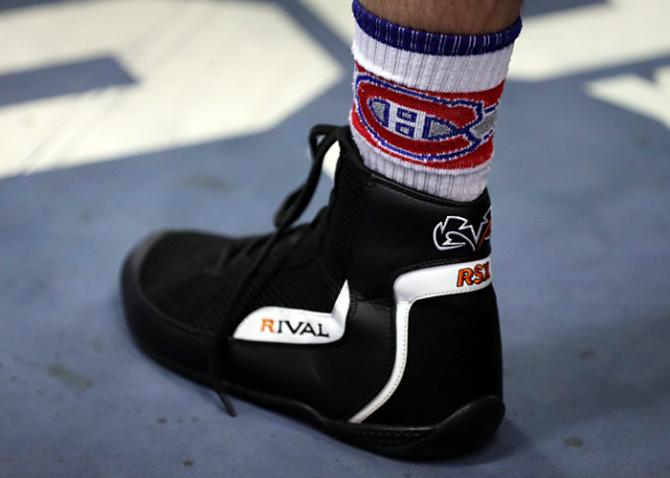 And make a statement while he is at it.
This year he marched in Toronto's Gay Pride Parade wearing a colourful pair with the star and crescent and Eid Mubarak on it. The parade happened at the end of Ramadan and with one pair of socks he showed his support for both the LGBTQ and Muslim communities
Fun fact: He even wore NATO-themed socks to a NATO meeting once!
Photograph: @halalsocks/Instagram.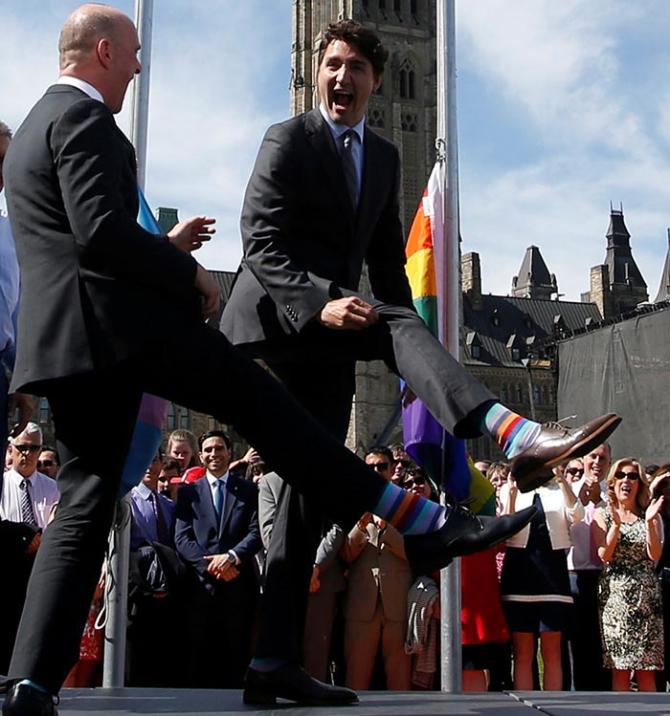 Justin Trudeau owns his fashion statement.
Photograph: Chris Wattie/Reuters.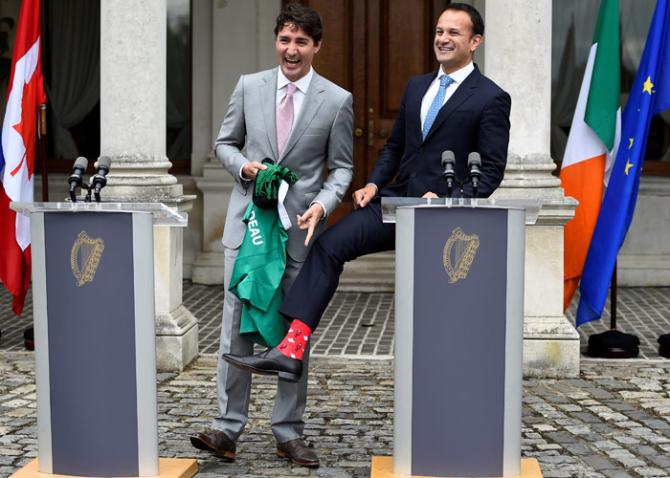 And even inspires others, like Ireland's prime minister Leo Varadkar -- the country's first gay and first Indian-origin Taoiseach (head of the government).
Photograph: Clodagh Kilcoyne/Reuters.