As we celebrate Independence Day on August 15, Rediff.com's Anita Aikara looks back at all the things we miss the most from our growing up years.
1. Flag hoisting in school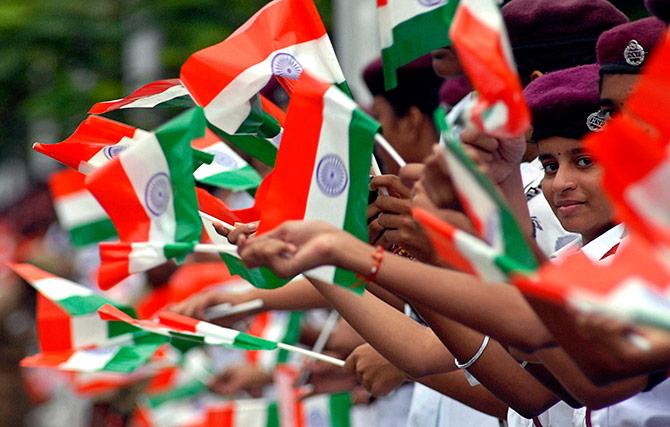 IMAGE: Chand roshan, chamakta sitara rahey, sabse ooncha ye jhanda humara rahein...each school had its own slogan. Photograph: Kind Courtesy Babu/Reuters
We have all complained about having to go to school on August 15 -- none of us liked waking up early on a holiday.
But then, on I-day, school lasted just a few hours.
We drove our mothers crazy trying to find a pin to attach the tri-colour to our uniforms.
Once the flag hoisting ceremony began, we would be overcome by patriotism.
The school grounds would come alive with students shouting 'Bharat Mata Ki Jai!
2. Skits and plays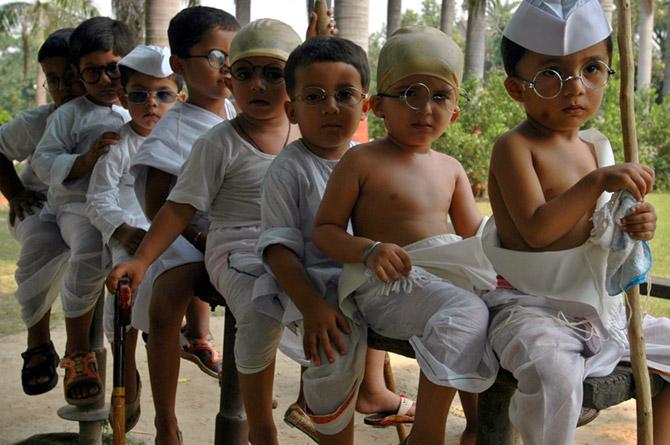 IMAGE: On Independence Day, our mothers would accompany us to school to get our make-up right and help us with the outfits. Photograph: Pawan Kumar/Reuters
What would an Independence Day celebration be without a skit about the freedom struggle.
I-Day also meant participating in essays competitions and decorating the school notice board with photographs of Indian heroes.
And at the end of it, all it took was one pat on the back from the principal and a smile from our favourite teacher to make us feel that our efforts paid off brilliantly.
3. Saluting the Tiranga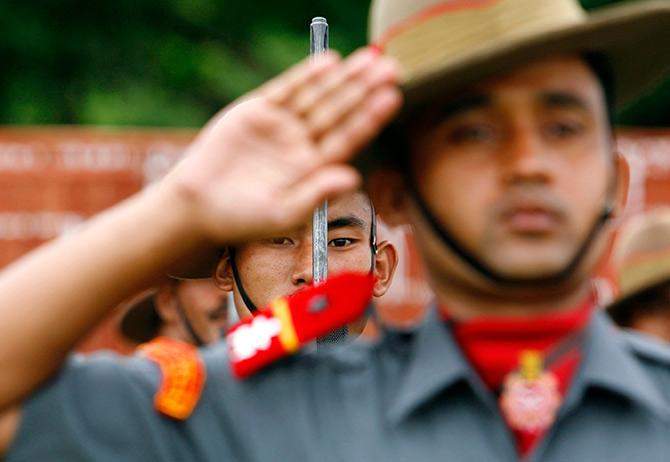 IMAGE: We would get ready in position, with our feet together and salute as soon as the anthem started playing. Photograph: Kind Courtesy

Jayanta Dey/Reuters
When was the last time you attended a flag hoisting ceremony?
Remember those days, when every time the national anthem would play, we would automatically raise our hand to salute.
Our hearts would swell with pride and standing in 'attention' mode, we would sing Jana Gana Mana...
4. Paper flags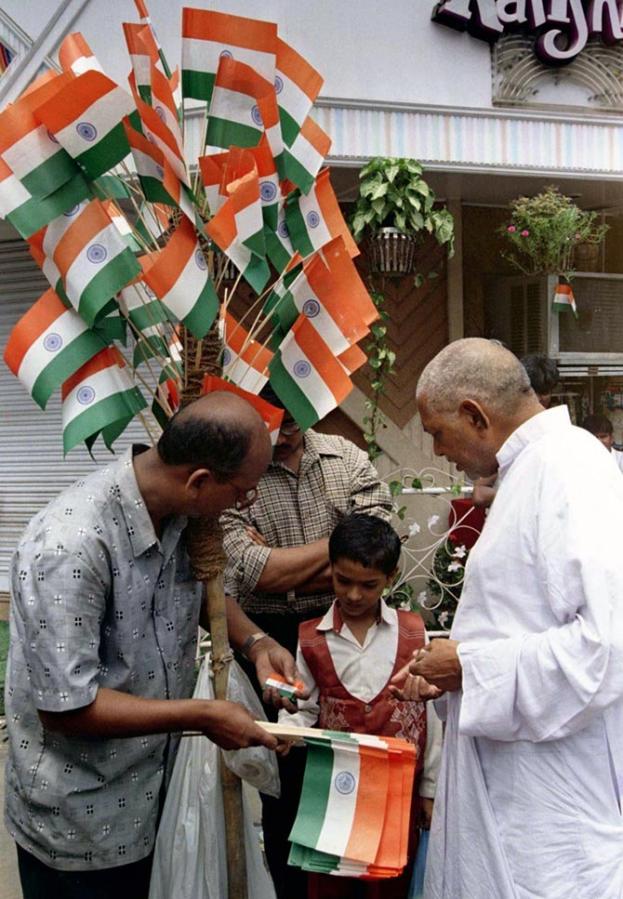 IMAGE: Nothing would come between us and our flags. Photograph: Savita Kirloskar/Reuters
We loved buying paper flags (of course, this was long before we were made aware of paper conservation). If we didn't find it at the local kirana shop, then you just had to head to the nearest traffic signal.
And once we got the flags, not a single spot in our house would be spared.
From our father's blue Bajaj Chetak to the Onida television set, from the steel almirahs to refrigerators and study desks, we didn't spare our neighbours' doors too.
5. Rangoli on Doordashan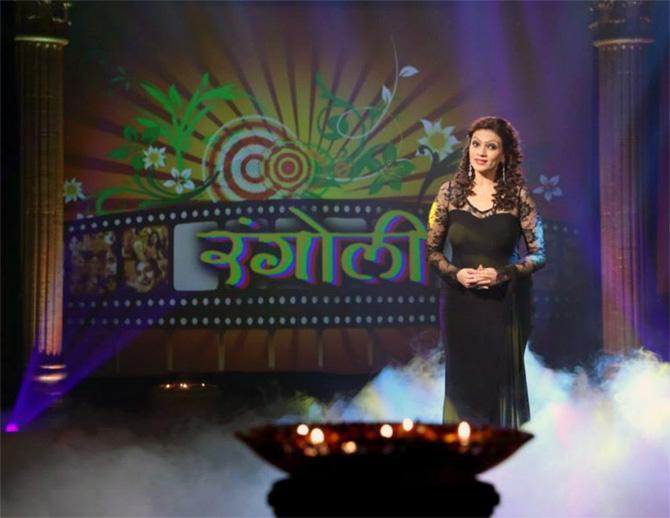 IMAGE: The new improvised Rangoli show on Doordarshan. Photograph: Kind Courtesy DD Rangoli/Facebook
No Independence Day celebration would be complete without Rangoli on DD.
You know you hadn't truly experienced Independence Day until your father switched on the television set -- sharp at 8 am -- to watch Rangoli.
And who can forget the moment when Lata Mangeshkar's Aae Mere Watan Ke Logon would play and we'd hear our grandparents sniffling, trying to hide their tears.
6. Patriotic movies on television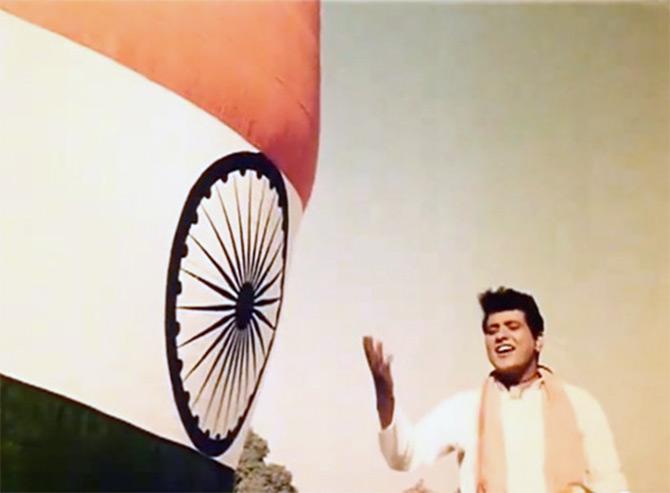 IMAGE: We would sing along every time Mere Desh Ki Dharti played. Photograph: A scene from Manoj Kumar's Upkar.
It was a tradition, which our parents passed on to us -- one that we truly loved.
We never got bored of watching Kranti, Tiranga, Border, Pardes and Krantiveer, did we?
7. Bismillah Khan playing the shehnai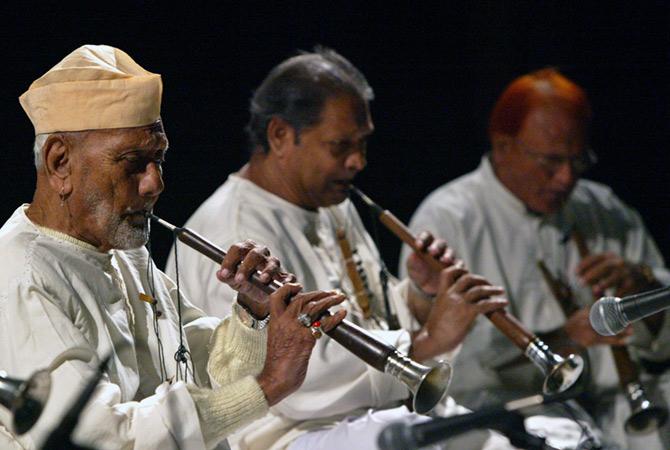 IMAGE: The legendary Ustad. Photograph: Fayaz Kabli/Reuters
Ustad Bismillah Khan's shehnai vadaan were telecast on DD every August 15 morning before the prime minister addressed the nation from the ramparts of the Red Fort.
At that time we didn't know how famous he was.
8. Celebrations on the building terrace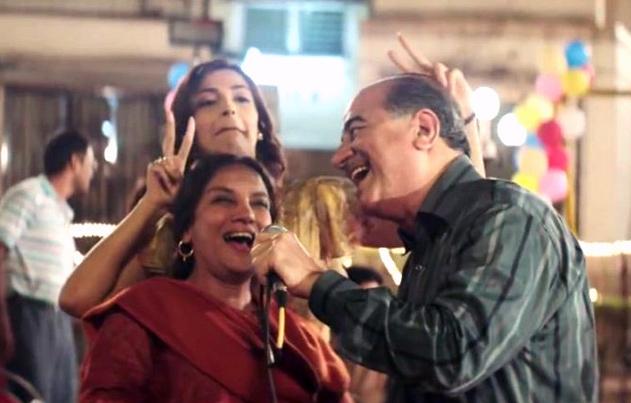 IMAGE: Oh! How we miss having the entire family together -- in one place -- to celebrate Independence Day. Photograph: A scene from Neerja.
Back then, a holiday meant spending time with the family.
In the evening, people would gather on the building terrace and sing the national anthem and patriotic songs.
It was the only time in the year when the terrace would be open to children.
Games meant a sack race and a lemon and spoon race, and before you knew it, our parents would start a game of antakshari.
The all-time favourite housie was always kept for the end, because there was no better way to end a function.
Think we missed something?
How do you celebrate Independence Day? Tell us in the messageboard below.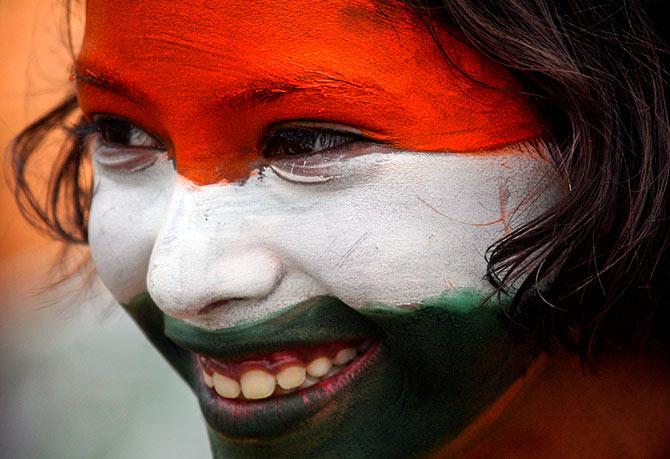 Lead photograph: Ajay Verma/Reuters