Children will fall and rise again; that is what life is all about, says Virender Kapoor.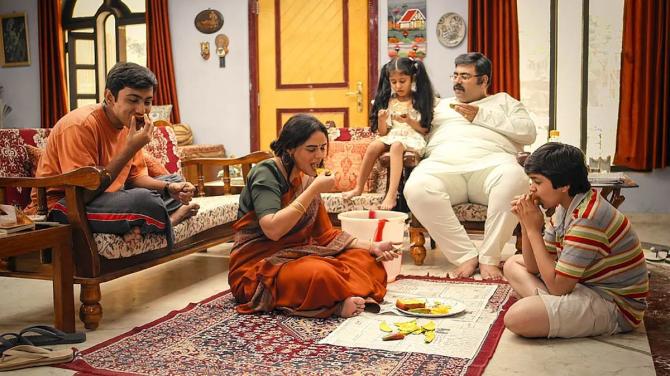 I remember as a kid I wanted a pair of football shoes which cost Rs 12 those days, and I had to wait for six months.
I reminded my dad every day to get me a pair, which I got on my next birthday. Boy, what a thrill.
I played every day. Though I didn't become a great player, I used the shoes to the hilt, till they were worn out.
Today a pair costs upward of Rs 4,000 and we don't wait for a second to fulfill the demand of our child.
S/he may not even use it for next three days and then will ask for something else.
Those days we, as kids, knew that everything cannot be bought in a jiffy and one has to have patience to get a reward.
You were toughened up to the circumstances and not deprived.
You understood this well; you understood your parents' difficulty at ten or twelve when you were in Class 4 or 6 in your shorts.
You grew up in a real world and not a virtual one.
Let me remind you that technology is progressing well, but the days to come are going to be tougher by the day.
There will be scarcity of water, very little clean atmosphere, and depletion of nature and natural resources.
More and more competition is coming up.
Are you ready for it?
Are your children ready for it?
Today you have at most two kids, and most families have more than one earning member; both husband and wife in a family earn.
You, therefore, have surplus money, and you have no time for your kids, as both are working.
What you need to do to make your kids rough and tough mentally as well as physically
1. Physical toughness
This is very important as a person young or old should be able to carry their own baggage.
Life itself is the biggest bully! Therefore, outdoor activity is important.
Yes, painting, music, and creative activities are important, but then so are martial arts, football and kabbadi.
You don't have to teach kids exotic sports like riding, polo, or golf.
A cricket match in a nearby ground with just a bat and a ball can make them sweat, and sweating is very important. Let them join a nearby gym or karate classes.
Let a child fight for himself. Don't be overprotective as today's 'Google' parents are.
They read nonsense on the net and experiment those tricks with their children.
Your mothers were much wiser; that is why you are where you are today.
Don't encourage video games and make your boy or girl a couch potato.
If your kid gets bruised in school, for heaven's sake don't go and fight with the school teacher and that too in front of your child.
This is the worst thing you can do for kids.
If they are bruised in a match or a scuffle in the school, you can apply medicine and take them to a doctor for anti-tetanus injection.
But don't stop them from going out and playing in the sun and rain. This is a part of growing up stronger.
Don't go and fight on their behalf. It is a part of learning to deal with the good, the bad, and the ugly.
Playing in a muddy football field builds immunity. Go for it.
Make your child learn to swim; yes, this is the best investment and cycling too.
They will fall and rise again; that is what life is all about.
If you do everything for your child or make a help at home do that, you are in for big trouble.
2. Let them do up their rooms themselves and learn to make their bed and put their clothes and shoes in place.
Let them keep their books and bags in place and keep the study table neat and clean.
Is this too much you are asking? Don't think so.
3. Use of alarm, waking up on time, having a bath every day, changing into school uniform must be done by a six-year old herself/himself.
Don't show your 'maa ka pyar'; this is pampering and creates spoilt children.
4. Make them self-reliant and let them do some household chores.
Give responsibility and don't make your son a prince and your daughter a princess.
Look at yourself; are you a king or a queen?
5. Don't let them be the centrepiece of your life!
Yes, this is important. You love your kids, but there are other things too.
If you are all the time hovering around them, you have no value in their eyes. Don't be at their beck and call.
6. Don't let them play victim.
If your child has failed in an exam, you can't let the child play victim; do not console your kid by saying, "Oh, it is good to fail."
If the child is not taken into the dramatics club or school band, so be it.
You can't let the kid feel s/he is a victim. No matter how unjust or tough the circumstance, refuse to attend your kids's pity parties.
Teach them the importance of taking positive action rather than indulging in self-pity or blame game.
7. Protecting your kids all the time may spare you anxiety.
But your kids will grow to believe they are fragile.
Every time there is a problem they will run to you to solve it. They become 'mom, mom kids' or crybabies. You don't want them to fight their own problems?
If you want to bring up brave kids, be a role model who encourages facing fears.
Be a guide, but don't become overprotective.
Let your kids go out and experience the world firsthand.
8. Don't ever shield your kids from any kind of hardships, pain, or discomfort.
Remember, hardship is a part of life.
Your kids need you only to be aware that you are there for them. But they must know they themselves have to handle difficult situations, sadness, failure, and anxiety.
They need to handle it first hand, and only then can they learn.
Have you seen how a tigress teaches her cubs to run, fall, and run again?
She is there to oversee, protect from big animals, but she lets them learn to kill and earn a meal.
9. Don't kill their instincts
Have you seen the movie Duma, where an orphaned cheetah cub is adopted by a family, and he grows up domesticated, protected, and pampered?
Once, they try to send him in the jungle, and he has no clue or instinct to kill even a sitting duck!
He doesn't feel like chasing a deer. They killed his killing instinct.
He looks so helpless, can't survive for a day himself. You feel so bad for a fully grown cheetah that is hale and hearty but unable to even protect himself!
Would you like to make your kids like that, such that they would always require hand-holding, even if they turn thirty?
10. 'Mera baap kaun hai' syndrome
This is not funny. Some of us take pride in telling our children that I will be with you through thick and thin and shit too.
You kill someone with your rash driving, I will save you.
You break any law, do whatever you want, and I will get you out on bail.
What kind of citizens are we raising? And what kind of logic is that?
11. Don't let them take shortcuts to get things easily.
Never let your children get away with shortcuts.
If a rule needs to be followed and it takes more time, so be it.
If you let your children circumvent rules now, they will be in deep trouble when they go to work.
Bad habits once formed will never go.
Don't let someone do their work.
Let them take pride in what they do with their own hands.
I have seen, and it is most annoying to watch mothers or parents doing creative assignments for their children, making models, making a puppet, creating a collage from newspapers; done by parents!
Implement delayed gratification and show your children they are strong enough to stay the course.
Teach them they are strong enough to reach their long-term goals despite the temptations to take the easy way out.
12. Values are created and instilled at home; don't compromise.
Please don't outsource this to schools or teachers alone.
A child spends more time at home than at the school, and if parents do the opposite of what is taught in the school, where do you think we are going?
Demonstrate honesty, integrity, and truthfulness by your actions.
Demonstrate charity, caring, and empathy. This will go a long way.
Respect your parents so when your children grow up they will respect you.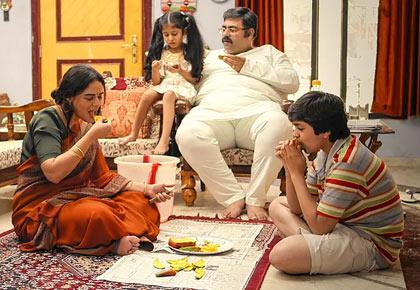 Excerpted from 2020: Planet Reborn with the kind permission from the author and publisher Virender Kapoor.