No Diwali platter is complete without the good ol' crisp and crunchy Shakarpara.
While many love to have it as a savoury snack, this is Maharaj Jodharam Choudhary's recipe for the sweet version.
The squares of Shakarpara, also called shankarpali or shakarpali or khurma are soaked in sugar syrup till they become snowy white and are then garnished with saffron and cardamom powder.
It can be made super-quick and stored in an air-tight container for weeks.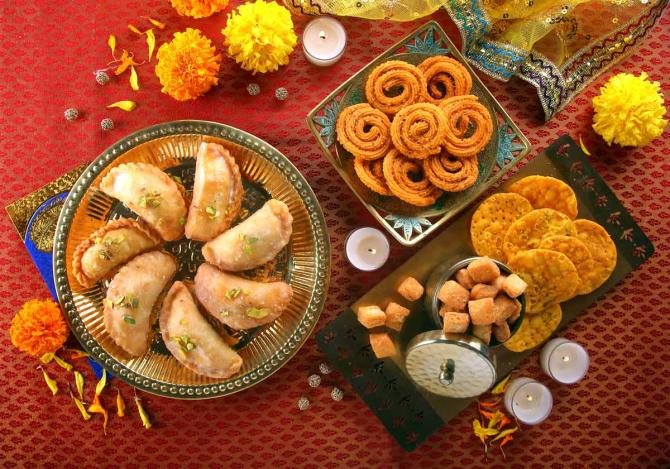 Shakarpara
Servings: 15 pieces
Ingredients
½ cup maida or all-purpose flour (you can also substitute the maida entirely with wheat flour or use wheat flour mixed with a little maida)
A pinch of powdered saffron
¼ to 1 tsp ghee
A pinch of powdered green elaichi or cardamom, optional
125 ml refined oil, for frying
¼ cup water + extra to make the dough
½ cup sugar
Method
Combine the ghee, maida and little water in a large wide bowl.
Knead into a hard, stiff dough.
Divide into small, equal portions and roll them out into large ½-inch thick pooris.
Cut the pooris into small diamond-shaped pieces with a sharp knife.
Heat oil in a heavy-bottomed kadhai or pan.
Once the oil is sufficiently hot, over medium heat fry the shakarpara in batches until they turn slightly golden.
Keep flipping so the pieces fry evenly. Drain the excess oil and transfer onto a tissue or paper towel-lined plate.
Keep aside to cool.
Boil the sugar and water in a heavy-bottomed saucepan over medium heat.
Add the powdered saffron and let the mixture simmer until thick and sticky.
Keep stirring so it doesn't stick to the sides of the pan.
Take off heat and add the fried shakarpara into the saucepan.
Mix well so the shakarpara are coated thickly with the sugar syrup.
Transfer onto a plate.
Sprinkle with the cardamom powder and let it cool to room temperature.
Serve.
Or preserve them in air-tight containers for upto 4-5 weeks.
Maharaj Jodharam Choudhary is the corporate chef at Khandani Rajdhani, a chain of thali restaurants serving Rajasthani food.