Nidhi S Raj of Soul And Spice Box shares with us this recipe.
This is a quick, fun snack to munch on with your cup of evening tea and is cute as a button!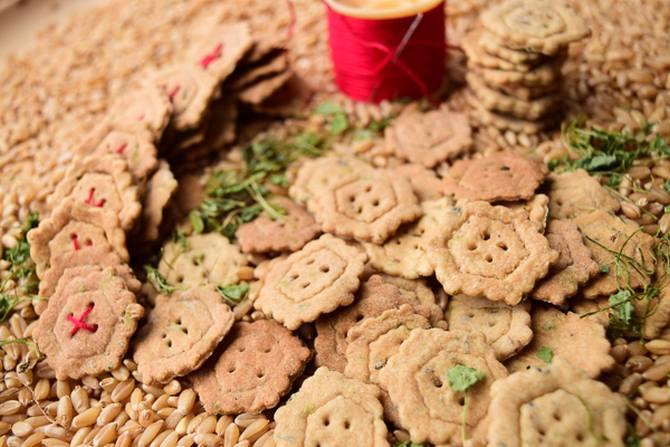 Here is what you will need to make this:
Ingredients:
Whole wheat flour (atta) 1 cup
All purpose flour (Maida) 1/2 cup
Kasuri Methi -- 1 tsp
Ajwain -- 1 tsp
Black pepper -- 1 tsp (Freshly ground)
Baking powder -- 1/2 tsp
Salt -- 1 tsp (or to taste)
Ghee -- 2 tbsp
Hing -- 1 pinch
Warm water to kneed (approximately 3/4 cup)
Method:
Take a bowl and combine all the dry ingredients. Make sure the pepper is freshly ground. Use a mortar and pestle to pound the pepper if you have it, otherwise use a pepper mill.
Add the warm water gradually and knead for 10-15 minutes to make the dough.
Pre-heat the oven to 180 degree C (350 degree F)
Roll out the dough with the help of a rolling pin and use cookie cutters or bottle caps to make the desired shape.
I wanted to make mine like buttons so I used two cutters. Used the bigger cutter to form the shape and use the smaller cutter to give a small indent. Don't press it all the way though, just press it lightly.
Use a skewer to make four small holes in the centre.
Transfer the matthis to a cookie sheet and bake at 180 degree C (350 degree F) for 20 minutes on one side. After 20 minutes, flip the matthi and bake for another 15 minutes.
Once they are baked, transfer them to a cooling rack and store in an air tight container.
These matthis can be stored for 15-20 days in an air tight container.
Serve with pickle on the side.
ALSO SEE