As soon as your child goes online, talk to them about what they are watching, reading and who they are communicating with online, suggest Amitabh Kumar and Prem Prakash, co-founders, YOLO, a youth-led digital awareness platform.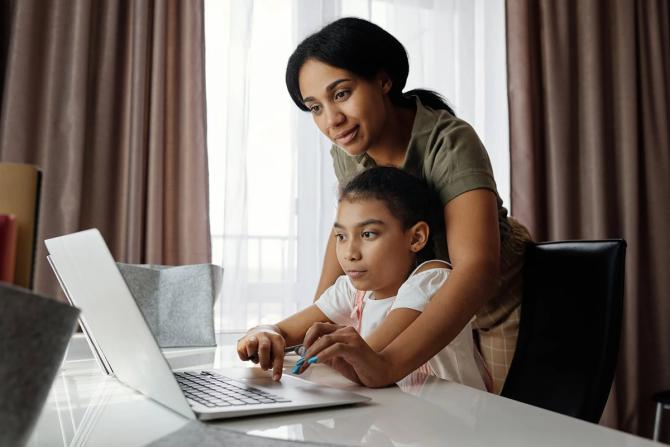 As cyber technology has revolutionised human lifestyle, parents need to ensure that their young ones 'Use technology, rather than getting used by it'.
In the digital age parents have to mentor their children in cyber etiquette.
Digital parenting is very crucial in the times of Internet renaissance where young minds are dependent on smartphones and tablets to address their curiosities.
Socialisation of all age groups also relies upon digital media even in conservative Asian societies due to pandemic and social distancing norms.
According to The Arrka Privacy Study, 2020, 71% Indian Android apps have access to your exact location -- 62% apps can access your camera, while 50% and 46% can access your contacts and microphone respectively.
The study revealed that 87% Indian apps for children accessed at least one dangerous permissions with at least apart from 53% apps containing in-app ads.
While it may be challenging for parents to constantly monitor the activity of kids, here are some tips to help your kids browse safely:
1. Lead by example
Your kids absorb your behaviour, be it screentime, sharing information, browsing sites or device time.
So it's extremely important that we as parents become good role models. Rest of the tips stem from here.
2. Conversation
Talk openly about your online activities with your kids.
As soon as your child goes online, talk to them about what they are watching, reading and who they are communicating with online.
Ask them what sites they visit or apps they use. Write a list, and look at them together.
Talk to your child about what you think is appropriate, and remind them that this may be different for other parents and their children.
3. Be an informed digital parent
The digital world is constantly evolving.
Staying updated with the latest threats and trends is important to ensure your child has a positive experience.
Reading up on the trending apps, games and their safety mechanisms is the only way to keep your child safe.
4. Screens and devices should be always visible
Consider the Internet as a public square.
In real life you would never let your child out of sight. Similarly, when they are in the cyberworld, they need your supervision.
Knowing what they are doing online is essential to keeping them safe.
5. Monitor the time spent on the Internet
It is important to monitor your child's online time, particularly the young ones as they indulge in both online and offline activities.
Each online session should not last more than 30 minutes and each day should not have more than 4 sessions ideally.
6. Verify their online friends
Just like you know your kids' offline friends circle, ensure you know their online friends as well.
Any unverified friend is a major risk. Help your child track down their friends to keep their profiles and circle safe.
7. Parental controls
OTT platforms, social media apps, games and devices have some or the other form of parental controls.
It is advised after the installation of a new app, you must explore its setting section for the safety features.
Applying parental controls on apps is a definitive way to increase security for your child.
8. Share with care
Prior to sharing any information online it is essential we know why and who you are sharing the data with.
This has to be taught to our children as well.
Be it with friends or organisations, information such as residential address, phone numbers, e-mails, date of birth, school address and location can be misused.
This data should only be given out on a need to know basis.
9. Control your family's digital footprint
Every comment, like, share, picture or video you share adds to your digital footprint.
We need to make our children aware of the fact that every time we share something it add to our online profile.
You may not realise that certain information, when they're placed together piece by piece, can be misused by criminal organisations.
Be extremely careful what you post online and who you are sharing it with.
10. Do not share your location
Most apps we use on the desktop or phone, are constantly monitoring our location through their geo tagging features. The videos and photos you post also maintain this information.
Usually it can be turned off by visiting the settings section of the device app control. You may alternately switch on the 'location sharing' feature only while using the app.
Whether you are at home with the kids or away, be always alert and watchful about what your kids are doing online.
Instead of spying on them secretly, try to involve them in the process of keeping them safe from predators.
Talk to them about the risks of their data being exposed online.
Simple things like these along with an alert mind will go a long way in ensuring your kids browse safely.