When the results for the Rae Bareli assembly seat came in on March 11, Aditi Singh (Congress) had won 128,319 votes, Mohammad Shabaz Khan of the BSP had won 39,156 votes and the BJP's Anit Srivastava had won 28,821 votes.
It was a stunning victory for the US-educated rookie Congress candidate.
Rediff.com's A Ganesh Nadar finds out what drives Aditi Singh.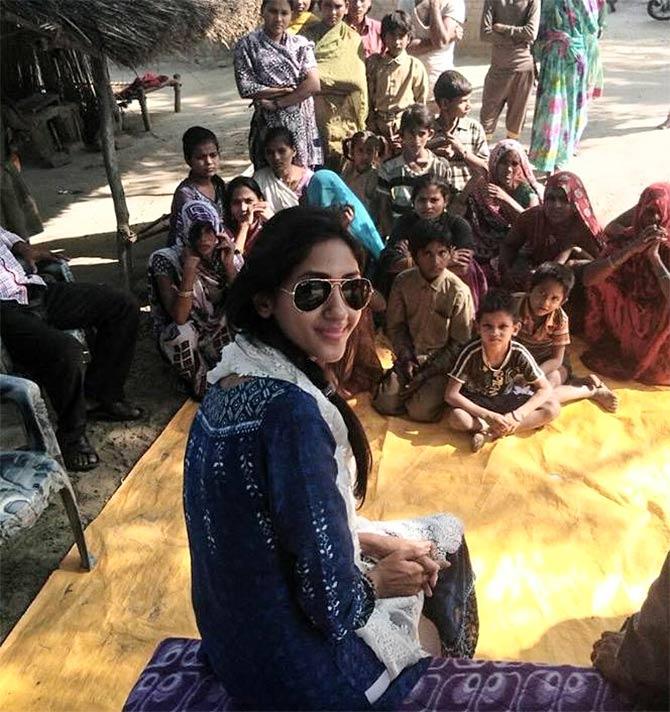 IMAGE: Aditi Singh with constituents in Rae Bareli. Photograph: Sandeep Pal
In an election that saw the Congress party win a measly seven seats in Uttar Pradesh, one of those seats -- the Rae Bareli constituency -- was won by Aditi Singh.
Aditi, who holds a management degree from North Duke University, North Carolina, is the daughter of Akhilesh Singh, who has represented this Dalit-dominated constituency five times since 1993.
When Singh started to feel his age, he asked Aditi to join the Congress.
Though Singh had not been with the Congress since 2007, he still had good relations with some party leaders, and the party welcomed Aditi with open arms.
Aditi was pitted against Shahbaz Khan of the Bahujan Samaj Party, Anita Srivastava of the Bharatiya Janata Party, and Bharati Pandey of the Rashtriya Lok Dal.
It was a wise decision for the Congress which won a dismal two seats in what constitutes Sonia Gandhi's parliamentary constituency.
Had it not been for Aditi, the party may have lost this seat too.
Aditi, who was educated in Mussourie and Delhi -- fearing for her life, Akhilesh Singh had always kept her away from home -- before going to the United States for higher education, returned to Rae Bareli only three years ago. She tells Rediff.com how she plans to make politics work for her.
While the entire state was swept away in the Modi wave, how come you won?
It is my father's work that helped me win this election. He has been the MLA here for 25 years, five continuous terms. He has done some good work here.
Also, Priyanka Gandhi helped me; she personally mentored me in politics as I am a novice.
How can you get any work done in your constituency as the state government will be run by another party that is hostile to the Congress?
My father was an Independent MLA for one term. He still won and he still got work done.
If you are a strong and active leader, you will get work done.
The media is on my side. They will help me highlight the needs of my constituency if any work is delayed.
I also have the support of the people who have voted for me.
I am sure I will be able to do what I wish to do for my people.
Won't you be intimidated in the assembly where your party has just seven MLAs and the BJP has over 300 MLAs?
I intend to speak on development in my constituency. I don't think anyone will oppose you when you are talking about development.
They have won the people's mandate and they have to work for all of UP.
I hope they do that, and I am sure they want to do that.
I am sure I will have everyone's support for development. It has to be our national agenda.
As a political novice, how will you survive the lies, back stabbing, bribing, etc that comes with politics?
I have seen all of it. We had all of it during the campaignin.
They were dividing people on the basis of caste, religion and region. They bribed voters.
I still won.
I have the people's mandate. I will be a strong leader.
What is the difference in politics in the US and politics here?
There, it is all about individuals, and here it is about the party.
There, they have a national agenda, and here it is about caste and religion, which plays a big role.
We should emerge stronger from this experience and rise above caste and religion in politics.
We have to evolve to something better.