Manavi Kapur visits Worldmark in New Delhi's Aerocity, which promises to become the state's ultimate foodie destination.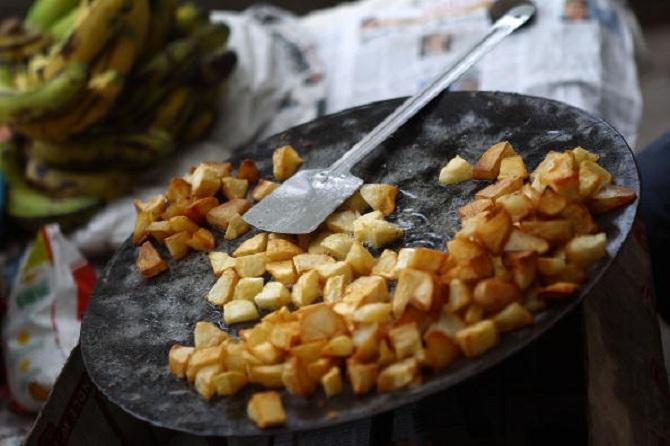 IMAGE: Be it street food or world cuisine at the likes of Worldmark in Aerocity, Delhiwaalas love their food. Photograph:

Robert Cianflone/Getty Images

.

If there is one thing Delhiites love with all their might, it's food.
While not all restaurants last long enough to create a legacy, an experience that revolves around food seems to be almost formulaic in the city. The latest entrant to this cultural norm is Worldmark in Aerocity, an upcoming food, shopping and commercial hub in what has been conceived as the hospitality district in town.
Divided into three buildings -- Worldmark 1, 2 and 3 -- the mammoth 15-lakh sq ft space is designed around the principle of dining and shopping at leisure.
To this end, Worldmark 1 houses Delhi's largest food court.
Called the Food Capital, it currently operates about 16 popular food counters. These include favourites such as Keventer's, Bikanervala, Go Gourmet and Wow Momo.
It is 1 pm and the crowd is only beginning to trickle in. Being a business district, the Food Capital acts as an extended cafeteria of sorts, neutral tone of the walls offsetting the neon green chairs.
"Because of its relaxed setting, you'll often find a lot of people with their laptops and a cup of coffee, spending hours working in peace," says a spokesperson for Bharti Realty, which has developed the Worldmark buildings.
The grey, glass façade of the three buildings bring a certain form of unity to the myriad architectural styles one sees with the Aerocity hotels. And indeed, rather than boisterous luncheon parties, one finds a group of corporate employees huddled close to the large windows where the sunlight streams in.
On weekends, though, this scene is bound to change, especially with the children- and family-friendly activities that Worldmark organises.
While the array of restaurants at the moment may seem disappointing, there's a lot in store in the next couple of months.
Epicuria, a popular consortium of restaurants, will be setting up shop in Worldmark soon. This would include pubs and cafes such as Social, Fio Cookhouse and Starbucks, among others.
What remains to be seen, though, is whether this food hub will be able to replicate the success of DLF's Cyber Hub, which was a hit primarily because of its specialty and one-of-their-kind restaurants.
Though tight-lipped about the upcoming restaurants at Worldmark, a Bharti Realty spokesperson believes that even the popular ones each have their own unique flavour at different locations. "Take Social, for instance. It has a completely different ambience at each location. Aerocity, too, will have its signature style."
The principle of spacious interiors, too, seems to be working, though it remains to be tested once the crowds grow.
Parking, too, is a breeze, particularly because of the modular, multi-level parking slots.
The security is a tad tighter, but that is to be expected of anything that opens in Aerocity.
The food hub is bound to gain from the Central mall across the street in Worldmark 3, which, too, is more high-street than other Central outlets.
Dining, though, will not be restricted to Worldmark 1, the proof of which lies in the fact that Café Delhi Heights, a popular world cuisine restaurant, already functions adjacent to the mall.
But perhaps the star attraction of this "district" lies in the underground walkway that GMR is building from the Aerocity Metro station right up to the various hotels.
This walkway will also connect the three Worldmark buildings and has been designed to replicate an underground tropical forest. Cascading water bodies accompany a visitor to their next stop, which will also feature mist fans for those searing summer days. This walkway will also host other restaurants as well as an open gallery space for artworks.
"Worldmark and the entire district will soon be a buzzing food and shopping hub with ample parking and the added mental peace of strict security," says the spokesperson.
While that is still a couple of months away, the promise of wide roads and the prospect of eating a meal without bumping elbows with other visitors seems practically magical for an overcrowded, overburdened city.