Hip-hop artist Deepa Unnikrishnan tells Rediff.com's Divya Nair how artistes like her have fought hard and waited patiently for the sun to finally shine down on them.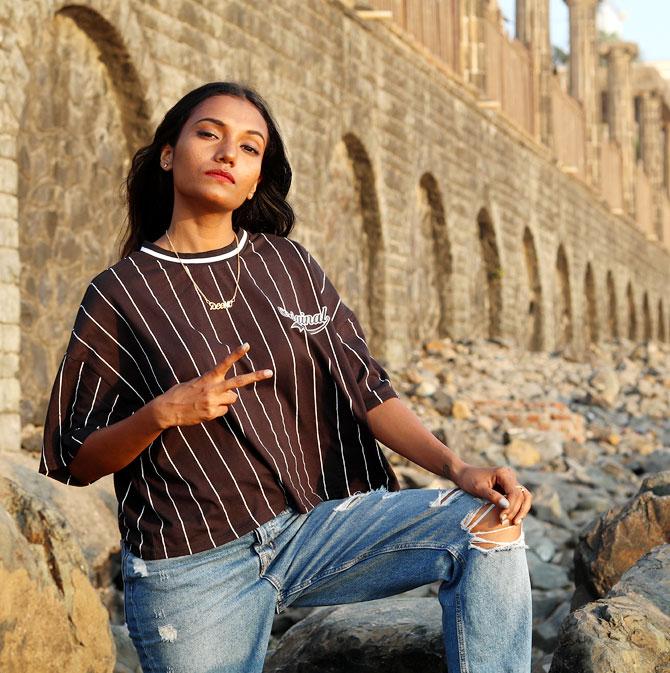 The theme for Gully Boy -- Apna Time Aayega -- may have become a national anthem for the youth.
It is like redemption.
It gives hope of a better tomorrow, instills faith that tough times won't last. That you have to move on, keep going. Look at the bigger picture.
But dig deeper, and you'll know Gully Boy isn't just another film. These are real stories. Of scores of underground artists.
Artists who had no money. Who struggled to perform. To be heard. To be noticed. To be valued. And to be able to tell their stories.
Deepa Unnikrishnan aka Dee MC, one of the few female self-taught hip hop and rap artists from Kalyan, a township near Mumbai, tells us why she is happy but also angry and upset at how we've (mis)treated our artists all these years. And how she quietly built her worth and place when the world was busy looking away.
At face value, Deepa Unnikrishnan's profile is the stereotype most resident Malayalees in Mumbai or its satellite towns are made of.
The younger daughter of Unnikrishnan Pisharody, an NRI, was born in Kerala, but brought up Mumbai.
After travelling and living in Andheri and Nallasopara, two decades ago, the family decided to settle in Kalyan for obvious economic reasons while the father worked and sent home money.
Deepa was enrolled in a Bharata Natyam class -- at the age of five. It helped that she loved dancing and had a natural flair for it.
She also wrote poetry and took part in elocution, debates during her schooling years at the Lok Kalyan Public School in her complex, which incidentally started around the same year that Deepa started her academic training.
Like most parents, Deepa's parents wanted her to pursue chartered accountancy, get a decent job and probably marry into a good family.
And that's precisely where the odds and stereotyping ended.
Deepa would have succumbed to most of it and may have ended up with an unhappy 9 to 5 corporate job had it not been for her steely grit and determination to find her calling and chase it just so she could prove her detractors wrong.
"I was hyper-active in school. But it was only after I joined college I got really interested in hip hop and rap," she tells me over the phone from Kalyan.
"It started off as attraction -- the way they (hip hop dancers) dressed and looked. I tried, but realised it was too late to learn b-boying. But I couldn't let go of the music. It was more about the lyrics for me," she recalls.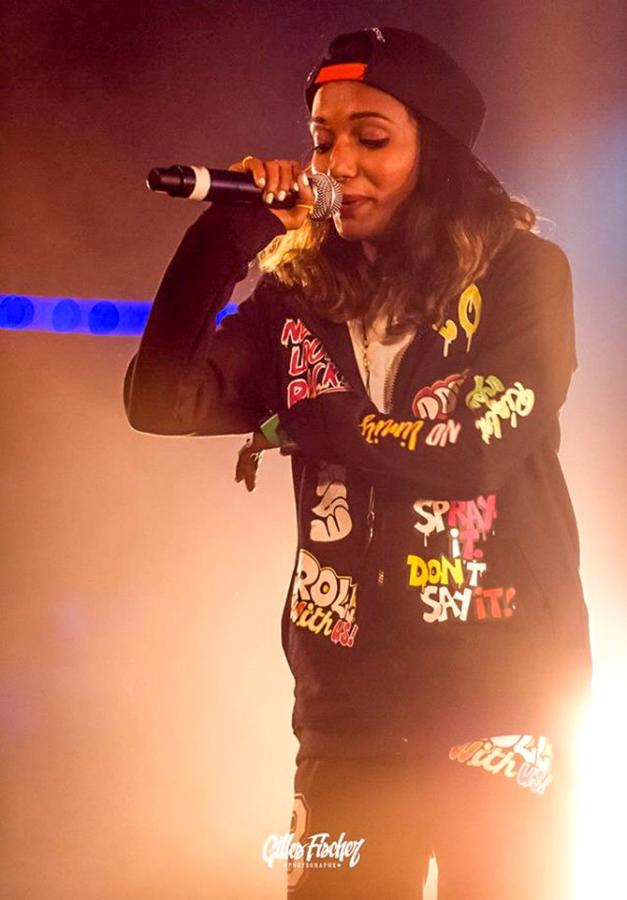 Deepa was 18, in the first year of college, when she wrote her first song.
"As soon as I wrote it, I knew it was not that great. It was about heartbreak and teenage emo (tion) stuff, the problems that come with being a teenager."
Like her first song, she also didn't approve of her artist name 'Aura'.
"It felt like some other person," she says. A year later, she came up with Dee MC (MC short for microphone controller).
Deepa prides in the fact that she is a product of the Internet. And is thankful how it has guided her to chase her passion.
In 2012, she uploaded a video, a cover of Nicki Minaj's song. "Someone from Dombivli (another township near Mumbai) wrote to me saying this (hip hop) has been going on for five years now and that if I was serious, I should look beyond Kalyan."
Like most underground artists, Deepa never took any professional training or had a mentor.
But she's not an accidental artist. She knew exactly what she was getting into.
"Since Dad was working abroad, I was one of those lucky teens to have the luxury of the Internet very early in life. I was in sixth grade when I would download music from the Internet; some of those sites don't even exist now.
It was in college, she started reading and researching hip hop as a culture. "I was amazed at the history. There is so much knowledge that goes into the writing."
When everyone was busy with commercial rap, Deepa was "more interested in the old school of hip hop -- the end of 70s, 80s and start of 2000. Earlier I used to pick up Bollywood songs with rap lyrics and learn them byheart. It was something I loved doing at the time."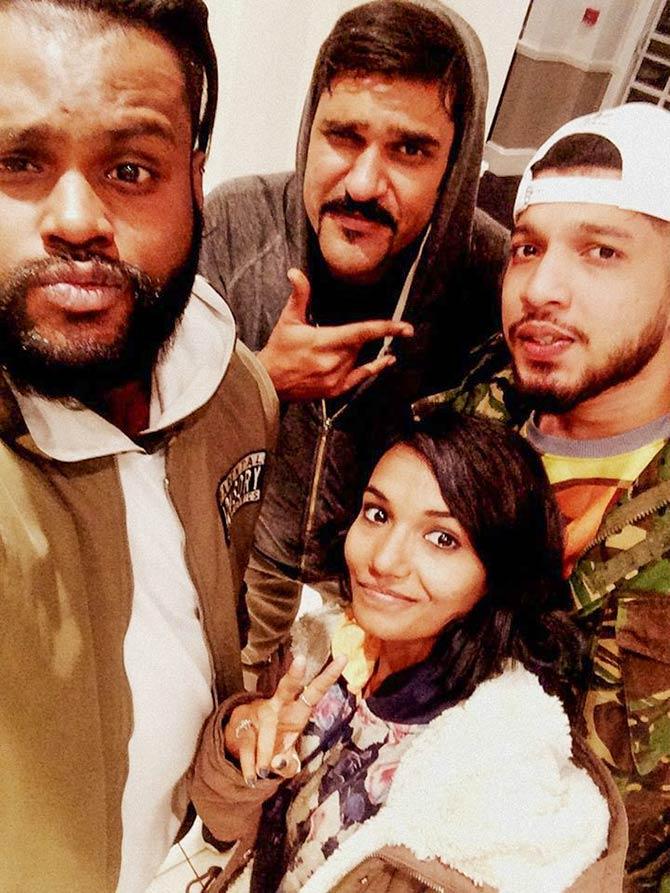 Deepa was clear about the artistes she listened to to perfect her craft.
"I liked Jay Z, Crooked I; but I was very choosy about the artists I heard. I liked Eminem, not Slim Shady. I was very clear that I don't enjoy misogynist or hypo-aggressive stuff. It had to be emotional, have a human touch or a message."
After clearing the entrance exam but losing the qualifying test for CA twice, Deepa realised it was time her parents made peace with the truth.
"I told them the (The Institute of Chartered Accountants of India) institute deliberately fails students for a few marks. It was very depressing. I was failed for two and three marks. My parents didn't want to understand that it can't be my fault all the time."
Between 2014 and 2016, Deepa reluctantly took up odd jobs like writing for Web sites to supplement her income, so she could practice away from home.
"I'd travel from Kalyan to Grant Road (south Mumbai) for the job. Kalyan is super far, you know? I hated it," she says.
"And then I had to write about how much money a Hollywood or Malayalam film made. It wasn't exciting at all; I did it only for the money," she says.
Ask her about her struggles and it's like you've touched a nerve.
"We (artistes) don't really want to talk about our struggles; things that happened 8 to 10 years ago. I mean, where were you guys when we wanted exposure, a platform to support us? Now that a film has released and some actor is promoting it, between January and February people are suddenly reaching out to us, wanting to know our stories."
"With all due respect, I want to say that Gully Boy has just scraped the surface for us. Until a few years ago, people have laughed, mocked and written us off."
"We found and built our own support group. We'd inspire and perform in each other's videos lifting and promoting each other's works."
VIDEO: WATCH Dee MC talk about her family and how she inspired herself to chase her dreams. Video: Hitesh Harisinghani/Rediff.com
As much as she loves her family, Deepa says she had zilch support from any of them or her friends for the longest time.
"My family never took me seriously. They just ignored what I was doing. It was so difficult to get out of home, to practice or stay back late. I mean Kalyan is so out of reach for anyone who wants to be something."
"When you are studying and not earning, you are answerable to parents. They want to know what you are doing, what time you'll come home. They don't really understand what we are trying to build here."
"They don't understand the history of hip hop or expect us to spend our life and future in something they don't believe in."
Before 2015, people weren't even interested in hip hop, she says.
"It was meant for the rich and privileged because they could afford it.
After Mere Gully Mein, thanks to Divine and Naezy, people started noticing.
There is also Sense and TodFod, she reminds me.
But mostly, she blames the lack of interest and ignorance in India for the late recognition.
"There are people in Nepal who are making music and there are lakhs of subscribers. But in India, good artists have two digit views. Why do you have to wait for someone else to point out that India has an active music scene?"

Being an early entrant, Deepa calls herself extremely lucky.
"When there are 20 to 30 boys and one or two girls in the circuit, you are bound to get noticed. Even producers are willing to pay female rappers better because there are select few and good ones."
Things changed for Deepa in 2017 when she was invited to perform in the UK and later in Germany.
"It was a 25 day tour. I met producer Sunit who signed me so I stayed for another 10 days to shoot an album which will release in March," she says.
Deepa has worked on several indigenous projects including one for Menstrual Hygiene Day, Nanhi Kali with the Mahindra Education Trust for National Girl Child Day.
She has also produced a segment for a documentary series featuring India's wheelchair disabled basketball federation led by para swimmer Madhavi Latha, which she says will also release this year.
It has been a long, mostly lonely and patient journey, she says.
The artist doesn't mince words when she says none of her family members really cared or supported what she did as an underground artist.
"If I showed them something, they'd listen to me, but no one went out there to share it on their social media or with their friends. They wouldn't even talk about it like it was a real talent. They would just deny as if it was a phase that would just go or disappear," she says.
At this point I am really curious to know what her parents feel about their daughter.
"After my UK tour, they did take me seriously. Now they even share my videos without me telling them to and have a conversation, but it's not really a big deal for them yet."
So how do they handle their daughter's attention, the fame, the newfound success?
"They are so disinterested man. It's like someone has told them to speak so they'll say a few words. Their disinterest makes me feel disinterested to even ask them," she says.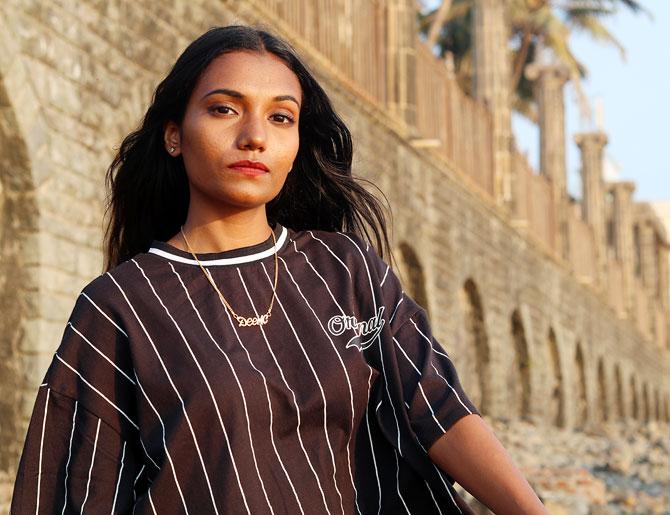 Maybe it's the angst, maybe it's the pain or the lack of it. But over the years, Deepa has built a wall around her that no one can cross.
"I don't let my vulnerabilities get the better of me. In this profession, people can sniff it if you are weak. So when I step out, I have this strong attitude. I am a badass and you'll know it," she says.
Among the many worries Deepa has right now, one is how hip hop has been misconstrued for generations.
"Every music genre including hip hop has a rich history. People should read about it and not forget why it was formed or created in the first place. I want to use my music to reach out to the youth, to inspire them to create history. To share knowledge; tell them the importance of voting, girl child education, menstrual hygiene. I want to tell the story of pre-British India -- how our kingdoms ruled us, how we fought the British."
In her advice for aspiring artists, she says: "Don't get into this because of the film. Don't get into it because it is the coolest thing to do right now. Read. Be self-aware of the environment you are. If it inspires you to write, go for it. Be original, find your thing."
"If you know you are good, don't be influenced. Let people criticise, don't take that as a verdict and let it affect who you are."
Deepa also nurtures a secret ambition.
"I always say I want to be like the Dalai Lama. He is raising all the right questions. He's so intellectual that even the government wants him dead. I want to be able to spark a revolution like that."