Dietician Komal Jethmalani provides expert help.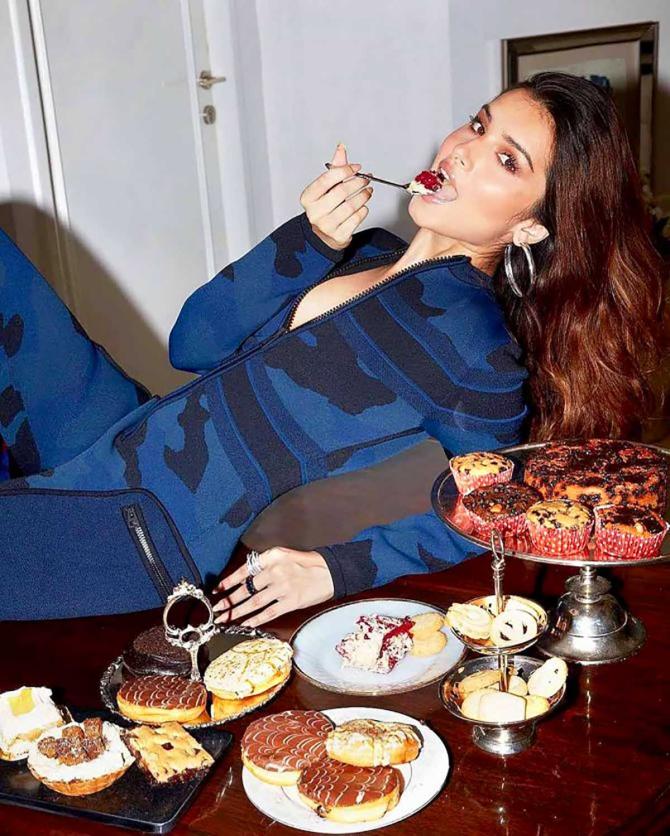 Dear readers, are you worried about your health as we battle COVID-19?
Concerned about what you and your family are eating as you cope with staying indoors?
Struggling with weight gain?
Or are you facing other heath issues like diabetes, blood pressure, joint pain or heart problems?
Please mail your questions to Nutritionist Komal Jethmalani (Subject: Ask Komal) for her advice.
Dear Komal,
During the pandemic, we have very much got used to baking at home, making desserts and other interesting dishes. But these use heavy, rich ingredients.
At that time, it is didn't matter so much since there was nothing much else to do.
Now, we are used to such food and we know it is not good.
How can we easily change our food habits?
Raavi
Eating heavy or rich foods made in high fat and carbohydrates will cause an increase in body fat percentage, which will increase risks of diabetes and cardiovascular disorders. Strictly avoid these foods in your diet.
Incorporate healthy eating patterns like small frequent meals.
Include lots of plant foods like fibre-rich vegetables, fruits, beans, multigrain cereals, etc. This will strengthen your gut and improve metabolism.
Focus on protein rich foods like low fat dairy products, eggs, lean meat, nuts, pulses, etc.
Drink plenty of water for flushing out the toxins and adopt a regular exercise regimen.
Respected Ma'am,
I am Nivi.
I am 21 years old.
Height: 5'3"
Weight: 41 kg
I want to increase my weight. It would be great if you could share any tips.
Thanks and regards,
Nivi
Weight gain should be targeted as increase in lean mass.
Start with regular strengthening exercises daily and ensure a good protein intake for muscle build-up. This will help gradually increase your weight.
Have a balanced diet with a good balance of macro and micro nutrients.
Eating excess carbohydrate or high fat foods will only increase fat percentage.
If you are an ectomorph whose metabolic rates are very high, you will need to plan your activities with more focus on weight training and less on cardio.
Dear Komal,
I am 73 years old, 5.7 ft height and weight 55 kg.
Lost a lot of weight, approx 3 kgs, in 2020 coz of having for 2 months lime juice and honey every morning during pandemic days. Also, was less active. All the tests were okay.
There was loss of muscle mass and muscle wasting.
In September, I had mild COVID for a short while after double vaccination, with no treatment as per doctor's advice. I only had multi-vitamin and Vitamin C.
I have stopped my exercises since then.
For 15 years, I have been doing 30 minutes brisk walk and 30 minutes light exercise like squats, lunges, push-ups and light weights in between the week. I plan to start again soon.
I want to rebuild my muscle mass and fitness and diet. How should I do it?
Thanks,
Alvito Dsilva
Lack of exercise and an irregular eating pattern can cause loss of muscle mass and increase in body fat percentage.
Cardio and strengthening exercises are important for building lean mass. Plus, adequate protein intake for muscle recovery is of prime importance. Include protein-rich foods in your diet like low fat dairy products, eggs, lean meat, nuts, pulses, etc.
Balance the macro and micro nutrients in your diet within their requirements with adequate water intake.
Consistency and compliance are the keys to fitness.
Dear Ms Komal,
I'm a 50 year old woman, height 163 cms, weight 70 kgs.
Underwent hysterectomy one year ago for dysfunctional uterine bleeding.
Was on progesterone treatment for the same for almost a year.
Meanwhile, started gaining weight. Increased from 65 to 70 kgs.
Developed black pigmentation bilaterally on my face which was diagnosed as Acanthosis nigricans. Was asked to lose weight.
Doing 90 minutes of yoga every day. Desk job at office. A small eater with sweet cravings sometimes.
Please give your valuable advice.
Thanking you,
Mahima
Hormonal imbalance in women is their prime cause of water retention and pigmentation.
Weight gain will occur with lowered metabolism and insulin resistance is developed with increase in body fat percentage.
Get blood tests done to check your average sugar levels, thyroid function tests, lipid profile. LFT and KFT. This will help identify and correct the disorders.
Have a high protein, low carb and fibre-rich diet. Include complex carbohydrates and lower intake of high fat and simple carbohydrates food.
Incorporate more strengthening exercises to increase lean mass and reduce fat by loss in inches.
Hi Komal.
This is Muralidhar G, aged 40 weight 80 kgs and 6 feet height.
I do strength training three times a week and play tennis every day for 90 minutes.
My problem is that, after I play tennis in the sun in the morning, I get a headache in the afternoon.
I take proper electrolytes and sufficient water.
What could be the reason?
Thank you,
Muralidhar G
Strengthen training results in increase in muscle mass.
As muscle is the most metabolic tissue in our body, you need to have a high protein intake post workout for muscle recovery.
To replenish the energy lost during exercise, you also need to have a good carb source within 30 minutes after your workout.
The lack of this may be causing hypoglycaemia, which will lead to headaches.
Include an oat plus fruit smoothie made with milk or a banana milkshake in your post workout meal.
Playing in the sun will certainly lead to loss of electrolytes. So continue to have lots of water with salts to be well hydrated.
---
Komal Jethmalani is a dietician with over 25 years of experience in food, nutrition and dietetics, with an MSc in food science and nutrition.
A certified diabetes educator and lifestyle coach, specialising in diabetic, cardiovascular, weight loss and various therapeutic diets, she consults under the brand The Diet Mantra.
And she will try and help you achieve your dietary and fitness goals through healthy lifestyle changes.
Do share your complete health details including age, weight, height and health issues if any.
Write to getahead@rediff.co.in (Subject: Ask Komal), along with your name. You are most welcome to share your photograph as well.
This column is an advisory. Please do consult your doctor as well.
---
Disclaimer: All content and media herein is written and published online for informational purposes only. It is not a substitute for professional medical advice. It should not be relied on as your only source for advice.
Please always seek the guidance of your doctor or a qualified health professional with any questions you may have regarding your health or a medical condition. Do not ever disregard the advice of a medical professional, or delay in seeking it because of something you have read herein.
If you believe you may have a medical or mental health emergency, please call your doctor, go to the nearest hospital, or call emergency services or emergency helplines immediately. If you choose to rely on any information provided herein, you do so solely at your own risk.
Opinions expressed herein cannot necessarily provide advice to fit the exact specifics of the issues of the person requesting advice.
---