A new survey reveals how dating preferences changed drastically during the lockdown.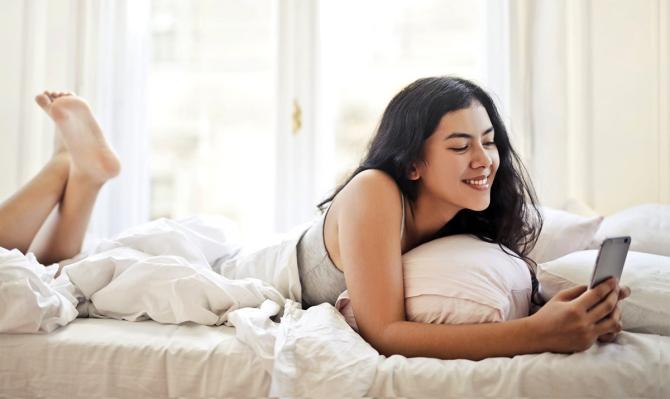 QuackQuack, a leading online dating app, has released interesting insights into how Indians are looking at dating in the forthcoming year.
Results show that singles are still holding onto that thing called 'love' and intend to tread that path, but with precautions.
Text over video
65% prefer to engage in longer text conversations that help them express themselves better, akin to writing long love letters back in the day.
In fact 90.8% women prefer to text over video call.
60% of people hailing from metros/bigger cities also come within the category of people preferring long text messages over quick video calls.
Safety is priority
60% users in the age bracket of 18-30 years wear a mask when meeting their date as they still consider themselves at risk of contracting the virus.
Women users are more cautious with 90% stating that they never forget to wear a mask on a date.
About 74% of users from metros and 66% from smaller cities tend to follow precautions more rigidly and prefer to wear a mask on dates to ensure their safety.
Location matters
When asked if users preferred dating people from native city or a different city, nearly 68% of people aged 31 and above preferred dating from their location to avoid the risk of travelling.
Meanwhile, a majority of youngsters did prefer dating people from their location, but were open to the idea of dating from other cities as well.
Out of these, women (52%) were more curious to meet people from other cities as compared to men who would still prefer dating from their own location.
People from big cities (66%) were more cautious over smaller cities (58%) who are more enthusiastic about dating from far off cities as well.
Food compatibility
Approximately 64% Indians feel that matching food taste matters as having similar food taste is a sign of great compatibility, with women (66%) attaching higher importance to it compared to men (61%).
Majority users in the age group of 31 and above preferred watching movies over Web series on their date, with women being more in number (65%).
Dating to move on
More than 70% of people from both cities and smaller cities/towns would go ahead and meet new people to get over toxic relationships.
25% of those aged 31 and above said that meeting new people online helped them overcome loneliness and 15% got over depression in 2020.
They consider meeting new people and having more choices to pick from would get them a compatible partner.
Speaking about the survey, Ravi Mittal, founder and CEO, QuackQuack feels that 'despite having spent the entire last year in gloom and doom, Indians are still keeping their hopes alive in the new year and haven't given up on the idea of finding love.'
'The most interesting part of the survey has been the finding that many are still in for old school dates and mushy romance, with movies and matching food taste topping the list of similarities that they are looking for.'
'It is heartening to see that people are open to traveling across cities and trying new experiences for the sake of companionship,' Mittal added. 'Dating apps sure have been a blessing in disguise for many given the current circumstances.'