We'd asked you, dear readers, to share special Christmas recipes from your hometown.
Chitra R shares some traditional festive recipes from Tamil Nadu. You can share yours too.
Munthiri Kothu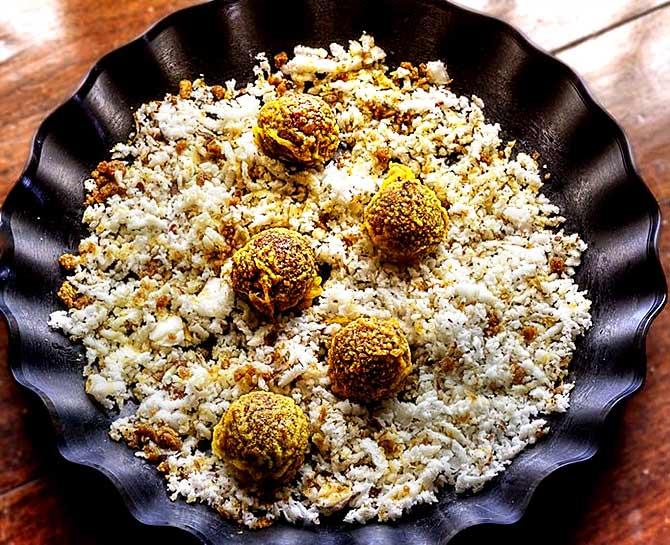 Munthiri Kothu is a traditional sweet made from green gram and jaggery.
Photograph: Kind courtesy Devika Varier/Wikimedia Commons
Ingredients:
For pooranam (filling)
1 cup green gram
3/4 cup jaggery / palm sugar
1/2 cup grated coconut
4 cardamom pods
1/2 tsp dry ginger powder
1 tsp sesame seeds
3 tbsp water
For outer cover
1/2 cup rice flour
1 tbsp maida
1/2 tsp turmeric powder
Pinch of salt
Water
Method:
Roast the green gram until it changes its colour from green to golden brown.
Take it off the flame when the raw smell is replaced by a nice roasted aroma.
Let it cool for 5 minutes.
Once cooled, transfer the green gram to a blender.
Add cardamom pods and grind to a medium coarse powder.
Dry roast the shredded coconut in a pan and roast until it turns golden.
Once the coconut turns golden, add sesame seeds and roast for few more seconds. Turn off the heat.
In a mixing bowl combine the above mixture with dry ginger powder. Mix well and keep it aside.
For jaggery syrup, heat some jaggery in a sauce pan.
Add water and bring it to a 1/2 string consistency. You may grate or powder the jaggery before heating so it melts faster and uniformly.
Strain the jaggery to remove any impurities.
Add this to the main mixture and mix well.
Once the mixture is slightly cooler, grease your hands with oil or ghee and quickly make small balls out of it. Once it cools completely, it will harden and you won't be able to shape the balls.
Rest the balls for 20 to 30 minutes to harden a bit.
To make the outer layer, mix rice flour, maida, turmeric powder, a pinch of salt by adding a little amount of water to make a slightly thick paste, enough to coat the surface.
The final step is to fry the balls.
As the name indicates, let's take a kothu of balls (bunch of 3 to 4 balls) and dip it in the batter.
Coat the balls with the batter and fry it in oil on medium heat.
Munthiri Kothu will cook very fast. Once the outer cover gets crisper, take them off the kadhai and drain the excess oil using a paper napkin.
Store it in a dry air tight container so it lasts for 2 to 3 weeks.
---
Athirasam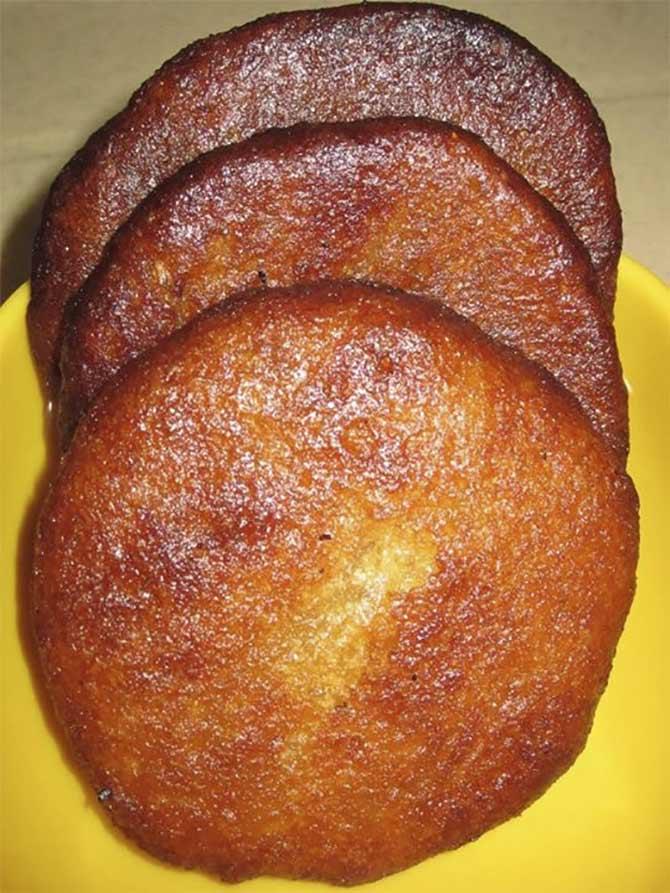 Athirasam is a deep fried sweet-snack.
Photograph: DSwathika/Wikimedia Commons
Ingredients:
1 kg rice
750 gm jaggery
6 cardamom (without pods)
Oil for deep frying
Method:
Wash and soak raw rice for two hours.
Drain the water and spread it on a cloth so that it will absorb any excess water.
After 10 minutes, dry grind the rice with cardamom. It shouldn't be too fine or too coarse.
Sieve this mixture in a vessel. You cannot store this flour and will have to use it immediately.
Grate jaggery and heat it by adding just enough water to soak the jaggery.
Bring it to boil and switch off.
Once the jaggery dissolves, filter it to remove any impurities.
Make a syrup of jaggery by adding water and boiling it.
To make the flour, add hot jaggery syrup little by little to the rice flour. Mix well using a ladle.
Cover it with a lid and let it rest.
After 4-5 hours, take it out and knead it well with your hands and secure with a tight lid again. Let it rest for 1-2 days.
This dough can be kept for 2 days at room temperature. Do not refrigerate the dough.
After 1 or 2 days, knead the dough and divide equally to make balls.
Meanwhile, heat oil in a kadhai. Once the oil is heated, reduce the flame to medium.
Grease a banana leaf or a plastic sheet with ghee and flatten the ball with your hands.
You may grease your hands with oil so the dough comes off easily without sticking.
Take the flattened dough in your hands from the leaf and gently slip it into the oil.
Keep the heat on medium and fry both sides till you get a nice brown colour. If the heat is high, it will turn brown immediately but will remain uncooked inside.
Remove from oil as Adhirsam has a tendency to absorb lot of oil.
Press the Adhirsams between two slotted ladles to remove excess oil. Drain the remaining oil using a paper napkin.
Store in an airtight container. Consume within a week.
---
Dear Readers, tell us what you are treating your loved ones to this December.
Send us your favourite Christmas recipes and we will publish the best ones.
Write in to us at getahead@rediff.co.in (subject line: Christmas Recipes) with your NAME, AGE, HOMETOWN and any interesting details about the origin of the recipe.
Don't forget to share a photograph of the recipe, and your pic as well.
We'll publish the best recipes right here on Rediff.com.