Who says chocolate is unhealthy?
Mumbai-based fitness instructor Namrata Purohit has collaborated with Bandra -based Farmers' Cafe -- to curate some interesting desserts.
The idea is to make unhealthy healthy with healthy, vegan and gluten-free food alternatives.
Check out these two recipes:
Recipes and photographs: Kind courtesy Namrata Purohit for Farmers' Cafe, Mumbai.
Browchini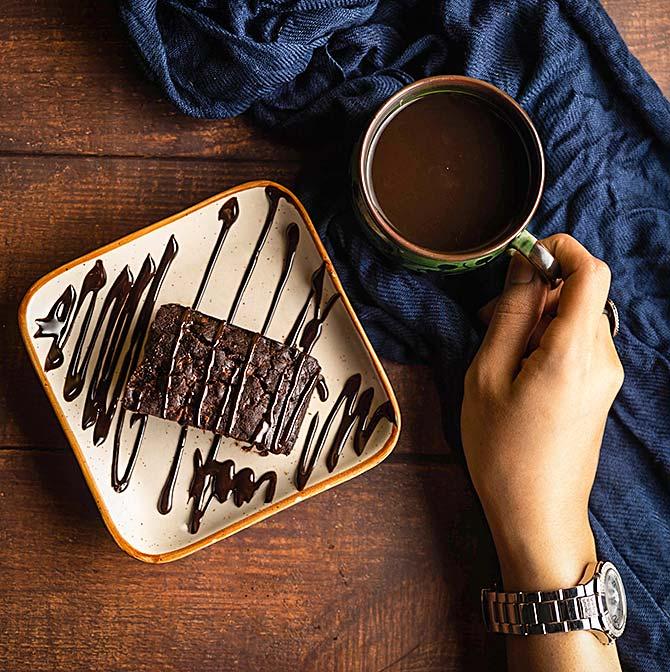 Ingredients
200 gm fresh zucchini
250 gm almond flour
1/2 cup raw cocoa powder
100 gm coconut oil
80 gm jaggery
2 tsp fresh vanilla
1/2 cup dark chocolate chips
1 tsp baking soda
A pinch of salt
Method
Mix the dry and vet ingredients separately. For the dry ingredients mix almond flour, raw cocoa powder, organic jaggery powder, baking powder and a pinch of salt.
For the wet mix, use coconut oil and fresh vanilla extract. Mix the two well and let them sit for 5 minutes. Make sure there are no clumps before going on to the next step.
Add the mix, gently stir until combined. Be sure not to over mix.
Then gently fold in the grated fresh zucchini and 1 cup mini dark chocolate chips.
Pour the batter into the 8 x 8" pan and even the surface with a spatula.
Sprinkle 1/2 cup mini chocolate chips on top.
Bake for 30 to 35 minutes or until a toothpick inserted in the middle doesn't come out gooey.
But Nut Pops
Ingredients
3 cups homemade almond butter
250 gm dark chocolate
3 cups roasted almonds
Method
Depending on the size of your food processor, you can grind up to 4 cups of almonds at a time. I recommend sticking to about 3 cups, to make the process move a little faster.
You'll notice a change start to happen around the 10-15 minute mark.
As the oils are released from the almonds, they'll start to stick together and form a large mass that moves around the bowl. You'll also notice that the almond butter is getting rather warm.
After 20 minutes of processing, your almond butter will become smooth and creamy.
Roll the almond butter into small balls and refrigerate it for 60 to 80 minutes.
After they are frozen, dip them in dark chocolate and roll them in minute pieces of roasted almonds.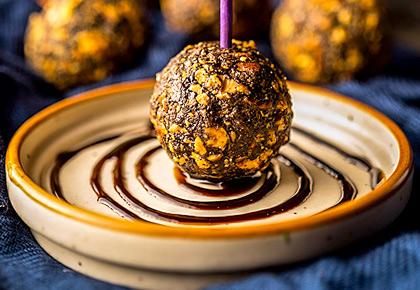 Dear readers, do you have an interesting Christmas recipe to share?
Send them on getahead@rediff.co.in (subject line: Christmas Recipes) with your NAME, AGE, HOMETOWN and any interesting details about the origin of the recipe.
Don't forget to share a photograph of the recipe. We'll publish the best recipes right here on Rediff.com.