As the year comes to a close, it's time to pander to our tastebuds and to our longings for all kinds of sweet things, without guilt.
Go ahead and try this easy-peasy recipe for Raspberry Tart, baked with raspberry preserve and walnuts. The walnuts give it an added crunch.
Fit to feature on your Christmas feast menu, you can serve this tart plain or add a dollop of whipped cream and sprinkle with more roasted nuts.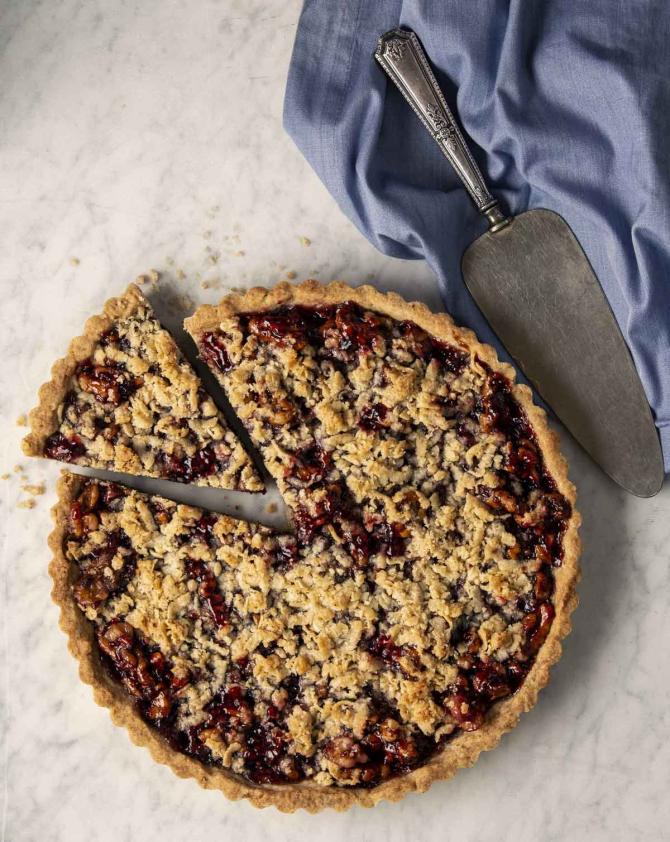 Raspberry Tart
Ingredients
For the crust
2 cups maida or white flour
½ cup cold unsalted butter, cubed
½ cup sugar
1 egg yolk
¾ cup walnuts, chopped
Water, as required
For the filling
1¼ cups coarsely chopped walnuts
1 cup raspberry preserve
2 tsp finely grated lemon zest or peel
Butter or non-stick cooking spray for buttering the tart pan
For serving
Whipped cream, optional
Roasted crushed nuts, optional
Method
For the crust
To prepare the crust, blend the flour, butter, sugar and egg yolk in a food processor till well combined.
Add the walnuts and process until finely chopped.
Add enough water to form a dough that will hold together when pinched with your fingers.
Wrap tightly in a moist cloth and refrigerate for about 1 hour or until firm.
For the filling and assembly
Preheat oven to 180°C.
Spray a 9-inch tart pan, with a removable bottom, with non-stick cooking spray or grease lightly with butter.
Keep aside.
Set aside ½ cup of the crust dough and press the larger amount evenly onto the bottom and into sides of the tart pan.
Keep aside.
Stir together the walnuts, raspberry preserve and zest and fill into the crust-lined tart pan.
Coarsely grate the remaining ½ cup of dough over the pie surface.
Bake the tart for 45-50 minutes or until the crust is golden brown.
Take out of the oven and cool slightly on a rack.
Serve warm, optionally with a dollop of whipped cream and a sprinkling of roasted crushed nuts.
Note: If you don't have a tart pan with a removable bottom use a regular pie pan. Or even a cake pan taking care to press in the dough for the crust on the sides to only pie height -- about an inch.
Take care to use raspberry preserve and not jam. A preserve contains the whole fruit or large pieces/chunks of fruit. Second best is raspberry pie filling, available bottled or in tins in gourmet food stores or online.