Created in the country's perfume capital Kannauj, Uttar Pradesh, Vikas Khanna by Zighrana was launched in New York.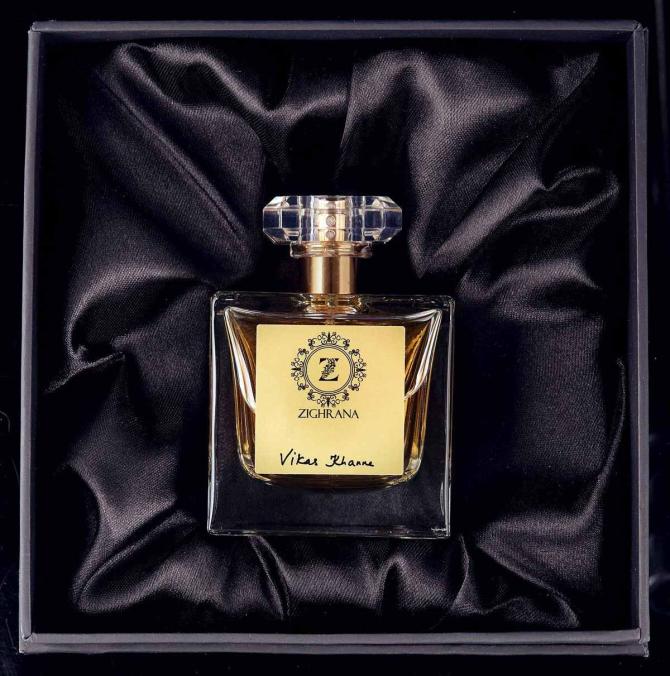 Zighrana, an Indian essence and wellness products company hailing from Kannauj, Uttar Pradesh, has collaborated with Michelin-star chef Vikas Khanna to launch its flagship perfume Vikas Khanna by Zighrana.
The perfume, which draws inspiration from the world of Indian culinary, was launched at the consulate general of India in New York.
Zighrana's Owner Swapnil Pathak Sharma said the perfume is a unique blend of spices like cloves, cardamom, nutmeg, sandalwood, jasmine and rose.
According to Vikas Khanna, the perfume showcases the flavours of spices, flowers, history and heritage of India in a bottle.
Khanna tweeted that since he moved to US in 2000, his mission is to highlight Indian culture, cuisine, art and history.
'I'm completely dedicated to choose projects that represent those values. Proud to bring the legacy of Kannauj, India's perfume capital in form of #VikasKhannaByZighrana.'
Zighrana's parent company has a family history of creating fragrances since 1911.
Sharma is a fourth generation entrepreneur. Her father Akhilesh Pathak, whose family has been in the business of fragrances, perfumes and essential oils for over 100 years, said today the global fragrance industry is estimated to be worth over $24 billion and the fragrance market is set to grow exponentially in coming years due to focus on personal care, increasing disposable income and other factors.
"The Indian fragrance industry is one of the largest in terms of production and consumption, but its share in the global fragrance industry remains humble at about $500 million. This must change, this can change," Pathak added.
Collaborating with Khanna, Sharma said, gave origin to the idea of developing a perfume based on Indian cuisine, which will be a first-of-its-kind.
She then modified the production processes back in India, and under her father's guidance "developed a unique fragrance inspired by Indian spices, scents and perfumes".
Additional reportage: PTI