'If there was ever a time to start up,' says Nidhi Saxena of Zoctr Health, 'it is NOW and HERE!'
Zoctr plans to hire 500 people this calendar year.
'One million passionate, empowered, entrepreneurs,' says Nidhi, 'can truly bring Ache Din to this country.'
Prasanna D Zore/Rediff.com begins a new series on how India is Starting Up:
IMAGE: Prime Minister Narendra Modi at the Start Up India launch, January 16, at which he announced a Rs 100 billion ($1.5 billion) fund and tax breaks for start up companies and their investors. Photograph Adnan Abidi/Reuters
Describe your start up venture...
Zoctr is India's first fully integrated healthcare aggregator platform that aggregates home health, telehealth and remote patient monitoring services targeted at post acute, chronic and terminal patients including cancer, stroke, cardiac, kidney and post surgery patients.
Zoctr offers a seamless post discharge experience to the patient through its Web site and mobile app.
Reasons you decided to Start Up...
The satisfaction of disrupting the healthcare market through innovation, bringing superior and affordable healthcare solutions to 500,000 plus Indians in five years and making an impact on the lives of the elderly and the diseased are my reasons for Zoctr.
What is your Start Up's USP?
Zoctr has three clear USPs: Medical domain expertise for chronic and critical care, technology domain expertise in terms of a state-of-the-art technology platform and remote monitoring capabilities, and a unique aggregator model to create a scaled up pan-India home health company.
How do you plan to scale up?
We are already a 6-city operation covering Mumbai, Delhi, Bengaluru, Pune, Kolkata and Ahmedabad in the first 12 months of launch.
We will build scale by adding 20-plus Indian cities and focusing heavily on customer acquisition, best-in-class execution and large scale staffing aggregation.
Challenges you faced and how you overcame them...
The initial proof of concept and build-out was most challenging as we were just an idea in 2015. Currently, rapid user adoption and raising funds for scaling up are the main focus areas.
Passion, persistence and patience are the key to being a successful entrepreneur.
Of course, a supportive core team is a blessing and helps sustain through hard times.
Lessons your Start Up taught you...
Today's market and technology environment is highly dynamic and chaotic. Hence a company to succeed needs to adopt a continuously iterative strategy or as I would put it, a 'continuous beta' where you:
a. Take customer and market feedback and make changes to your product/service as quickly as possible to stay on the market curve.
b. Constantly innovate and bring disruptive solutions first to the market to stay ahead of the market curve.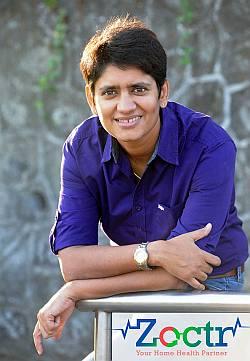 The positives and negatives of Start Up India
Firstly, a big kudos to Prime Minister Modi for coming up with Start Up India at the most opportune time when Start Up activity is gathering momentum and such policies contribute to and accelerate the Start Up phenomenon.
There are several positives in the plan in terms of an income tax holiday for Start Ups, exemption from capital gains tax, bankruptcy bill 2015 -- 90 days to exit a business and finally a Start Up India hub being the single point contact.
No real negatives, but a clear message: Execution is the key!
How will Start Up India benefit Zoctr?
As we understand it, Zoctr fulfils all the eligibility criteria to be qualified and receive benefits under the Start Up scheme and we will surely make the most of it.
Your message to Indian Start Ups...
If there was ever a time to Start Up, it is NOW and HERE. So just go out and do it!
Your message for the prime minister
One million passionate and empowered entrepreneurs can make an unprecedented impact and truly bring Ache Din to this country of a billion plus. So please empower us to fulfill the vision of Start Up India, Stand Up India!
How many people have you employed? How many more do you plan to hire this calendar year?
Zoctr just crossed the 100 people mark in mid January and plan to hire over 500 people in 2016.
The management build-out will be about one-fourth (of the actual size), the remaining will be core operations staff including coordinators, nurses, attendants etc.
What are the skill sets you are looking for in your employees?
For management and support functions, MBAs with an orientation to sales and marketing, HR or finance; For IT, it will be software developers with an MCA/BCA.