Why are students being forced to go abroad to study? Anjuli Bhargava finds the answer.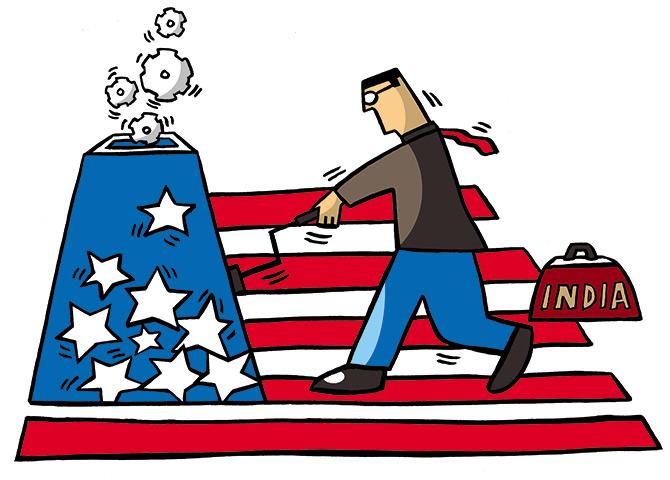 Illustration: Uttam Ghosh/Rediff.com
Have American colleges actually taken a beating in the race to attract Indian students -- the so called Trump effect, are colleges in the US out-pricing themselves, which are some of countries that have become more popular for students looking at higher studies and what are some of the fears and concerns of parents and students leaving India for graduate and post graduate studies ?
Viral Doshi -- India's topmost consultant in the field based out of Mumbai -- took time off his 8 am to 11 pm schedule in the midst of admission season and to speak on the trends he is seeing in this space.
What are some of the trends we are seeing with students leaving India for studies ?
A lot of students would love to stay back in India but I say this time and again: There are hardly any good new colleges.
Schools in India have grown exponentially, but the higher education sector has failed to keep pace.
There must be at least 130 plus new IB high schools alone that have been added in the last decade. How many good colleges can you think of ? You can count them on your fingertips.
In the sciences, the Indian Institute of Sciences (Bangalore and Pune) have come up in the last decade or so. In the liberal arts space, there is Ashoka and Symbiosis. Otherwise, one can hardly think of any good new options.
Are American colleges out-pricing themselves ?
Yes, there's no doubt that a lot of the colleges are becoming more expensive, but despite that the trend we see is that more and more students are leaving the country.
Demonetisation, GST and what it is doing to affordability is in my view more cocktail party conversation in Delhi and Mumbai. Undergraduate studies numbers are increasing year on year.
Rich Indians can well afford an American education.
In general, if they were out pricing themselves, demand should have fallen. I don't see that happening as yet.
This is one of the great things about American colleges. If a student is good enough, there is enough financial aid. If you are good enough to make their criteria, they will make sure finances are not a problem. That makes the system great as it allows for far more diversity in the student body.
Have parents become more wary of sending their wards to the US post Trump or is that also cocktail party chat as you put it?
I would say that the US remains the primary country of choice for parents who are sending their children overseas. I don't think the numbers have dropped, but I do think people have varied their target colleges.
Less and less parents are keen to send their children to colleges in rural America -- be it south, south west and mid west America.
People are shying away from the smaller towns and places where they see a racial bias or overtone.
I see less people keen on colleges in Tennesee, Texas, Alabama. Very good colleges in these areas -- be it University of Texas at Austin or University of Virginia or North Carolina -- there are fewer takers despite the fact that there are great colleges.
Top colleges in a somewhat unsafe zone are taking a hit.
I cannot deny that parents have more actively started looking at Canada and other European countries post Trump -- many feel these countries are safer, more affordable and more welcoming -- but the quality of education that American colleges impart is hard to beat.
So, the US remains the top country of choice (out of every 100 students, 65 are headed to the US, 15-20-odd to Canada and the rest to UK, Europe and other destinations) for parents, but I do see a reluctance to venture into rural and small town America.
Europe has become more popular, but there are challenges due to language in both networking and assimilation for students.
English may be the language at college, but the rest of the country may use a different language and that makes it harder for the Indian student.
Germany has become a serious option for engineering students as has the Netherlands for economics and business.
What are some of the big changes and new trends you see in this space?
Is the Great American dream as we understood it intact?
The big change is that the Great American dream as we understood it for the last 3-4 decades no longer holds.
In the 1980s and 1990s, parents sent their children overseas for studies to America, they got jobs there, worked for a while, got an MBA degree and often settled down there eventually, making a life and career for themselves. There are no such guarantees anymore. This has changed completely now.
I find 70 per cent of the students from the US coming back. Five years ago, it was likely that my student went to the US, got a job through campus placement and the norm was they stayed back and worked and lived there. Now, this is no longer so.
And even when the students find a job -- which many students do -- they have to come back because the H-1B visa doesn't come through.
So, the American dream has gone through a very big change I would say.
In the UK, I am finding students who manage to land a job (and this is not easy), manage the visa. In the US, many find a job, but the visa is a challenge.
Let me end by saying that many things we may have taken for granted in the past no longer hold true. The times are changing and we must keep pace.