If you have a 15-to-17 year old looking to fly off to the land of opportunity, Anjuli Bhargava tells you how you could secure admission into an Ivy League college.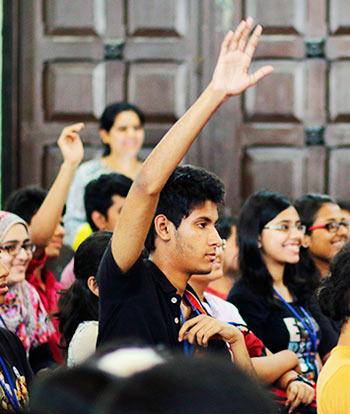 In the last month or so, I have come across at least five to six children who have got early admission into colleges in the United States and, much to my surprise, all have got into Ivy league colleges.
Two boys in Cornell, two girls in Princeton, one in Columbia and the list goes on.
While some of them have been exceptional performers, I know for a fact that some were average students -- not top of the class or all-rounders for that matter.
So how do these average or just above-average students make it to some of the world's premier institutions ?
After speaking to a few parents, I put together this ready reckoner of how to crack the Ivies.
So if you have a 15-to-17 year old looking to fly off to the land of opportunity, here's how to do it.
Go Viral
Mumbai's Viral Doshi is the Shah Rukh Khan of Ivy league admissions (the undisputed king) and parents fly from Singapore and Dubai to engage his services.
He's pricey but reliable. If Viral can't swing it, nobody can.
Go climb a mountain
These days the popular one is Mount Kilimanjaro (I am tempted to ask the Tanzanian authorities whether they have seen a spurt in the number of Indian climbers; I even know a 12 year old who has climbed it) but the others -- Mount Rainier (back home!), the Nanda Devi base camp and the Everest base camp -- will also do.
American universities smile upon a love for the outdoors and nature.
When I asked a father who went on one of these expeditions with his son (the mother refused to let the boy go unaccompanied) why he -- who doesn't want to walk, barring on the golf course if he can help it -- did it, the answer came pat: For college admission.
Have a tiger mom on the job
In most cases, the father proudly tells you that his progeny would never have made it were it not for his mother's dedication.
Dedicated mothers start working on the admission process four years before the event (when the child is in the ninth grade) and leave no stone unturned to make sure it happens.
This involves everything from choosing the right consultant to ensuring there is something special about your child or -- if there isn't -- manufacturing it.
Ideally, a press article that highlights his achievements helps -- a tennis tournament won, a dance performance, a public music recital, an art exhibition.
The gamut of activities is wide, but someone has to ensure it.
More than one father gives the credit to his wife's single-minded focus to the cause. Two children and you are looking at eight years. It leaves you wondering whose cap this feather is in.
Do some community service
American universities like -- and almost insist upon -- seeing the humanitarian side of the child. So, whether your child has shown any inclination towards the community or not, he'd better start.
Teaching underprivileged kids, collecting money for a good cause (earthquakes and other natural disasters work well), helping out at an orphanage, working with the handicapped -- anything that shows s/he has a heart and it's in the right place.
Attend summer programmes at Harvard, Stanford and the like
These are three-to-four-week courses at these universities -- probably designed to earn extra money for the colleges too -- and they look really good on the application.
If you have spent a few weeks there already, you probably have an idea about what it takes.
These are expensive, though, and hard for many Indian parents to manage -- since they cannot chaperone their children all through. You have to leave them to the big, bad world.
Intern at the right places
Of course, this is the most obvious of all, but interning at the right places can make all the difference -- Facebook, Google, Microsoft or a trendy start-up. And it's not about what the child learns or does; s/he can just hang around. It just sounds very good on paper.
It's not as if the universities cannot see through some of the window dressing.
A professor from Cornell I met confirmed that they can often separate the wheat from the chaff, but they, too, need students who can pay their full way and India is exploding with those.
It's a formula that works for both. If you do two or three of the above, chances are your child will make it to one of the better institutions, if not the Ivies.
If you do all of the above and s/he still doesn't make it, s/he is probably not the star you thought s/he was. And if s/he makes it without any of the above, rest assured you have a genius on your hands.
Lead image published only for representational purposes. Photograph: Kind courtesy: British High Commission, New Delhi/Creative Commons