They are women making their way in a man's world. Strangely enough, their bastion is the kitchen.
While it maybe the norm for women to man the kitchen at home, it has never been easy for them in a restaurant kitchen which is unarguably a male bastion.
But things are changing. More women are now donning the toque, multitasking and letting their skills in the kitchen earn them acceptance as chefs.
Four women chefs across hotels in India -- Amninder Sandhu, Nimisha Verghese, Namita Gagra and Samantha Nunes -- have made their mark in this male-dominated field through sheer grit and hard work.
Mini Ribeiro finds out what makes these talent powerhouses tick in what is otherwise a man's world.
Image: Amninder Sandhu, sous chef, Masala Bay, Taj Lands End, Mumbai.
Part of a Sikh family who love to eat and host guests, Amninder Sandhu was literally born into the profession.
Cooking was always her passion and watching Jamie Oliver on television fueled it further. "Even if I become half the chef that Jamie is, I'll feel fulfilled," she says.
Sexism is still dominant in this profession and Amninder has experienced it first-hand. Not getting selected for a job in Australia at an Indian restaurant only because she was a woman made her even more determined to succeed. "The rest of the team was all male and they did not want a female chef," she reminisces.
Right from her role as chef-de-cuisine where she was required to grow ingredients due to their unavailability, to managing four restaurants as the corporate chef, to setting up cafe outlets in various parts of the city at the age of 35, Amninder has done it all.
Capturing the intricacies and nuances of ethnic Indian cuisine, Amninder is known for reviving authentic, intense and subtle flavours with every meal she brings to the table at Masala Bay, Taj Lands End, Mumbai.
She admits that a hotel kitchen is continues to be a male-dominated job because of its unsociable hours. "It's mostly a choice between your career and your family life," she says.
"There aren't enough top female chefs and more needs to be done to help women get into higher positions in this industry… that will make a big difference. It is tough and change is very slow."
Amninder loves challenges and believes in overcoming all odds. She recounts, "During heavy rainfall one day, when only three kitchen staff made it to work, I still managed to run the restaurant smoothly with no guest complaints despite it being a packed house. It was an extremely gratifying experience even though, at the end of the day, I could feel my calf muscles throbbing even in my sleep."
Having a husband who is "as cool as a cucumber" and supportive parents is, according to her, is a must. When she has the time, she relaxes with yoga, music and a deliciously decadent dessert.
Image: Nimisha Verghese, kitchen executive (Indian specialty expert), The Oberoi, Bengaluru.
Her inspiration to become a chef was the popular television show 'Yan can cook, so can you'.
A gold medallist from the prestigious Oberoi School of Learning and Development, 26-year-old Nimisha Verghese has worked at The Oberoi, Udaivilas (Udaipur). She has also worked at Trident, Mumbai and Trident, Gurgaon, managing their Indian specialty restaurant, Saffron and all-day dining restaurant, Cilantro, before joining The Oberoi, Bengaluru.
Nimisha admits that, as a woman in a largely male dominated field, it is sometimes difficult to understand the work matrix and work with men as a well-oiled team. "Fortunately, I trained and worked with a group which gave me ample support, guidance and mentored me, enabling me to make my mark."
She feels if one is professional and good at what they do, men don't have a problem taking orders from women. "In a professionally-run kitchen, where the focus is only on customer satisfaction and the optimum use of resources, it's the skill chain that matters. Here, gender or ego have no place," says Nimisha.
Determination, passion and a belief in one's capability, according to Nimisha, are the three essential prerequisites for becoming a chef. She is ready to brave the odds of her culinary profession, including late hours and working as hard as her male counterparts.
The fact that her father was from the hospitality industry helped her understand the pressures of the job better but could not compete with the aromas and textures in her home's kitchen. "Guests and the extended family were always invited home for extensive meals. This brought me closer to my roots and I developed a passion for cooking as well," she says.
Working alongside the experienced and talented executive chef Amit Wadhawan has, she says, been a great learning experience. "This is the beginning of my culinary journey. I am excited and looking forward to many culinary milestones."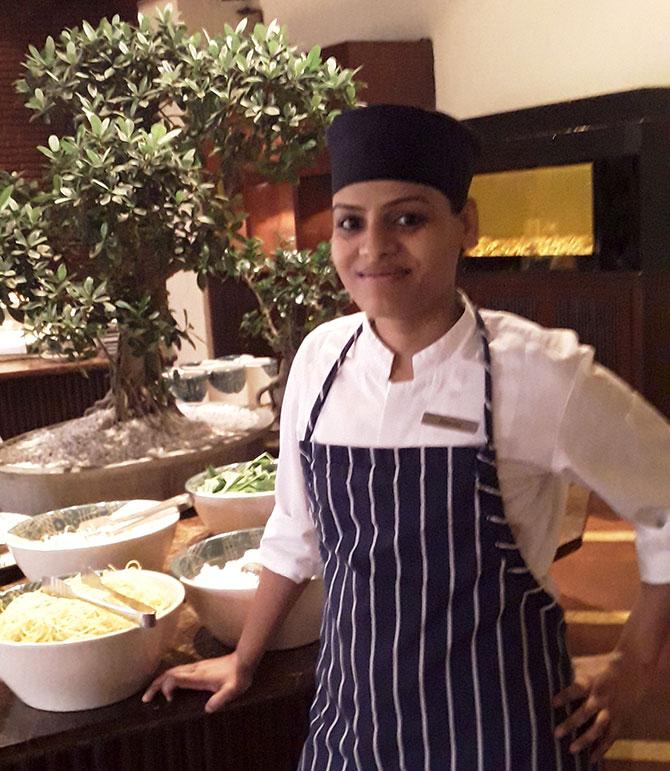 Image: Namita Gagra, demi chef de partie at TKs Oriental Grill, Hyatt Regency Delhi.
Following her mother to the kitchen and watching her make the perfect baigan ka bharta (roasted eggplant) made Namita Gagra want to become a chef and gain mastery over flavours and textures. She feels she has been lucky since she never faced any gender discrimination in the hotel kitchen.
"When you are in a chef's uniform, you are not a man or a woman; you're a chef who creates different dishes," the 26-year-old says.
Challenges excite her. "Sometimes, I have to decide on the spot, in front of the guest, when there is a demand for a dish which is not on the menu and I have to make it quickly. When the guest loves the dish, I know I have overcome that challenge."
She is a strong individual, she says. "I am very passionate and work hard to ensure that my team works together in every situation." She prefers to seek support and forge ahead rather than compete.
It is her hard work that enabled her to become a chef, she says, after working for a long time as an operational trainee. "It is the biggest achievement in my professional career. When guests praise my food and demand that I cook for them personally, I feel blessed."
She is grateful to her parents for having given her the "freedom of choice to explore the career" she wanted.
Apart from the Oriental food she specialises in, Namita loves to cook Italian and Indian food at home. She is also interested in baking.
Namita feels women chefs are able to multitask easily as it is a way of life for them. They persevere in difficult circumstances and never give up.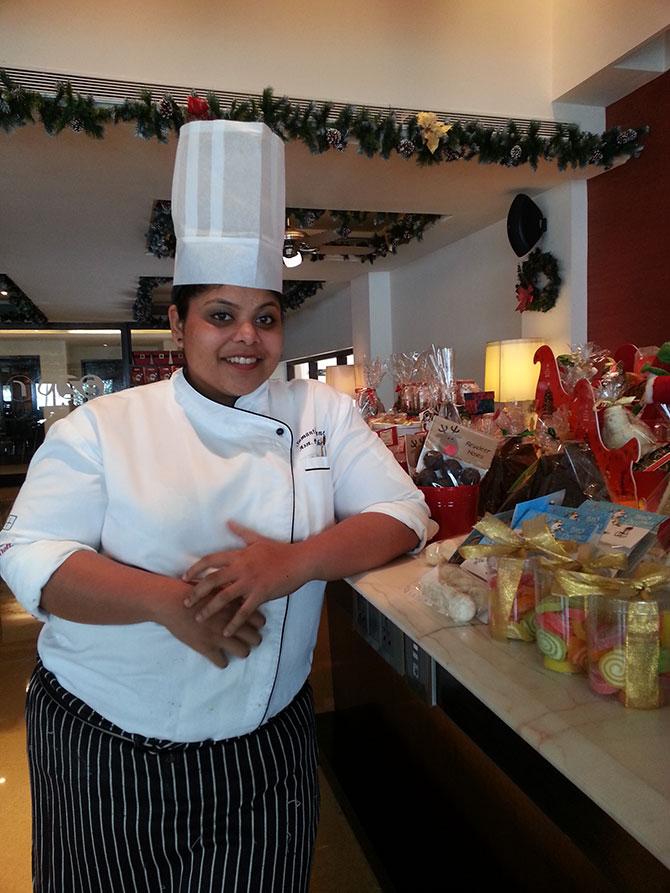 Image: Samantha Nunes, pastry chef, Goa Marriott Resort & Spa
The chef's uniform caught her fancy at an early age and her inherent flair for baking and cooking helped her achieve this dream. "Being a chef was all I could ever think of," says Samantha Nunes.
After she graduated in hotel management, Samantha was recruited by the Taj. She completed their management training course, graduated with a specialisation in bakery and confectionery and continued working there until she moved to the Marriott where, at 28, she is the pastry chef.
To gain acceptance, she always had to prove that she was as good, if not better, than the boys. "This business is still very male dominated," admits Samantha. "I am the only woman chef in the kitchen but, in my case, I believe the challenges faced by women or men are the same; you have to be competitive, creative and good at your job."
Doing her parents proud means a lot to her. "I have their constant support and that helps me to do better and gives me the boost that I require," she says gratefully.
Not one to rest on her laurels, Samantha is constantly striving to better herself. "Since I specialise in bakery, designer cakes are my all-time favourite. I love being creative and working on various designs for wedding cakes and theme cakes." Samantha considers herself fortunate as she has already worked with many top chefs and served celebrities.
"Each day is a challenge and every successful day is an achievement," she says. To combat the pressures at work, she relaxes by going for long fishing trips, painting and, of course, cooking and baking.
What keeps her going is her love for baking. "Becoming a competent chef is all about hard work and dedication, but the rewards are priceless. All the hard work pays off when you enjoy your job and get compliments from delighted guests," Samantha gushes.
Samantha believes that discipline, focus, hard work, dedication and a positive attitude can help you achieve any goal you set for yourself.