Uncertainty in the economy leads to fewer offers this year. Vinay Umarji of Business Standard reports.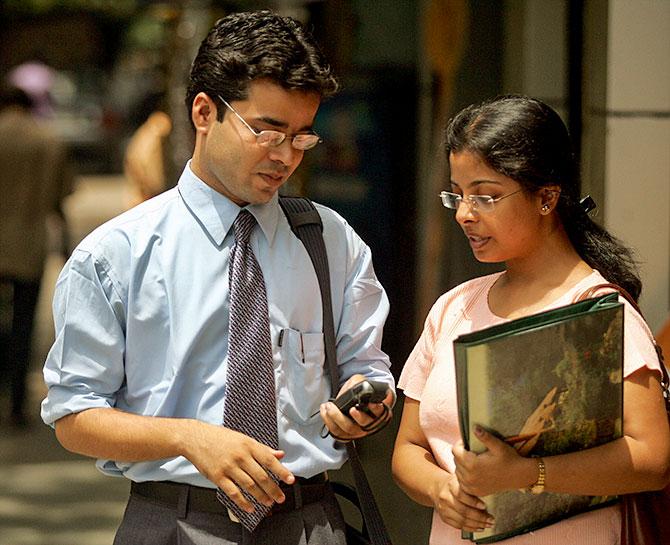 IMAGE:
Photograph: Jayanta Shaw/Reuters
A slump in information technology (IT) and e-commerce sectors, as well as sluggish economic sentiments because of demonetisation, has led to a protracted placement season in management institutes this year.
The placement process, according to some business schools, could be extended by 15 to 20 days. Not all students of these institutes have been placed yet. So, the institutes are reaching out to more recruiters as well as different sectors.
"We have a few days to go. With the US crackdown on H1B visas and demonetisation, things have been a bit delayed. We are trying to find alternatives as the placement process has been longer this year," said Sabita Mohanty, faculty coordinator -- placements at Xavier Institute of Management, Bhubaneswar (XIMB).
In a batch of 360 students, XIMB is yet to place at least 20.
At Indian Institute of Management, Indore (IIM-I), not all of the 450 students in its flagship postgraduate programme have been placed yet. The number of offers per recruiter is also down.
"The placement process began in January and we are still wrapping it up. While the IT sector has been good, e-commerce has not been recruiting many. The number of recruiters has gone up but the number of offers per recruiters has been slightly on the lower side this year. We do have a few more recruiters to go," said a placement committee member at IIM-I, adding the institute was not particular about the duration of the placement process.
The IIM-I has also seen number of recruiters rise by at least 15 per cent over last year, with 150 firms confirming participation, the member added.
B-schools confirm the number of offers per recruiters is down 10 to 20 per cent.
At XLRI -- Xavier School of Management, the final process, which began in the first week of February, is "almost complete", said Rajiv Mishra, chairperson -- placement at the institute.
He added, "We are yet to place a few students. The process has been more or less the same as last year with no significant change. However, e-commerce companies are less this year though the IT sector has had some presence such as IBM, among others."
According to the placement chairperson of a Mumbai-based management institute, uncertainties over possible rise in prices of H1B visas, coupled with demonetisation, has meant the placement process has been longer than anticipated.
"Last year the placement process was completed by this time. The scenario is sluggish this year," said the chairperson of the institute.
IIM-Udaipur, too, is yet to place some of its students. It began the placement process on November 30, 2016, for a batch of 144. The institute had hoped to wrap up placements early. According to sources at IIM-Udaipur, some recruiters have also cancelled job offers.
"There have been last-moment cancellations from recruiters because of uncertainty in the economy," said a source in the placement cell at the institute.
Last year, 100 students of IIM-Udaipur were placed in the process. However, over 45 firms have visited IIM-Udaipur this year as against 39 last year.