If India wants to satisfy the aspirations of its youth, it will have to revamp the higher education system without ifs and buts, says Harsh Pant.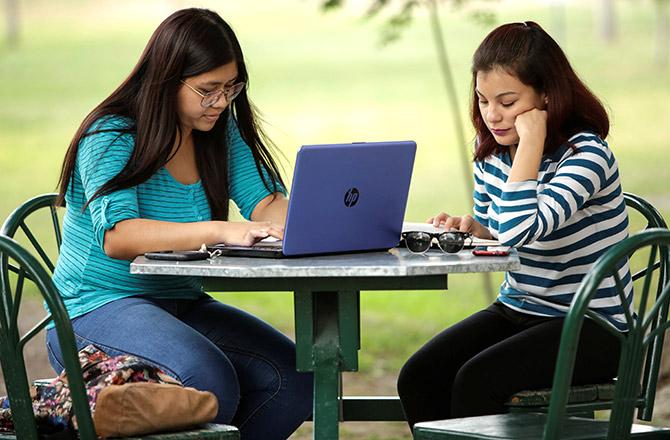 Photograph: Kind courtesy Photograph: Jose Luis Gonzalez/Reuters
Higher education has been in the news with the government announcing some of the most far reaching changes in the sector in recent weeks.
Proposing to rechristen the central higher education regulator, the University Grant Commission (UGC), as the Higher Education Commission of India (HECI), the Ministry of Human Resource Development (MHRD) has decided to go in for a complete overhaul by repealing the UGC Act of 1956.
This was followed by the MHRD declaring six institutes as 'Institutes of Eminence' (IoE) under the highly ambitious scheme of the government to enhance quality of higher education in India.
These are substantive changes in the higher education sector and will have a long-term bearing on its health.
Anyone with even a semblance of interest and experience of this sector can testify that status quo in higher education is not an option for India.
The UGC has been one of the worst performers when it comes to regulation.
It was overregulating in areas where it needed to back off such as admissions and funding but was under regulating where its interventions were most needed such as ensuring if the quality standards were being met.
The HECI comes with its own set of challenges but it certainly disrupts the existing status quo which was most needed.
The IoE debate has largely been overtaken by the Jio Institute's entry into the fray.
What should really be a cause for concern is the fact that in a nation with more than 800 universities, the panel could not even name 20 institutions that met basic parameters of institutional excellence in higher education.
The debate on higher education as is often framed between the left and the right is highly misplaced.
We need to acknowledge first that we have got the fundamentals wrong. And our educators need to go back to classrooms to teach and research.
As of now, most of our teachers in higher education are not doing the two things they are required to do as part of the profession: Teaching and research.
Most of the time our educationists try to talk of grand political projects without becoming the instruments of transformation for their immediate students.
The decline in India's higher education system can be traced to various factors.
The blatant politicisation of academia from 1970s onwards where academics of a certain ideological persuasion were privileged by powers that be.
As a result, our universities, instead of becoming spaces where diverse ideas and genuine contestation can flourish, turned into monoliths of political correctness.
Major central universities became parochial in their outlook as opposed to attracting talent from all over the country and outside. The marginalisation of merit has had its own set of consequences where quest for excellence has given way to catering to the lowest common denominator.
The idea that only my friends, my acquaintances, my students should get teaching and research positions irrespective of merit is now so pervasive that talented youngsters who are not connected dread their future in academia.
As a consequence, we have witnessed a gradual withdrawal of Indian middle classes from the nation's higher education system.
Those who can afford are now willing to send their kids abroad even for undergraduate studies.
The answers to this crisis so far have been rather inward looking. When challenged as to why Indian institutions do not appear in global rankings, we tend to cast aspersions on the rankings themselves, calling for an 'Indian' way to rank universities.
When challenged as to why Indian academics are absent from global journals, our academics point to the incredibly tough time they face in their work environment.
When challenged on the poor quality of our PhDs, we tend to talk of the huge number of PhDs in the system. For every problem that we confront, our response cannot be that India is unique and so global norms don't apply.
If India wants to match the aspirations of its youth, it will have to revamp the higher education system without ifs and buts. Otherwise, the best and brightest will keep going abroad and we will keep having endless debates.
The author is a professor of International Relations, department of defence studies, King's College London