The Civil Services of India continue to be a prestigious avenue for all those dreaming of 'making it'. Vignesh Sundararaman tells you of the various opportunities in store.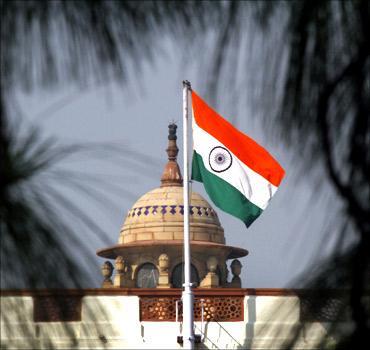 For long our country has been obsessed with conventional professions like engineers, doctors, IAS officers and so on.
"Mere bete ko bada hokar ek jaana maana collector banna hai" (My son wanted to grow up to be a well-known collector) says even an untaught Ramji, the father of a state rank holder, from a remote village in Maharashtra.
Ministers come and go with each election, but IAS officers remain to deal with the nitty-gritties of daily administration.
The country's best brains vie for entry into these services.
"A comfortable salary package with lucrative perks and frequent promotions in a ten-to-six table job is in no way comparable to the reverent and deferential Indian Civil Services rank," says Nisha Sriram, an Indian Forest Service aspirant.
Most applicants vie for the Indian Administrative Services and Indian Police Services, so much so that only 0.002 per cent and 0.007 per cent of these applicants are chosen for the IAS and IPS respectively because of the minimal number of vacancies for these positions.
Kannan Gopal, an IAS officer who has been counselling students to help them choose the right career stream for three decades now, feels it is high time students understood the diverse range of civil services offered by the government.
"An awareness of the many sectors in the civil services will enable a candidate to choose one that fits his interest, and this clarity is very essential in executing duty," he says.
So what are the different branches of Civil Services?
There are numerous departments and services, but the most popular ones are as follows:
Indian Administrative Service (IAS): IAS officers are responsible for the management of various administrative departments of the government and their respective functions.
Indian Police Service (IPS): Officers are directly responsible for maintaining law and order in India.
Indian Revenue Service (IRS): The officers of the Indian Revenue Service are responsible for ensuring compliance in the Indian taxation system.
Indian Foreign Service (IFS): Concerns the country's external and foreign affairs ministry, responsible for framing and regulating the foreign
policies.
Indian Forest Service: Takes care of the vast forest resources of the country, helping to conserve it and protect it from illegal poachers.
IC & ES (Indian Customs and Excise Services) Deals with the customs and excise departments.
Indian Postal Services: Looks after the workings of the country's postal network.
IAAS (Indian Audit and Accounts Services): Maintains the accounts of all the states of India.
Indian Railway Service: In charge of the huge network of railways in India.
Indian Information Service: Deals with the transmissions of government media apparatus like Doordarshan.
"Indian Civil Services is no longer only about IAS and IPS. There is an increased recognition and awareness for other courses such as IRS, IFS, etc which is good for the field as a whole and also for the economic development of the country," says Shreyas Viswanathan, an IAS candidate.
Eligibility: Who can apply
Minimum qualification: Graduate in any discipline
Age: 21 to 30 years
Attempts: A maximum of four attempts is permitted to every candidate and 7 to those belonging to Other Backward Classes.
The Examination
The Civil Services examination is conducted by and under the supervision of the Union Public Service Commission across three phases.
The exam is for all candidates, irrespective of the service they choose:
1) Preliminary examinations -- Objective (CSAT or Civil Services Aptitude Test)
This two-hour examination serves as a screening test. It consists of two papers of 200 marks each. Paper 1 covers topics like Indian history, geography, political system, economy, etc and Paper 2 covers soft skills, logical reasoning, decision making skills, etc.
2) Main examinations – Subjective
These three-hour papers are of descriptive type and consist of two qualifying papers (any modern Indian language and English; 300 marks each), essay (200 marks), four general studies papers (300 marks each) and two optional subjects (may be related to the service the candidate is interested in; 300 marks each)
3) Interview and Personality Test
The interview tests personality, confidence, decision making ability and moral values of the applicant. It is based on the candidate's bio-data already submitted.
The final selection is done on the basis of the combination of the marks of Main Exams and the results of the interview.
Professional Training
Cracking the Civil Services requires a fair amount of professional training and coaching.
Some of the leading institutes that train students include
Rau's IAS Study Circle, New Delhi

Achievers IAS Classes, Bangalore

Sankalp IAS Forum, Mumbai

Vajiram & Ravi Institute for Civil Services, New Delhi

Shankar IAS Academy, Chennai
Recruitment
Candidates are recruited to various services based on the ranks they secure.
Promotions are time bound and pay increases on an automatic basis.
There are also additional perks like subsidised accommodation, medical benefits, leave travel concession, etc; ; the best perk being the job security this career offers.
On an average, officers earn between Rs 50,000 and Rs 2,00,000 depending on their work experience and qualification.
This is merely an indicative figure; different branches of the service have different scales of pay.
Narayanan Pillai, a top ranked candidate says, "It's all about the fervour and commitment with which you prepare that counts. The job security, an opportunity to positively impact peoples' lives and the social reverence that the position demands definitely outweigh the not-so-rewarding salary, tedious examinations and rigorous training sessions."
Courtesy:YouthIncMag.com