We had asked you, dear readers to tell us what you think about the #SydneyStabbing incident.
Here, Melbourne-based Rediff reader Anil Kumar shares some crucial dos and don'ts to follow, when you are in Australia.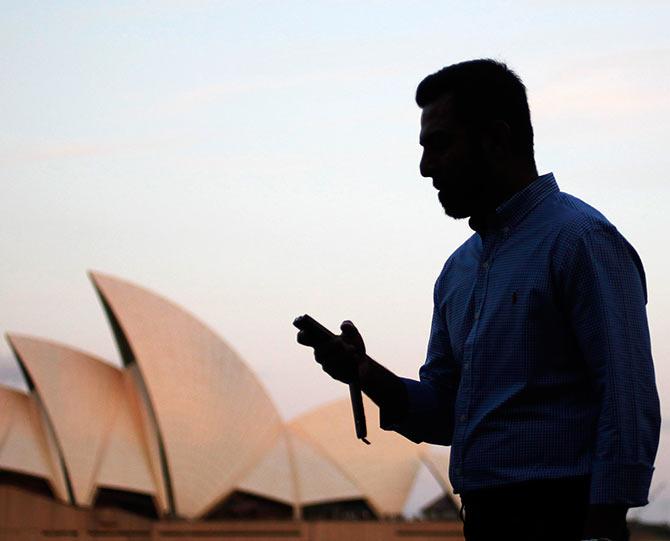 I am living in Melbourne, Australia.
I have been a student between 2007 and 2009.
At present, I am working as an IT professional.
Australia is a beautiful country but definitely not safe at all places and times.
The risk factor depends on three things:
1. Time -- odd hours
2. Location -- less crowded areas
3. Circumstances
I am sharing a list of dos and don'ts which will be helpful for everyone who comes to stay in Australia.
Don'ts
Don't live in outskirts of the city as it's usually targeted by criminals as it is poorly populated and there are no CCTV cameras to monitor the activity.
People choose outskirts to save money as the cost of living is low.
However, I'd advise you to try and live near to the city, or in crowded places, preferably, where there is a police station nearby and you can feel safe and help will be at hand.
Avoid travelling alone at late nights. Always have friends or people with you.
Don't argue or stare at strangers.
Don't get inside a train where there are groups of guys shouting. If you accidentally do, change the compartment.
Avoid late night parties, clubbing and returning from work.
Arrange or request for a pick and drop facility if you are located in unsafe suburbs.
If you are walking alone, don't display your valuables in the public places like mobile phones, particularly when it is late in the night.
Criminals observe your lifestyle before targeting you. A random attack is likely to happen in a deserted place, more with an unaided girl than a boy.
Never talk on mobile phones while travelling in lonely, deserted areas. If you are busy on the phone, you cannot observe somebody attacking you.
Criminals may attack you for your mobile phone or valuables.
Be vigilant always. Keep your eyes and ears open to avoid any possible risky situation.
Do's
Have the speed dial in your mobile set to 000. The emergency number dials police and ambulance.
Ensure you carry a safety alarm which makes a loud sound on being pressed. If somebody attacks you, you may use it to trigger an alert. You can buy it from any store in Australia.
If you are late, take a cab back home or ask a friend to pick you up.
Try to buy a car; it's a much safer mode of transport.
Have a plastic gun which resembles the original. It may sometimes help you divert attention and enable you to run away.
If someone is following you, run away to a safe place and dial 000.
In Australia, you are not allowed to carry any kinds of weapons. However, you can carry them in exceptional situations.
If you are carrying scissors or a screw driver, you can say that you are required to use them at work. If you are carrying a pistol, say you recently joined a pistol club and got one for practice.
Please don't go out or travel alone at odd hours. Travel in groups and always ensure you live in the best place -- where the crowd lives. Your life is more important than money.
Learn some self-defense skills. Be strong never to give yourself up to the criminals.
Lead image: An office worker uses his mobile phone in front of the Sydney Opera House as he leaves Sydney's Central Business District.
Photograph: Daniel Munoz/Reuters
Email your experiences and advice on getahead@rediff.co.in (subject line: #SydneyStabbing) and we'll publish the best responses right here on Rediff.com.
ALSO READ
#SydneyStabbing: 12 tips to stay safe in a foreign country
#SydneyStabbing: Companies should help employees choose housing