Asserting that there is "no substitute" for teachers, Indian mathematician and founder Anand Kumar has said that there is a need to create an atmosphere in which teachers get respect and recognition to draw the best to this profession.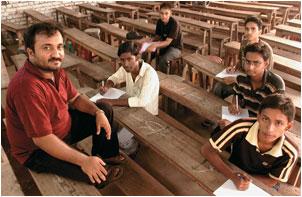 Kumar, the founder of Super 30 tutorial programme that started in Patna, Bihar in 2002, was speaking at an event organised by the Stanford India Association of the Stanford University, coinciding with the world teachers' day, wherein he underlined the need to develop more and more teachers to
spread the light of education in all corners of the world.
"World Teachers' Day is celebrated on October 5 every year to mobilise support for teachers and to ensure that the needs of future generations will continue to be met by teachers. The first and the foremost need for any generation is knowledge and it comes through teachers only. There is no
substitute for teachers, no matter which part of the globe we go," Kumar said.
Established in 2002, the programme selects 30 meritorious and talented candidates each year from economically backward sections of society and trains them for the IIT-JEE, the entrance examination for the Indian Institutes of Technology.
Noting that Teachers' Day should not remain just a day lip service, he said: "It should help create an atmosphere in which teachers get the respect and recognition they deserve to draw the best from the society to this pious profession."
"After all, be it doctors, engineers, scientists they all have one thing in common. They are all made by teachers."
In his remarks, Kumar exhorted the Indians present there to contribute to faster growth of their country by using their enormous expertise, which took them to new heights.
"India is progressing and it has realised its potential to be the world leader. With people like you all, who are capable of doing so much, it can be achieved," Kumar added.
He, however, lamented the new trend, in which very few people want to become teachers, though just everyone in the society wants the best teacher for his/her wards.
"This is a big question requiring an answer. The world today faces acute shortage of teachers. India has huge vacancies right from the primary school level to higher and technical education. What is alarming the response to meet this challenge. Invariably, just anyone is made a teacher,
which is affecting the quality," Kumar added.
Photograph: Rediff Archives
© Copyright 2020 PTI. All rights reserved. Republication or redistribution of PTI content, including by framing or similar means, is expressly prohibited without the prior written consent.