Remember for every successful start-up, there are a hundred or more un-successful ones.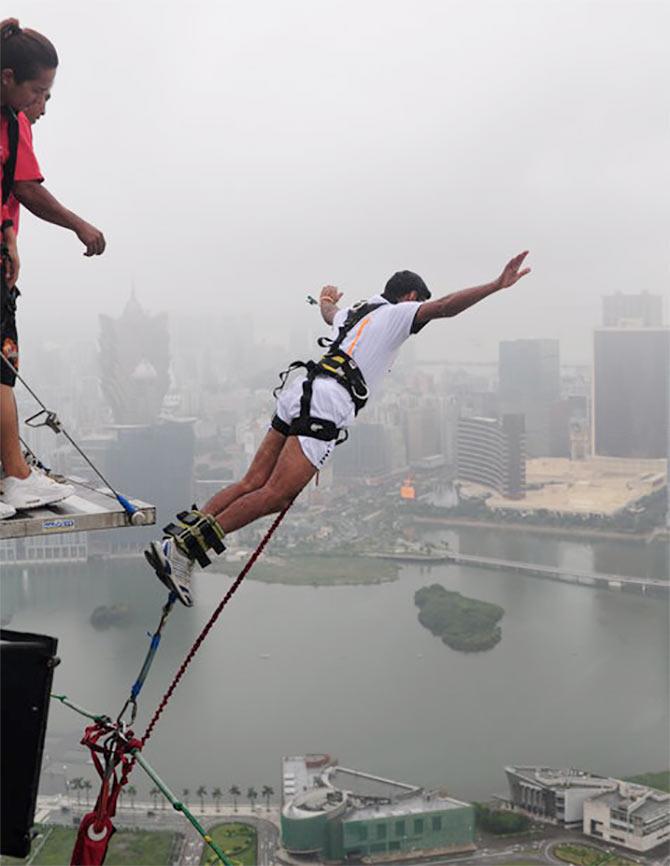 I've never tried bungee jumping and I don't intend to, ever!
However, being an entrepreneur has given me an adrenaline rush like nothing else.
If you have never attempted the start-up adventure, at some point you have wondered, "Should I do it?" or "Could I?"
You watch the news or know of someone who took the plunge and made it big and you think -- "I wish I could do something like that."
This is especially true for many who are, mid-career, and want to do something different and bold.
Prior to starting Linkstreet, Vikram (my co-founder) and I had worked in large companies for many years.
We were at a point in our lives in what I would call as a relative comfort zone -- the work was good, the jobs were secure, our families were settled in after we'd both returned to India from the West and life was chugging along. But we happened to chance upon an area that married our passion for education with my fondness for tech, and here we are. But, I'll save our start-up story for some other time.
In this post, I would like to focus on some of the learning I've gained as an entrepreneur. This will be useful in case, 'starting up', has been on your mind.
Timing
If you ask me when is the best time to start-up? The answer is an easy one. Yesterday! But, today, is not too bad a choice either!
With every passing day there are ideas being floated and dreams being built.
If you have an idea that you believe will 'change the world', be bold. Do not let fears hold you back. And don't wait for all the stars to be aligned.
Jump off the cliff and start swimming to fulfil your dream and taking part in the adventure that is entrepreneurship.
Solve a real problem or address a real need. But, there's more!
It is obvious that one needs to identify an area of interest, a real problem, or a solution to a need before starting up.
One of the mistakes we made initially was not thinking deeply about the business model. We broadly wanted to apply technology in education to simply enable easy access to a good teacher, etc.
We initially targeted schools with our learning solution.
Although schools had a compelling need for what we were offering, the willingness to pay was poor and the decision cycle time was endless.
We had to pivot to survive and started targeting colleges and higher education institutions where the dynamic was completely different in terms of their budgets, their ability to take quick decisions, etc. So, ask yourself, why anyone would pay for the product or service you have in mind.
After all, you are in business, not doing charity and not giving away your solution for free! Fulfill a need, but make sure there is clear willingness to pay for it.
Awareness of 'worst-case' scenario
Be prepared for the worst. The last few years since we started have been extremely tough for both of us -- both mentally and financially -- although now we are fortunate to be funded, to have an extremely committed set of investors and to have grown revenues and doubled our client base.
Despite this, we are learning not be to be overtly emotional, but to do what makes sense and what is right.
I must admit it hasn't been easy for my family and my wife in particular, to support my "high-risk" option when the entrepreneurial bug bit me. But, she supported me, thank God for that.
Hype versus reality
It's impossible to miss the hype around entrepreneurship -- dozens of start-up events all over the country, massive media attention around all sorts of ventures that are being set up and getting funded, impassioned speeches by our Prime Minister (no less!) about the 'need for speed' in boosting the ecosystem for start-ups in India.
Entrepreneurs seem to be the new 'rockstars' of the business world. But, entrepreneurship is NOT for everyone and it is not your simple weekend or summer adventure. Don't do it for the wrong reasons.
Don't do it because of you want a cushy life or if you are looking for a better work-life balance.
Don't do if you're thinking "I'll get rich quick and retire" or "I want to spend more time with my family and my own start-up means I can work at my own pace." Nothing could be further from the truth.
My entrepreneurial journey and those of pretty much anyone I speak to in the entrepreneurial community has been one of huge ups and downs.
You should want the journey. The result is a bonus
Remember for every successful start-up there are a hundred or more un-successful ones.
Often success or failure can be determined by one factor that was perhaps not even in your control.
If there are 20 things that must go right, you can have 19 of them right and just that one missing thing can trip you up.
All you can do is anticipate, prepare and if you get hit, try to get up and keep running. There is no time to look back or brood over anything.
In the four years since setting up Linkstreet, the company has had several pivots; it almost seems like I've lived an ENTIRE lifetime in these few years.
By no means is our journey at an end; in fact, it's the opposite -- we are only at the beginning of what promises to be an even more exciting, gruelling, sometimes exhilarating, sometimes frustrating time in my life and the lives of my team.
When you start a race, there are tens, hundreds, and sometimes thousands of participants who believe they can win or compete at that level. However, there is only one winner in the end.
Every participant knows that, but it is their hope that they can be that winner and this keeps them coming back to participate, to prepare and to practice hard (sometimes the preparations go on for years on end, as Olympic athletes would testify). But wining is not the only thing.
After all, it is the participation, the journey, and the opportunity to train and qualify for such competitions that most of us cherish.
Starting something new is perhaps like that. We know it may not succeed, the journey maybe hard, and the venture maybe an opportunity to try something which you may have wanted to do for a very long time.
Entrepreneurship is indeed quite an adventure and it can be that adrenalin rush as you plough through perils, everyday, feeling like a battle-hardened conqueror.
However, do remember that before you embark on this adventure that: a) it is really hard; b) it can be really long; c) it impacts everyone around you -- especially your family; d) make sure you are absolutely prepared to accept the 'worst-case' scenario.
Before I took the plunge, I think I was quite clear about the chances of success/failure and had come to accept at least some of these aspects.
If it didn't succeed, I felt I would have at least tried and fulfilled my wish to do something on my own -- I was prepared for the 'worst case'.
I felt I would have surely learned something and I could always go back to my career of working for a company in case things didn't work out.
The ride so far has been thrilling and scary. Like a bungee jump. And, I am even more certain it will continue to be. But, in the end my entrepreneurial journey is something I cherish greatly and will tell my grandchildren about -- regardless of the length of my dream.
Lead image used for representational purposes only. Image: Kind courtesy: Sunil Sharma
The author Arun Muthukumar is a technology entrepreneur with nearly 20 years of experience in the USA and India. He is the co-founder and CEO of Linkstreet, a learning and training services provider.