In the age of robots and automation, skills such as people management, coordination and negotiations will be relevant, says Babita Shekhar.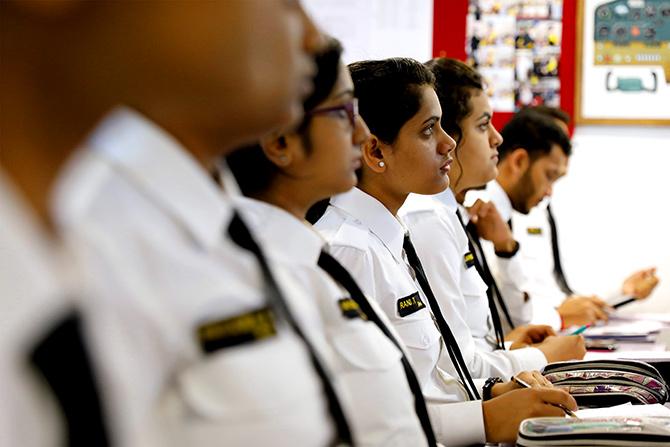 The fourth industrial revolution or the age of automation is upon us.
Two apparently divergent trends of increasing automation combined with a projected global slowdown, appears to be squeezing the job market and is all set to change the very nature of jobs and skill requirement.
The shrinking share of labour in the GDP, the weakening investment along with sharp deterioration in manufacturing and global trade, and the rapid pace of automation are 'shortening the shelf-life of employees' skill sets.'
According to World Economic Forum (WEF), by 2020, more than a third of the desired core skill sets of most occupations will be comprised of skills that are not yet considered crucial to jobs today.
India faces its own set of unique challenges -- a high proportion of young population ready to enter the labour force, domestic employment generation not keeping pace with the numbers, declining opportunities for overseas employment, and an education system set in the industrial age with its rigid curriculum and emphasis on rote learning and examination -- all of which have given rise to a mismatch between employment opportunities, skill requirement and those available.
It is projected that by 2022, more than 45% of the workforce in India would be either in new jobs that do not exist today or in jobs that require radically changed skill sets, as per an EY report on 'Future of Jobs.'
New job roles that may dominate respective sectors in the near future include data analysts / scientists, AI research scientists, cloud architects, VFX artists, automobile analytics engineer, machine learning based cybersecurity expert, apparel data analyst/ scientist, e-textile specialist, robot programmer, customer experience leader, retail data analyst, digital marketing specialist etc. to name a few.
These suggest a range of technical skills.
However, the technical skills alone may not suffice and will have to be supplemented by strong social and collaboration skills.
The emerging requirements pose a severe challenge to the education system which essentially calls for a multi-disciplinary approach with flexible course designs, aimed at enhancing the innate talents and inculcating an enquiring mind.
The rapid pace of technological advancement would also require possibilities for continuous and life-long learning and re-skilling opportunities.
A closer collaboration between education and industry would benefit both immensely while a comprehensive manpower planning policy by the government would guide the process to ensure that human labour is not rendered jobless by the exponential and ubiquitous technologies being adopted.
Here are five key skills and values that will become imperative in the near future, besides technical skills.
1. Creativity
There is no substitute for this quality in age of AI (artificial intelligence), ML and automation.
With most mundane and routine jobs automated, the only way humans can retain their employability will be by their innovative and creative thinking.
The ability to think into the future, create new ideas and implement them will require out of the box thinking.
AI driven machines may well learn to think, but that is based on past experiences and data, whereas creativity requires one to use information of the present, imagine a future and then develop products and technologies to get there.
2. Emotional Intelligence
EQ refers to the ability to be aware of, control and express one's emotions and to handle interpersonal relationships judiciously and empathetically.
When robots and machines take on jobs that have traditionally required human judgement, like doctors and healthcare givers, and other customer facing roles such as in banks or hospitality industry, emotional intelligence would perhaps be distinguishing factor for retaining humans in these job roles.
3. Critical thinking
The ability to analyse information objectively and make a logical judgement has become one of the key abilities being sought by employers.
Candidates with critical thinking capability can be trusted to make decisions independently, after rational analysis of facts and information, without being influenced by extraneous circumstances and opinions.
This ability needs to be inculcated in young people either as part of their formal education or through suitable training programmes at different stages of their life.
4. Integrity in approach
The industrial era saw the gradual erosion of ethical values and practices, which also led to widespread erosion of integrity in approach, whether to acquisition of knowledge or to its application, undermining the problem-solving capabilities, thereby having an adverse effect on technological and economic development.
Only with proper understanding of their subject matter, along with the ability and desire to put this knowledge to solve current and future problems, can the individual, industry and society benefit.
5. Social skills
Skills such as people management, coordination and negotiations are and will remain out of purview of robots and automation for some time to come.
Hence, these skills will become increasingly relevant.
Co-ordination and negotiations require the ability to interact with each other, keeping in view the thoughts, ideas, and emotions of others, things difficult for robots to handle.
---
Dr Babita Shekhar is an advisory board member of iE3 Innovations Private Limited, a technology firm. She can be contacted on babita.shekhar@rediffmail.com.
---