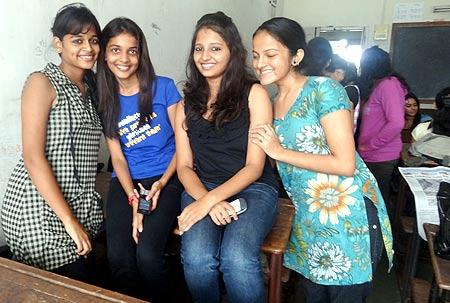 Aboli R Gangreddiwar, a first year BMM student from SK Somaiya, Mumbai writes about her first day of college.
This morning was a bit different than usual, as I had my new college to attend. I woke up early, which was quite unusual especially after the long vacations that had just got over.
Obviously, I had to look 1 kg pretty than I looked everyday. Although a lot of them may deny, I think everybody wants to look beautiful and handsome on the first day of college.
After reaching college, I found out from the notice board that I was allotted roll no. 39 in A-divison.
I entered the class as if I was entering a new world where I felt I knew nobody, I am all different from them  and without even having a glance at the entire class I quickly grabbed a seat on the third bench.
As I did not know any one in my class and there was some time left for the lecture to begin, I thought of exploring my cell phone menu, and tried calling a few friends.
I felt really awkward sitting in the class simply doing nothing. I think most of the girls feel this way for the first time, unlike boys who still manage to make friends as soon as they enter the class. I think they bond sooner.
Few minutes later, a girl came and sat besides me. I need not tell you what happened
next.
When two girls meet as strangers, they either become good friends or end up as great enemies later. Fortunately, Saili and I were trying to befriend each other. Soon, chatting with people around me became easy.
The first lecture was about to begin.
The teacher, Richa Mam entered the class. My seniors told me that she is a nice teacher. She introduced herself and also asked each one of us to introduce ourselves to the rest of the class.
Now this ritual has always been interesting for everyone. It's something that we all are so aware of, yet everybody's heart beats faster till their turn comes. I managed to give a normal introduction of mine. The introduction process ate up most of the time, and soon Richa Mam's lecture came to an end.
I was happy with my first day in FY BMM. Although first days are meant to be something special, there was nothing so special about my first day.
On second thoughts, I can say that my handwritten experience about the first day is my first step towards my BMM career.
Reader InviteIf you have an interesting college story to share, write in to us at getahead@rediff.co.in (subject line: 'My College Days') along with a photograph from your college memories, if possible and we'll publish the best entries right here.