Meet 5 women who are running small home-based business ventures with the resources available to them.
The noise of the ever-zipping traffic, hawkers crying themselves hoarse selling their wares ring in your ears like a constant refrain as you walk into Bhendi Bazaar, near Muhammad Ali Road in Mumbai.
Add to this, the amalgamated smell of food and sweat.
Bhendi Bazaar has lots to offer in terms of wares but it has also been home to the Muslim community of Maharashtra and Gujarat for decades.
Now, Bhendi Bazaar awaits transformation by the Saifee Burhani Upliftment Trust that has undertaken a project to revamp the place and build new modern day structures to house the people and shops that have been apart of it for so long.
While the renovation is in progress, families have been moved to two transit homes in Mumbai, and this has opened new avenues for women of the community.
It has allowed them to move freely, build networks, start-up from their own homes.
Many of these women are even using the internet to run their business.
Presenting five women entrepreneurs who are running small ventures with the resources available to them.
Zainab Pipermintwala did not have a passion for baking but it was her love for cooking that drew her to baking. She started with making chocolates.
Her website is going to be launched soon.
She is using social media channels like Instagram and Facebook to gradually increase her customer base along with word-of-mouth publicity through family, friends and early customers.
She started with simple cakes and graduated to fondant and theme-based cakes.
Here, too, the internet was a great help as she learnt from all the tutorial videos available on the internet after a basic course that she took.
She did her pre-college through correspondence and was working with a company in their accounts department.
She took a break when she was expecting her child.
Her husband, father-in-law and son complete the family.
She does everything herself, including photography.
When there is bulk order, her husband too lends a hand.
Working from home and having her family's support allows for her to work well.
She got started because she did not want to sit idle after her pregnancy but now plans to scale and reach out to more corporates for bulk orders.
Zainab says, "Technology has been life changing and if not for Internet then we would have suffered."
---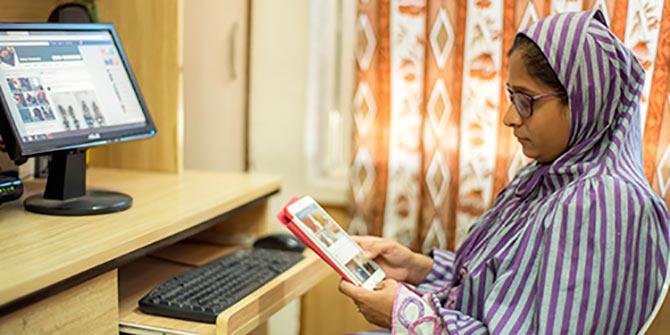 Sakina Vasanwala has a keen eye for jewellery which she buys from different sources and with the help of social media, mostly Facebook and WhatsApp, sells it to her growing clientele.
She started about three years ago. Her USP is her ability to build networks.
Sakina uses the Mumbai trains and other public places to her advantage to strike up conversations with other women.
In case someone happens to notice the jewellery on her, she pitches the sale to them and exchanges contact details.
"Women are always willing to talk to other women. Even at bus stops, a random conversation will lead to networking. Of course, it also depends on how friendly the other woman is," she says.
At 39, she is a mother to two children -- a teenage daughter and a son.
With a degree in commerce and foundation level CS course, she manages well with a bit of help from her husband who is in the IT sector.
"I am from Dahod (in Gujarat) and while I was there I did a clerical job.
"After shifting here, I tried to pursue further studies through correspondence but I couldn't finish and had to give up in between," she says.
Married for 14 years, her biggest challenge was to take care of her house as her in-laws were living with her.
Though deprived of a few things in her life, she wants to make sure her daughter is not deprived of anything.
"In our community, people followed a trend, if one girl was pursuing her Bachelor in Commerce, then all the others would follow suit.
"There was nobody to guide or counsel us to find out what our actual interests are.
"Nowadays school kids are very ambitious, they are well aware of the opportunities and know exactly what they want to do to get there.
"I want to help my daughter achieve her goals and dreams," she shares.
She is thankful to her family and circle of close friends that form a strong base of support.
---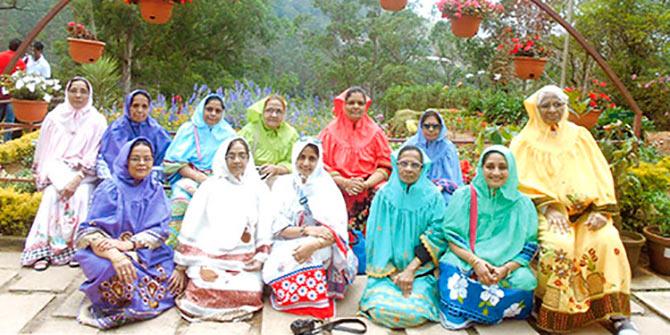 Mariya Jasdanwala, 48, takes senior citizens on tours.
After moving out of Bhendi Bazaar, she realised that senior citizens were making regular trips to distant mosques and temples.
The age group includes individuals from the ages of 58 to 94 with one big trip annually and smaller trips after every two months.
These include adventure and pilgrimage tours too.
She started with visiting the homes of senior citizens to give them a broader idea of how these tours work.
Now the word has spread, and she has people coming up to her and asking if they can join in.
Since budget is a constraint for senior citizens, she ensures that she does things in the most economic way possible.
"I don't think of this as a business, I see it more as a service dedicated to them," says Maria.
To ensure that the trips are a great experience for all, Maria's sister travels with her.
Keeping in mind the extra care and attention senior citizens require she says, "We ensure the tickets are all booked in AC, sometimes we even fly. We carry medication with ourselves as well and we choose hotels based on doctor availability on call. I ensure the hotels have lifts."
A commerce graduate, she lives with her mother-in-law and her husband.
Her biggest challenge has been overcoming loneliness.
As regards women entrepreneurs like her she says, "I feel they should go by their instincts. They should get down to doing whatever their instincts drive them unto.
"It's about taking the first step and then it'll click.
"Don't feel demotivated thinking that you will not be able to do it."
In the near future, she may include senior men to join the tours and she is even planning a trip abroad for the senior ladies.
---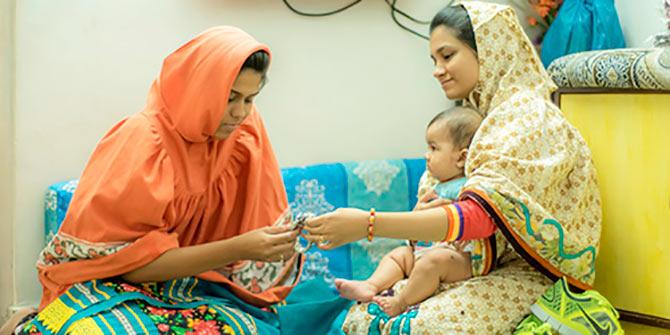 Jamila Petiwala is 22 and a mother of a toddler.
She started stitching when she was in class 12.
Now with the support of her family, she has branched out to tailoring 'ridas', a traditional dress, and scaled operations.
Jamia now offers shoes, watches and even t-shirts.
She designs the 'ridas' while her mother-in-law stitches them.
Jamila has her own website too which her husband, a photographer, has helped her set up.
She uses social media to showcase her products by sharing photos.
Her clientele number 550 to 600 people and even those from Mumbai and Bhopal.
A commerce graduate from Mumbai, she says, "I want to give my daughter a very good life so I can fulfill all her dreams. I do not want her to feel that I can't afford something she desires."
---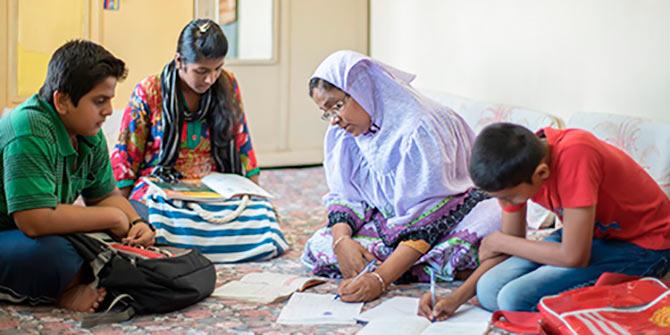 Shehnaz Electricwala was offering tuitions earlier and then decided to start a small scale tiffin service.
She started while in Bhendi Bazaar.
At present, she caters to a few senior citizens and factory workers.
She keeps the number small and limited so she can manage all the cooking on her own.
Electricwala loves to cook and all the marketing is just through word of mouth.
She is 48-years-old and has a daughter and a son.
She says, "Ours was a joint family and things were difficult. Everything was good, but I still feel my children should get more than that and have a life that is more lavish than I had."
According to her, education has changed mindsets and people look at wives and daughters in a different light these days.