Clear your concepts. Practice mocks. Analyse what went wrong and work on them.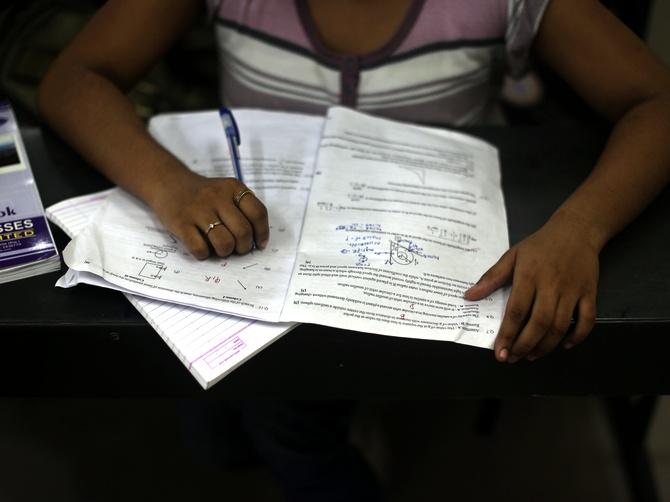 Photograph: Ahmad Masood/Reuters
How to get 100 percentile in the Common Admission Test?
Study at least 10 hours a day; all seven days a week.
Join as many coaching classes as you can.
Practice all the mock tests that you can lay your hands upon.
If anyone has told you this, I suggest that you react to it as you would to someone telling you that the Earth is square.
I mean, ignore the advice.
Clear your concepts
There is no definite way of cracking the exam.
Unlike the various exams for entry to graduation courses, the syllabus for CAT is very basic.
It is your application of the concepts that makes you a winner.
Unlike other competitive exams, you do not have to mug up the formula, revise and re-revise the applications for CAT.
The concepts in CAT are not rocket science.
They are concepts you learned at school and will form the basis of your advanced studies.
The right choices
How CAT differs from other post graduation entrance exams is that it tests how well you can withstand the pressure for two/two and a half hours; how well you are able to perform within a fixed time limit and how well you are able to make choices under pressure.
While preparing for CAT, one common mistake most students make is to get into a herd mentality.
Doing something just because the rest of your friends are doing it is never a wise move.
Your strengths and weaknesses are different from theirs.
What they practice may be totally different from what you need to improve upon.
You should know what suits you best.
You have to make your own decisions, regardless of how different they may seem from the ones that your friends are making.
A coaching institute is teaching thousands of students with the same curriculum. What differentiates is how YOU approach the exam.
Preparation tips
For people with comparatively poor vocabulary and comprehension skills, this would be an ideal time to pick up the newspaper and read.
When I say newspapers, I mean read those long, wordy articles and not just sports or gossip columns.
Read novels to build up your reading speed.
For those who are not good with quantitative skills, it is high time you get online and research. There is plenty of study and reference material to help you.
Form study groups with your friends and share notes.
The key to cracking CAT is practice and lots of practice.
With repeated practice, you can gain enough experience to help you bell the CAT.
The mock CATs should be taken very seriously and be approached with the same manner in which you intend to approach the actual paper.
For every mock that you attempt in three hours, ensure that you spend at least five hours in its analysis.
Find out what went wrong; what you did right.
If you answered a question correctly, analyse how you arrived at the answer. Was it a fluke or were you certain of your approach?
If you answered incorrect, analyse if you understood the concept well.
Did I mis-translate the statement? Did I make a silly mistake?
Your analysis should help you prepare a strategy for the next mock.
Make sure you are not repeating your mistakes.
Develop a strategy
The primary purpose of attempting many mocks is to acquaint you with all the varieties of questions and help you formulate a strategy which will enable a higher score.
There is a popular Chinese saying -- 'You can't expect different results if you are not doing something different each time.'
Mocks will help you identify different strategies -- which section and type of questions you should attempt first.
Try different strategies and see which one leads to a higher score. Remember what may work for one may not work for the other.
Don't be afraid, don't be scared of making the mistakes now. The more you learn from your mistakes, the less you will make in the
Finally, practice as many questions you can.
You should analyse what your strong and weak areas are and how you can optimise your strengths.
With each question that you could not attempt in the mock test, more of similar questions should be attempted to help familiarise with pattern of similar questions.
For every wrong question, you should analyse what went wrong with the question and how you can work towards correcting the fault.
No matter how hard you've prepared, your performance during those two and half hours decides whether you can make it to a good business school.
Do not let the pressure of the exam take a toll on your performance.
Stay calm
I can't emphasise enough the importance of staying calm and composed on the day of your CAT.
If possible, take the week before CAT off. Relax.
I would suggest you to do all the things that you feel would help calm you.
Watch a movie. Try to be in a positive state of mind before the exam.
A relaxed mind can think better than a stressed one.
This is just an exam, not the end of the world.
Remember: You will fail only when you stop trying.
If plan A fails, well, there are 25 other alphabets, like there are options...:)
All the best!
The author Aashish Sood is a graduate from the Indian Institute of Management Lucknow and DTU (formerly DCE). He has 12 years of work experience and currently helps management aspirants plan their career.