It is possible to prepare for more than one entrance exam alongside your college examination.
Nilkancha Badhiye who is currently pursuing her MBA in International Business from the Indian Institute of Foreign Trade (IIFT), Delhi tells us how she cracked the management entrance examination last year, while she was also preparing for her final exams.
Nilkancha Badhiye holds a degree in fashion technology from the National Institute of Fashion Technology.
In 2013, she cracked the management entrance examination for the Indian Institute of Foreign Trade in 2013 along with her graduation, and secured admission in one of the top colleges of International Business.
Nilkancha is currently pursuing her masters in International Business from the Indian Institute of Foreign Trade (IIFT), Delhi and aims to learn the nitty-gritties of brand management along with foreign trade during her two years of education at the institute.
In the interview that follows, the young achiever tells us how regular practice was the main focus of her preparation and how she worked on key success areas of 'speed and accuracy' to crack the examination.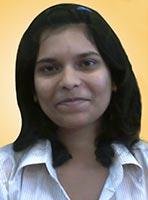 You are a student of fashion. Why did you choose to pursue your MBA in International Business?
When I was at the NIFT, I realised the importance of brand names in today's scenario.
I understood how vital it is to establish a company as brand in this competitive market.
Pursuing an MBA programme would definitely support me to gain more insights about brand management, marketing and the managerial aspects of a business organisation.
I aspire to work with FMCG and retail companies and built a strong career.

Apart from the IIFT, which other MBA entrance exams did you take?
I appeared for the Common Admission Test, Common Management Admission Test (CMAT), Xavier's Aptitude Test (XAT) and Narsee Monjee Aptitude Test (NMAT) as well.
My performance in all these exams was satisfactory but my aim was to crack the IIFT.

Why did you choose to join the IIFT?
The Indian Institute of Foreign Trade is among the top 10 business schools of India and it has a strong academic legacy.
I particularly chose the institute because it offers a specialised programme in International Business and Foreign Trade.
Also, it was my sole convert for the final admission.

What was your preparation strategy for IIFT 2013?
I started preparing for the IIFT in my final year.
Time management was my focus, so I decided to improvise on my speed.
I knew that if there is any strategy to be followed, it is how to best manage your time.
Speed and accuracy is the key to success; you have to have speed along with the right answers.

According to you, how important is coaching or mentoring to crack the IIFT?
The importance differs from person to person.
I had to join a coaching institute because I needed guidance in mathematics, as I am from a non-engineering background.
If you have joined a good coaching institute there is an advantage of getting your doubts cleared, plus you get to interact with a class of like-minded individuals and and share the benefit of peer learning.
However, if one is strong in basic concepts the rest of the part becomes very easy.
It is also important to give mock tests and solve previous years' question papers as you get very strong insights about the exam.

How did you manage IIFT preparation schedule along with graduation studies?
I joined weekend classes at a coaching institute which conducted 2 to 4-hour sessions per day.
I tried to utilise that time as much as possible.
How you utilise your time can make you succeed in your goals.
I made sure that I never missed a class and got my doubts cleared.
Apart from your coaching sessions, regular studying for one to two hours is enough to crack any management exam.

Please share your section-wise preparation strategy for the IIFT entrance exam.
I was not in touch with Mathematics for long so tackling the Quantitative Analysis section was a big challenge for me.
I had to put in extra efforts in classes and mock exams.
I practiced a lot and overcame this challenge.
To improve my English and General Knowledge, I read newspapers, took online quizzes and referred to different vocabulary sites.
There has to be a consistent effort to achieve success.

How did you manage your time in the actual exam?
Mock tests helped me analyse how to divide my time for the exam.
In the actual exam too, I attempted my strong areas -- General Knowledge and Reasoning section first.
If you answer your strong areas first you get a bit of morale boost which helps you in solving the rest of the exam with positivity.
It is advisable not to spend too much time on one question.
If time permits you can always come back to it after you have gone through the entire paper. Select and solve scoring questions first.

What were your strong and weak areas? How did you improve your weak areas?
My strong areas were Reasoning and GK. I was very comfortable with it as I found the questions similar to NTSE level.
My weak area was Quantitative Analysis, and the only solution to tackle weak section is to keep practicing.

What is your advice for the Management aspirants who will take the IIFT 2014?
Keep practising problems from your weak areas.
Clear your doubts and keep the basics strong.
Go through the previous years' papers and attempt mock tests in simulated environment to give have an idea of time management.
Stay focused during the exam, avoid negative marking and select questions wisely.

How did you unwind?
One must find interest in academics and have a curiosity to learn.
There is no need to feel burdened.
Besides preparing for the exams I used to take time out time for drawing and painting; I also learned to play the violin.
I used to relax by listening to music, watching movies and television series.

What kind of movies do you enjoy watching?
I am a Hollywood movie fan. The genre I prefer is detective-spy and classic inspirational movies.
If I have to name a single movie, it would be The Pursuit of Happyness.
Chris Gardener's character played by Will Smith is very inspirational.
ALSO READ: TopperSpeak: How to crack the Xavier Aptitude Test