Tongue-tied on the first day of college or from speaking too much during work hours?
Here are some appropriate communication tactics for different situations. Read on...
There is always a fear of talking to strangers in social and professional circles. But nothing is as difficult as it seems.
Socialising with people around you is actually easy and effective if done the right way.
Here is a quick guide on how to network in different situations.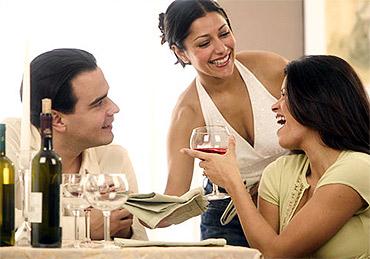 Socialising at the workplace
Yelling, screaming each other's names, hanging around the office premises unnecessarily, nudging a shoulder and forcing personal questions at someone are uncalled for in offices.
Indulge in such behaviour only with the intention of losing your job.
Encroachment of personal space is a serious issue when it comes to the workplace.
One thing that sends chills up the spine of every new employee is balancing being professional and being yourself at the same time during office hours.
"I am professional at work while being myself. Fitting into a mould isn't what professionalism is about. It's about leveraging your unique identity," says Caroline Samson, chief operating officer at Youth Inc magazine.
Long story short -- keep it straight, keep it professional.
Socialising with colleagues
It is wise and advisable to catch up with your colleagues within lunch hours or coffee breaks and get conversing with them.
This helps you develop a stronger official network (just LinkedIn or Facebook won't help).
Talk about past work experiences, hobbies, how they like their role in the company, their work profile, etc.
Outside of work-related topics, anything ranging from national politics to sports to new upcoming business entrepreneurs and gadgets are good topics.
Family and relationship issues, too much of self talk and most importantly, gossiping about colleagues is a big no-no!
"Today, with globalisation taking place at such a fast pace, it is important for professionals to communicate efficiently. Miscommunication can lead to losing of big clients and can also slowdown the overall progress of a company," believes Nandini Barjatiya, ad sales manager, Youth Inc magazine.
Socialising in college
Making friends in college can be a cake walk or a really tough task. For most students, it is the latter.
Many find it difficult to strike a conversation, let alone make friends. But that can be overcome.
You can start by getting in touch with people you know from school or acquaintances in the same college campus who can show you around and help you get accustomed to the new environment.
Attending freshers' party and freshers' week, as well as participating in various events in college will help you get to know the people around you in the campus.
These are the situations where you actually make good friends.
Try spending time with every friend you make; hang out, complete projects together, go out for meals, etc. But be very careful not to invade someone's privacy or go overboard in being around a person.
Make sure everything you do is comfortable for both of you.
"The art of small talk can be learnt with time. A major advice, SMILE!" suggests Persis Shroff, Youth Inc's marketing manager.
Keep your ego aside and try and talk to as many people as you can.
Remember, everyone here is just like you. Initiating a conversation is always taken in a good light.
Don't claim to be best friends with someone you've just met.
It always works when conversations are simple and interesting.
Socialising in society
How we communicate in our daily life speaks about our individuality.
Society willingly accepts people who are optimistic, outgoing and joyful in nature.
Get to know people having similar interests as you; you will then have a lot to talk about (thus avoiding awkward silences). But remember, it is not only your verbal communication that matters, but body language as well.
Psychological studies report that 60 to 80 per cent of communication is non-verbal.
There are people in this world with a presence that naturally commands attention.
It's not about being the loudest or the flashiest, but rather how one is able to convey their worth without saying a word.
"Before we communicate verbally, we are already judged on our presentation. It is the first thing that goes across the counter. Also, good command over language is essential," says Heena Sopariwala, Youth Inc's ad sales manager.
Society doesn't accept those who choose to utter offensive comments either about individuals or any aspect of the society.
That doesn't mean you do not have the right to opine; the way you express it is important.
If your language is offensive and can hurt someone's sentiments, keep the opinions to yourself!
Life is too short to have an entourage of moochers and pseudo friends.
Therefore, make sure the company you keep is genuine and focused to do something in their lives.
"You often become like the one you coffee and lunch with," says profesor Madhuvanti Date, who teaches effective communication skills in Mumbai colleges.
We could not agree more.
Photo: Rediff Archives
Courtesy:YouthIncMag.com