Remember, your interviewer has been doing this long enough to know whether your answer is rehearsed or not, says Dinesh Goel, co-founder and CEO, Aasaanjobs.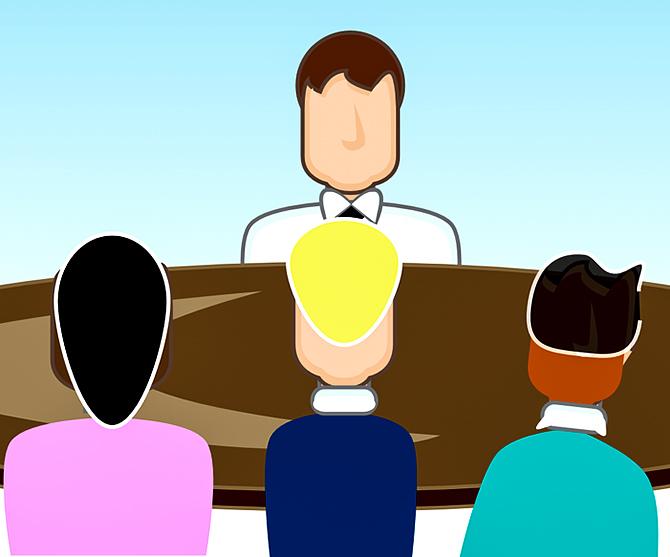 So, you are in the last semester of college and you know that, soon, your life is about to change.
At this stage, there is only thing on everyone's mind -- how to crack that dream job interview.
There is immense pressure for you, from parents, friends and teachers. But do not let all this burden you with nervousness.
You need to focus on the prospective interview.
Pretty soon you'll be walking into that room with one, two or three people seated on the opposite end, trying to analyse you in every way possible, in order to determine if you're good enough to work for them.
Those few minutes will decide whether your tussle for your first job is only getting started or this interview will open doors for you.
Here's some advice that should help you.
Be on time
The days of getting excused for being late to classes are gone. In the real world you need to respect everyone's time, so remember to be on time for the interview.
To be on the safe side, make sure you know exactly where your interview is and reach earlier than you were asked to.
However for any unavoidable reason, if you are running late, make sure you call and inform the HR.
Be formally dressed
If you have applied to a start-up, you may be tempted to dress casually. Avoid the temptation and dress formally.
You never know who will interview you and you do not want your clothes to make a bad first impression.
Don't rehearse your answers
Almost all your interviews will begin with, 'Tell me something about yourself'.
Remember, your interviewer has been doing this long enough to know whether your answer is rehearsed or not.
Preparation is important, but, your interviewer is really trying to understand who you are and not what you mugged up.
Side note: When you are asked to speak about yourself, do not just repeat what is already mentioned on your resume. This is a golden opportunity to talk about what you could not fit in that one page.
Ask sensible questions
At the end of almost all your interviews, you will be asked if you have any questions.
Do a fair bit of research about the company to prepare yourself for this question. This is your opportunity to understand more about the company, its products, and its work culture and show that you are interested.
The only reason why you would have no questions to ask is because you didn't read up enough about the company and that's just wrong.
Understand the job description
I cannot stress on this enough.
There is nothing worse for an interviewer than interviewing someone who isn't even sure about what they've signed up for.
Read the job description well. Use LinkedIn to get in touch with someone from the company and get to know more about your role.
If you have doubts, clarify them before showing up for the interview.
Take your time
You don't have to rush into answers as soon as the question ends.
Take some time to think before you answer each question.
Remember it's better to take a minute, have a sip of water and then give a well thought out answer rather embarrass with vague, ill-prepared responses.
Post interview courtesy
Once your interview is over, remember to write a Thank You note immediately after the interview.
Remind them of your interest in the vacant position and that you look forward to hearing from them.
This is your big move into the real world and you need to make a great start. Good luck for your first job interview.
Lead image used for representational purposes only. Image: Clker-Free-Vector-Images/Pixabay.com