"Your spouse can make or break you.
"It's not just about sharing equal responsibilities, but also about the amount of positivity a good partner brings in when you try to emulate each other's best behaviours, says Ojasvi Soni.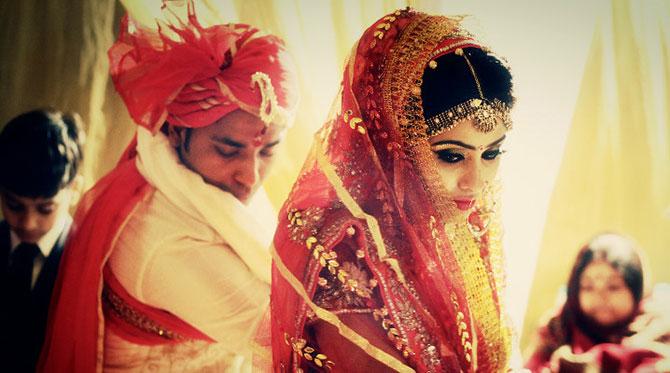 IMAGE: Ojasvi Soni's wedding moment. Kind courtesy Ojasvi Soni
I have been following Sheryl Sandberg for a few years now.
While all her comments on women in business are powerful, my favourite has been "I truly believe that the single most important career decision that a woman makes is whether she will have a life partner and who that partner is."
Irrespective of your gender, once you are married, the personality of your partner starts having an influence on your own behaviour, some of which you exhibit at your workplace and in achieving your life goals.
Your spouse can make or break you. And believe me, it's not just about sharing equal responsibilities, but also about the amount of positivity a good partner brings in when you try to emulate each other's best behaviours.
Last year, I married the love of my life, and since then my life has turned upside down. But all for good.
I recently got into my dream school for a one-year MBA programme and I am extremely excited at the thought of moving to one of the most reputed global universities to pursue my goals. But let me rewind.
I was amongst the first in my peer group to tie the knot, and hence was absolutely apprehensive about how marrying early would weigh on my life goals while all my girl friends would still be single and have the independence to pursue their dreams. And all this was coming from the age-long perception I had about Indian marriages.
It goes without saying that any marriage will include duties and responsibilities, which include housework and the provision of financial security. However, in India, we let our genders decide who does what and that is what completely defeats the definition of marriage .
Talking about my marriage, I must have completely hit a jackpot then when I married my husband.
I was a naïve 24 year old girl when I married him. On the other hand, he was a lot more matured at 30.
So I was surprised at some of his behaviour, which were completely different from the ones I had seen in my dad. And better to be precise.
We were equals. We took turns with cooking and grocery shopping.
I had never seen my dad make even a cup of tea at home, and moreover, my mom never bore any grudges for having to manage the entire household alongside having a challenging profession.
Two months into the marriage, I expressed my desire to him to pursue an MBA from one of the top B-schools. I had already been working for three years then, and had some strong credentials under my belt in terms of my work and grades .
I still remember his first reaction when he heard this "You have always made me proud and you shall always will. Come on. Let's do it !"
And tears welled up in my eyes knowing that I had made my best career decision ever in choosing him as my life partner.
One year later, I received my final offer of admission from one of the most renowned global universities, and I am planning to start the new phase of my life .
I still remember the moment when I arrived panting at my interview location for my B-school interview. I met a cohort of women, who, like me, were MBA aspirants.
All of them were unmarried and stood amazed at how I was managing this ugly cycle of GMAT, applications, and interviews despite being married, having a full-time challenging job, and a part-time freelancing profession.
Looking back, I believe there are three major reasons, without which, I would not have been at this place had I not had his support.

Equal responsibility -- we acted as a team
He took up my dream as his own. There were times when I did nothing except sit at my study table during my GMAT preparations.
He came back from office after a 14-hour day and made dinner for us, did the dishes, and then sat with me discussing my progress on test. And then while drafting my essays, when I slept he stood awake doing them.
He researched more than I did on all the schools and I never felt the need to hire a professional consultant since he reviewed my essays a million times before I finalised them.
He was the one explaining to both our families how much our lives would change if I fulfilled my dream whenever they had questions on why we were doing what we were doing.

Support system -- he kept me going
The stress of applying to a top business school is like running a marathon. You have to set goals, develop a plan, and train. He made me less fearful in this journey. I faced rejections and almost gave up at times.
I had encountered defeat earlier, but these were breaking me down to the core and I was on the verge of deciding to quit altogether. But he was the one who kept me going.

Closed my loopholes: He completed me
While I fared well in terms of a lot of traits that are required to be successful professionally, I failed badly in a number of them.
I lacked the discipline and resilience that was essential for this journey while he modelled these traits perfectly in his personality. Right from strategising my study plan to tracking the deadlines for each school he was flawless in everything.
Hence, I began to emulate these best aspects of his personality.
All those women who think that marriage and career can't go hand in hand should think again.
If someday I make it big in my life, my husband shall be the biggest reason for it. I dream of the day when our kids will see us exemplifying marriage the way it should be -- a happy partnership.