The National Digital Literacy Mission is helping educated women turn around their lives.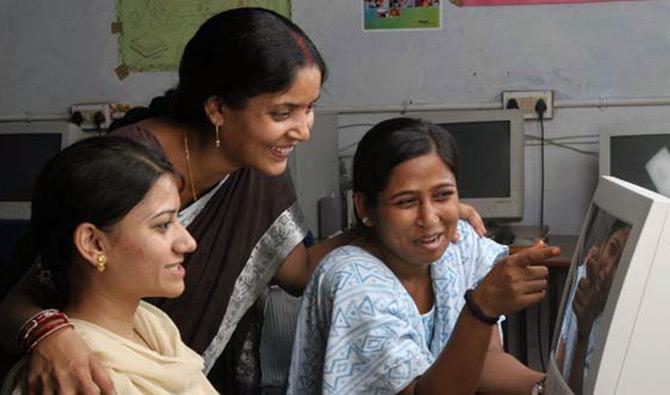 Digital literacy means different things to different people.
To an IIT student, it can mean understanding the ins and outs of a machine, use of big data and analytics; to a regular student it can mean being adept with Word, Excel and apps on his phone; to a taxi driver it can mean his livelihood, and to a mother, it can mean the bridge between her and her children in a rapidly changing world.
On a February afternoon at a Nasscom-aided National Digital Literacy Mission (NDLM) centre in a corner of Gurgaon (this one was financed by Amdocs), there is a group of 20-25 housewives -- all with heads bent down on their computers -- with two young instructors who are assisting them personally.
The centre is small -- just three rooms -- and basic but it has what students in this case, many middle aged, need. Since September 2015, the group has been coming here every day for free training. Most of the women had learnt of it from their children's schools and word of mouth had done the rest.
The training will teach them basics: creation and use of email accounts, Facebook, WhatsApp, paying bills online and using Word. Most members of the group are partially literate with some even having attended college for a while.
Other than the practical gains of what this minimal digital training will bring them, the housewives have an emotional reason for what they are doing. Almost all of them say that they are motivated to come for a few hours everyday partly because they say this will help them bridge the "void" that is beginning to develop between them and their children -- something they cannot live with.
Younger mothers want to be in a position to guide their children through this new digital world, while older ones say that they have seen a distance develop between their children and themselves because the former don't relate to the non-connected world. They feel their mothers are uneducated even when they're not. As one of them puts it : "For them, we are as good as uneducated if we can't even use WhatsApp or Facebook".
The reality of what is unfolding before them has made the mothers realise that they have little choice but to jump on the bandwagon.
For some , however, the NDLM programme and the digital literacy it offers may even provide a new source of income -- through part-time and even full-time employment.
Bebe Yadav, 28, is a part of this group. Yadav says that she wants to become independent. She has set up her a Gmail account -- a big leap for her. She has a laptop at home and is using it to check the prices of anything she needs to buy, booking train tickets and filling out school forms online. Yadav has even started paying bills online. This, she says, is an advantage because lines at payment booths can take up an inordinate amount of time and she would have to find the time to go and do this, amid her daily household chores.
But above all, she feels she must have some basic knowledge so that she can teach her own children (she has three). "If I don't know anything, how will I teach them anything," she says. Yadav adds that she would like to pick up some kind of part-time job that can help supplement her family income.
Life has dealt a tougher blow to Yadav's classmate, Sonia Lohia, who comes from Hisar in Haryana. Lohia suffered liver failure six years ago and had even slipped into a coma after a major transplant. Today, she has recovered and has a young son at home but financial troubles brought on by her illness continue to plague her family.
Lohia has enrolled in the programme and is now quite adept at Word, Excel, use of Google and even social media. She is keen to either run her own playschool or teach at one. But till that happens, she is considering becoming a cab driver if the opportunity arises. She says she will use GPRS for routes -- something she is understandably unfamiliar with.
But perhaps the most inspiring story is that of Uma Goswami, who now lives near Gurgaon and works at Dell's front office. From a poor family in Chhattisgarh, Goswami used to walk three kilometres every day to school and grew up watching her family struggle financially.
As a young child, she started going to the marketplace to help with selling the family's farm produce After finishing school, she worked as an insurance agent with her uncle's support where she began to appreciate the spread of IT and technology and understood how important it was to get somewhere in life.
Goswami sought her parents' permission to come and live with an aunt in a village near Gurgaon. She now works with Dell during the night and attends the programme during the day. Struggle hasn't dimmed the ambition in her. "I want to buy my own house here and bring my parents to live with me", she says.
These stories mirror several other smaller successes that the NDLM programme has seen since it began in 2014.
While the ultimate goal is daunting -- 250 million Indians are to be trained by 2022 -- a small start has been made. Nasscom, which is helping the government achieve this goal, has been working on digital literacy since 2001, when it set up the Nasscom foundation. Now, the foundation is working actively to direct corporate social responsibility funds into the programme.
Today, the foundation has managed to help set up 87 centres across India, expected to grow to 100 centres soon. Shishir Sinha, who heads the Nasscom Foundation, says that their attempt is bring women into the fold as far as possible as that means enlightening a whole generation. "She will bring in the children, the husbands and even the elders of the family."
It may be too early to call the NDLM a success and sceptics of the mission are quick to dismiss the progress made on the grounds that the initiative lacks depth -- like many of this government's recent initiatives. But while it may not be a storm yet, if one steps out of the ivory tower and takes a look, it's definitely more than a ripple.