Familiar models of questions were absent and every set had 'unfamiliar' written all over it.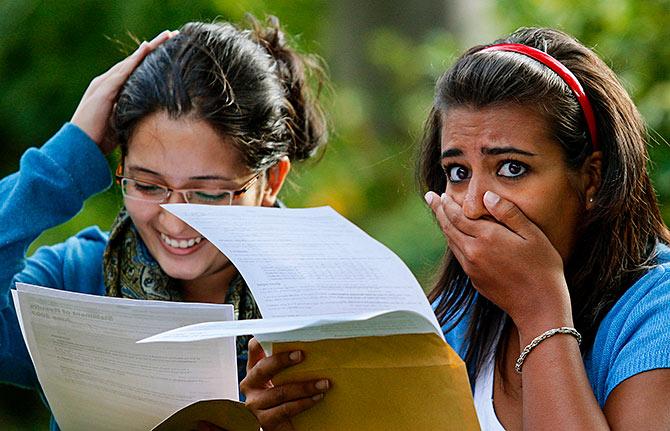 While the pattern for Common Admission Test (CAT) 2017 -- the entrance test for Indian Institutes of Management (IIMs) and over 110 non-IIM business schools -- was the same, the logical reasoning and data interpretation (LRDI) section proved to be a nemesis for aspirants again as last year.
Even otherwise, the overall feedback from students who had appeared for CAT 2017 was that the test was 'challenging', requiring best of their efforts.
According to IIM-Lucknow, which convened the test, around 199,600 candidates appeared for the exam.
The three hours test was conducted in two slots of 9 am to noon and 2.30 pm to 5.30 pm. It was divided into three sections, including verbal ability and reading comprehension (VARC), LRDI and quantitative ability (QA).
The duration was divided into three, with candidates being allotted 60 minutes for answering questions in each section which cannot be switched to another while answering questions in a particular section.
Apart from LRDI which had 32 questions, the other two sections were VARC and QA, with 34 questions each.
"The entire section comprised 'difficult' and 'very difficult' level questions.
Several familiar models of questions in LR and DI were conspicuous by their absence and every set had 'unfamiliar' written all over it.
"In fact, the entire section can be termed to have DI-based reasoning sets and quant-based reasoning sets, making it almost impossible to identify and classify the sets in DI and LR separately," Ramnath Kanakadani, national director for CAT at TIME observed on the LRDI section.
Analysing each of the three sections, Kanakadani observed the effective level of difficulty for VARC appeared to be higher by a notch or two, while most aspirants would have perceived the QA section of the first slot to be the easiest of the three sections.
CAT 2017, being convened by IIM-L, was conducted in 381 test centres across 140 cities.
However, IIM Lucknow stated the test was conducted by and large smoothly in majority of test centres.
While the overall test experience was smooth, one centre in Delhi was learnt to have faced some minor server issues.
Marginally down by 0.6 per cent, CAT registrations this year finally closed at 231,067, against 232,436 last year.
Gender-wise female applicants have, however, risen marginally by 1.16 per cent.
At 78,009, share of female applicants in total CAT 2017 registrations was 33.8 per cent against 32.6 per cent in CAT 2016.
Earlier, commenting on reasons for the change in registrations, Neeraj Dwivedi, convenor, CAT 2017 of IIM-L, had told Business Standard, "Management education competes with other educational and career options available to the candidates.
"Changes in external economic and social environment have an influence on the choices made by candidates.
"However, I am not aware of any study done to establish the reasons for these fluctuations and hence would not be appropriate to give reasons."
Photograph: Phil Noble/Reuters. Used for representational purpose only.